Binding Books and Building Bonds
Kindergarten Bookshop Opens Doors for Business
Authors exist across all ages, and the proof is right here at DIS – our kindergarten students are already wordsmiths in their own right. In fact, on November 11th, kindergarteners opened a functional bookshop to show off their self-written short stories. Ms. Suozzo and first grade friends were invited to the event as buyers, while school administrators Mrs. Jolly, Mr. Jolly and Mr. Seward visited the merchant stations as well.
"The bookshop is a celebration of the student's writing for this unit," explained kindergarten instructor Mrs. Ringrose, who guided the students throughout the process. "So after we learned all different strategies and techniques on how to be a good writer, we decided to celebrate by having a bookshop."
Kindergarten writer Jiah commented, "I like making books. I wrote a book about rainbows because I like rainbows. I felt good that someone bought my book." 
"It was so fun and cool! I want to do it again in the future." chimed energetic kindergartener Quincy. Next year in first grade he will get the chance to be a customer instead of an author. 
The first graders were given golden chocolate coins as their "money" to pay for their books. To start a transaction, a student would hand in their coin, then buy the book as if they were in an actual book shop. "It was exciting," recalled Jiah as she played around with the coins. "I got to talk to my friends, and I got a lot of chocolate coins for it!" First graders received cookies as their "receipts" of purchase.
First grader Tanu also had her share of joy while participating. "I think it was great. I liked it. I got a book from my friend Maha, and it was about family. We also got delicious cookies. I want to do this again next week!"
The kindergarteners' age didn't stop the showcase from being impressive. The wide variety of books they created touched upon many topics including, but not limited to birthdays, families, friends, and pets. Mrs. Ringrose shed light on the process: "It happened step by step. We start with our pictures, then we go into labels. We take our labels to make sentences, and then we learn how to make a nice sentence with all the proper punctuation. They [would] put it all together at the end."
"It wasn't hard," Jiah grinned proudly. "I used sound powers to stretch the words. It didn't take me long to write the book." Stretching is a spelling method where you distinguish all the sounds in the word to spell it. Using this simple method, the students were able to produce wonderful writing, and present a great finished product to their fellow schoolmates.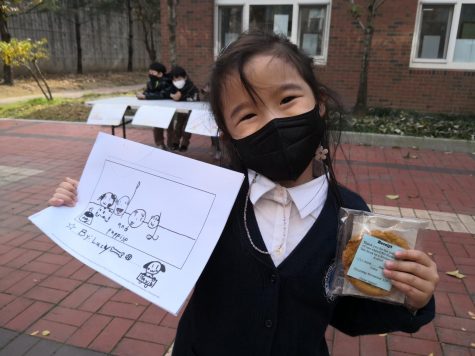 Towards the end of the ceremony, a beaming Ms. Suozzo congratulated the proud Kindergarteners: "You all did a great job; you worked really hard. I can tell through your illustrations and your words that you really tried to use everything you knew about being a writer. Be proud!"
The self-made bookstore was a huge success. Smiling students clutched their books and sweets; this experience is sure to add on to the joys of writing found during their classes. Excellent job to our junior authors – DIS commends your hard work.