NCHS Advisory Activity: Welcoming the Year of the Tiger
Lunar New Year Culture Demonstrated for Middle & High School Students
Over the past month, the National Chinese Honor Society (NCHS) promoted Lunar New Year culture throughout campus. Posters featuring this year's zodiac animal, the tiger, adorned the halls. Not only this; NCHS brought Lunar New Year to the DIS classrooms during advisory period – a great opportunity to learn more about this Eastern holiday culture.
NCHS officers visited classrooms during the advisory period, arranging for upper-grade students to participate in activities representing the culture behind this holiday. The first activity was simply to teach advisory participants the traditional New Year's greetings in Chinese. Afterwards, students enjoyed a "bean race" – competing in teams to move as many beans as possible into a cup, while using chopsticks to transport just one bean at a time.
Ms. Zhu, NCHS advisor, explained that the club chose the bean race and New Year's wishes to share because of the activities' practicality; chopstick usage and language learning have real-life applications for DIS students. "[Since] Korea and China have a lot of similarities, and people here might have Chinese friends, I thought it would be great for everyone to learn and know more about Chinese culture." 
Youni, an NCHS member, also said: "The kids really liked the bean race… they showed great participation, [and] they were really excited to learn about the Chinese new year wishes."
Additionally, distributing hóngbāo (红包) filled with coin chocolates and oranges to students after the event enhanced the mood in and out of each classroom. After the event, Ms. Zhu mentioned: "hóngbāo symbolizes good luck [and] tangerines [are] called jú‧zi (橘子). Since jú is similar to jí (吉) which means luck, it also represents dàjí‧dàlì. (大吉大利) [That] means good luck and wealth."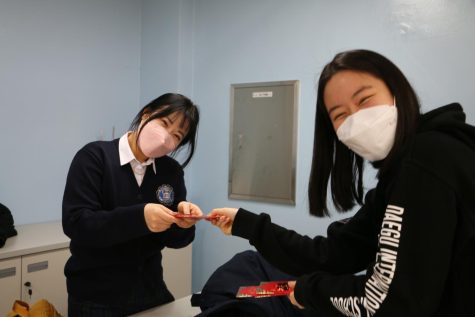 The NCHS's first advisory event was a marked success. Freshman Hailey said, "I liked the activity because we acted as a group, and cooperated with each other. I hope many other clubs host this kind of event where we can all enjoy activities as a whole." Thanks to the cultural respect shown throughout the activity and the DIS community's valuable participation, the lunar calendar is off to a great start. Jets, have a happy, healthy tiger's year!