NJHS Knits Beanies for Vietnamese Babies
With Face-to-Face Events Canceled, Students Knitted Hats From Home
The National Junior Honor Society (NJHS) engages in projects that leave a positive impact on communities outside of DIS. During February and March, NJHS members knitted beanies for Vietnamese infants to wear during the wintertime. 
NJHS vice president Jio came up with the idea to get creative with the club's next project. Her research led her to the Save the Children Foundation, which sells beanie sewing kits. Volunteers knit, then send the completed hats back to the foundation, which in turn are shipped off to children in need all over the world. She said, "I wanted to introduce the club to new event ideas, things that we haven't done before as a group."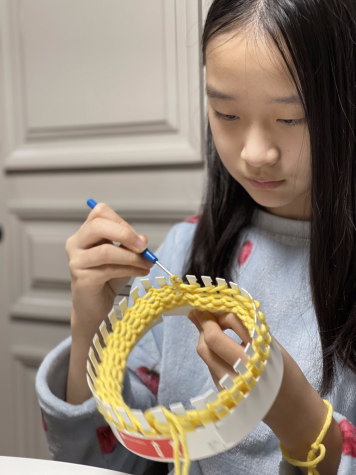 Despite the creative concept and the motivation to get the work done, the road was not the smoothest path for the club. Members had to jump a few hurdles to see their project come to fruition. The prime issue, being, none other than the pandemic— while the group planned to make the beanies together on a Saturday afternoon, the omicron surge prevented that from happening. Instead, they took the sewing kits home to "make them individually," as Jio said.
Inevitably, this led to another challenge: staying error-free and maintaining consistent quality of the beanies. "Some of the hats were knitted incorrectly which had to be fixed," said Jio.
Elena in 6th grade added, "I was making the hats and ended up pulling a string accidentally, which made a big hole on the top. I had to cover it up again eventually." 
Despite the setbacks, finishing the project motivated knitters to be excited and proud of their work. "It felt really good to help another country during a global crisis after putting in extra work outside of club hours," exclaimed Elena.
Jio chimed in, "We made about 50 hats to give to the babies and they can wear those hats during cold winter times. Hopefully, our beanies can keep them warm and cozy."
The Hat Knitting event for Vietnamese toddlers was a "total success," as Jio put it. Despite the severity of the pandemic accelerating in Korea, NJHS members are continuing to plan more events focused on providing and caring for people in need.