Small Delegation Brings Big Surprises
Model United Nations Students Fly to Jeju for an Extra Conference
DIS competed at the first offline Global Education City Model United Nations IX (GECMUN IX) conference in three years. Despite our small team, with only 8 students, Matthew and Tommy won the Outstanding Delegate Award, Apple and Colin received Verbal Commendation, and all members brought home the Outstanding Small Delegation award. 
GECMUN, one of several MUN conferences in Korea, returned to full scale with 11 committees and over 300 delegates from schools in Korea, Saipan, and Taiwan among others. During the two-day journey, students participated in 6 sessions, where they debated, made speeches, and formed resolutions and directives on issues spanning from food insecurity to extra-planetary advances. 
All the organizers were elated with the event's success. Mr. Harris, the head of GECMUN and teacher at Korea International School Jeju, said, "This year's conference was particularly special because we were able to shift the conference to a new venue after years of planning." He was ecstatic that they were able to host GECMUN IX  in person this year, which was a major accomplishment for advisors, Secretariats, and Chairs alike. 
Jay from Yongsan International School Seoul (YISS), the Head Chair for the Crisis 1 Committee, said, "we had many diligent delegates that were so eager to pass directives or to make comments and questions, so I think the debate overall was probably one of the best debates we've had."
The DIS team spent two days in the midst of heated discussion, drama, and laughter. Colin, a sophomore, said, "I think I led the biggest twist in the Crisis Committee because I started a war against the government! It didn't end as the mafia's victory, but it was really fun."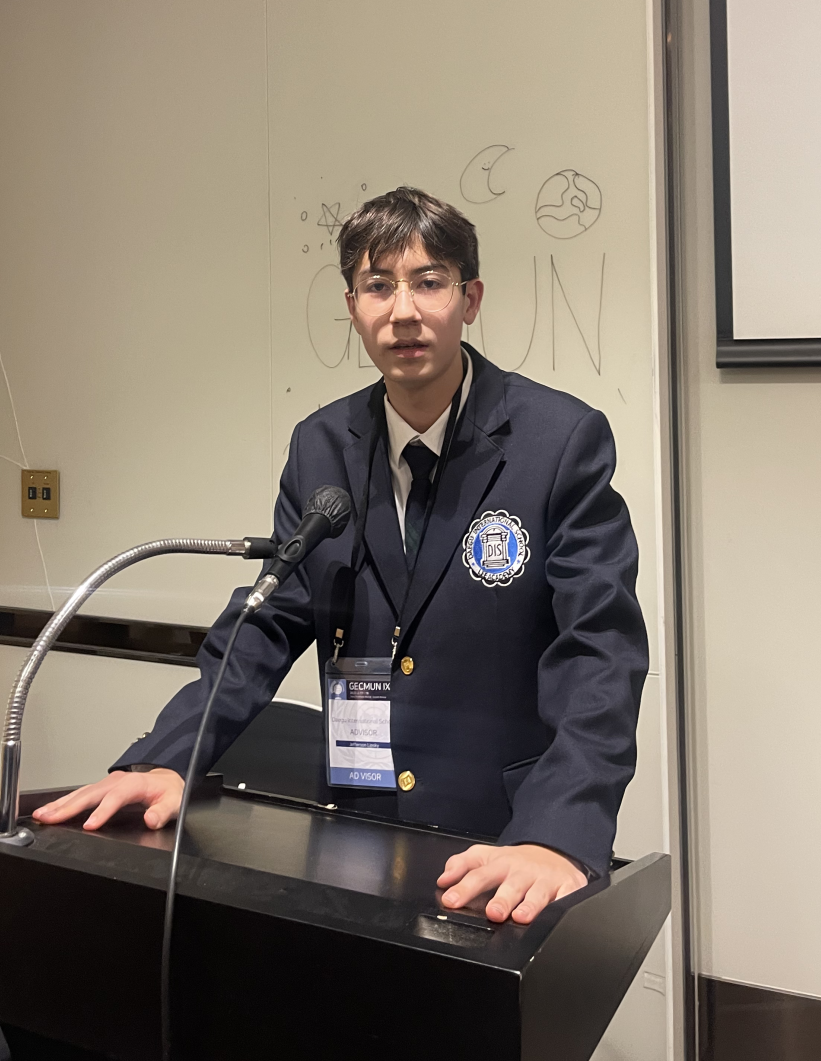 Ethan and Tommy, 10th-grade representatives at the Cultivation of Second Earth Council (COSEC), a committee that discussed the redistribution of resources amidst extra-planetary advances, enjoyed creating blocs – groups of delegates working together on documents or amendments.
Tommy said, "In our committee, there was some conflict between the U.S. and China, and they formed two separate blocs. But Ethan and I decided to make a new bloc for fun and get all those who were excluded from the main conversation. I think that was really fun."
Ethan also added to this comment, noting that the drama between the representatives of the U.S. and China made the whole debate entertaining.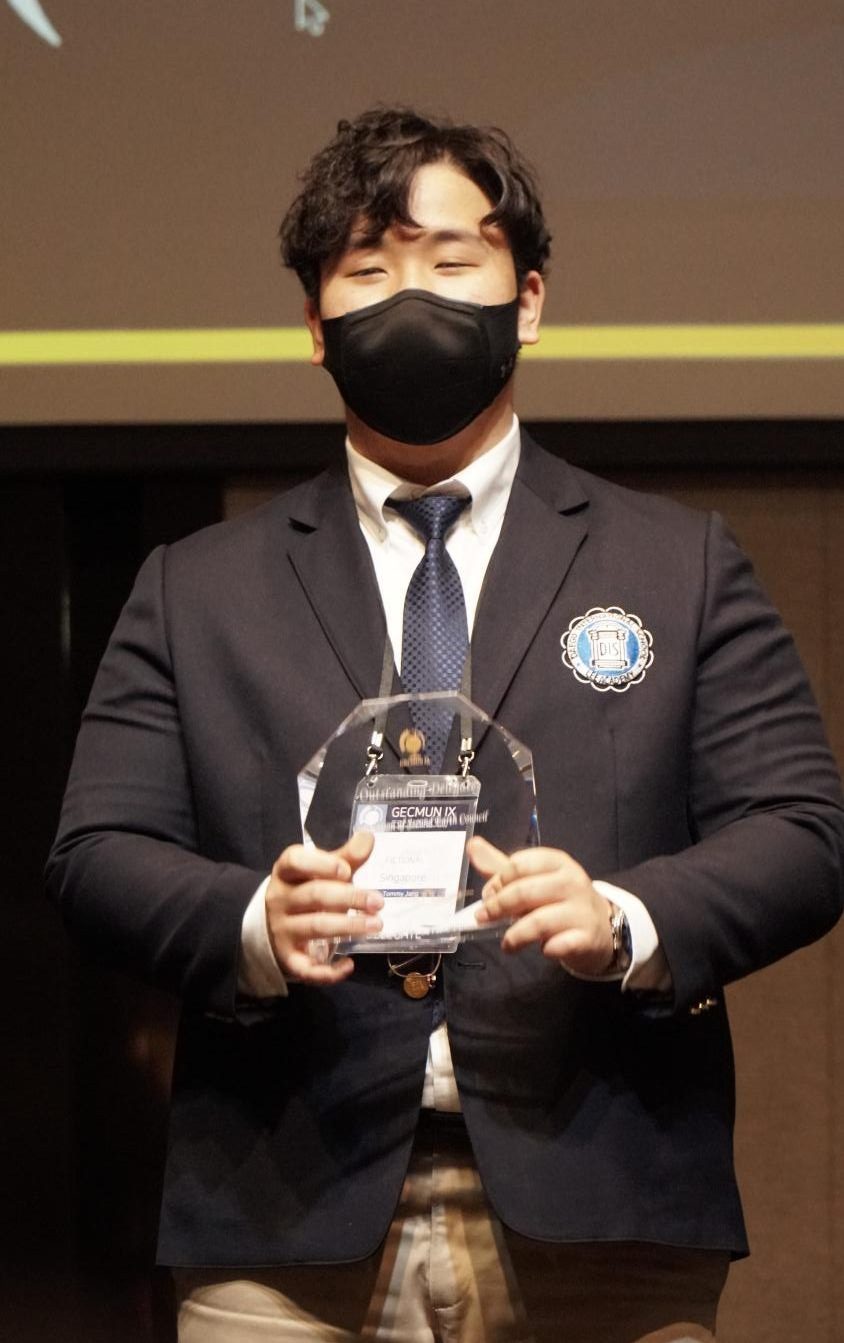 The conference also taught delegates a great deal about debating and developing rhetoric. Ethan said, "I really think that you have to be more confident and assertive when you're speaking. The beginning stages of MUN are the most important because that's where people with more confidence and less confidence divide, and you want to be on the confident side, so the judge gets a good first impression."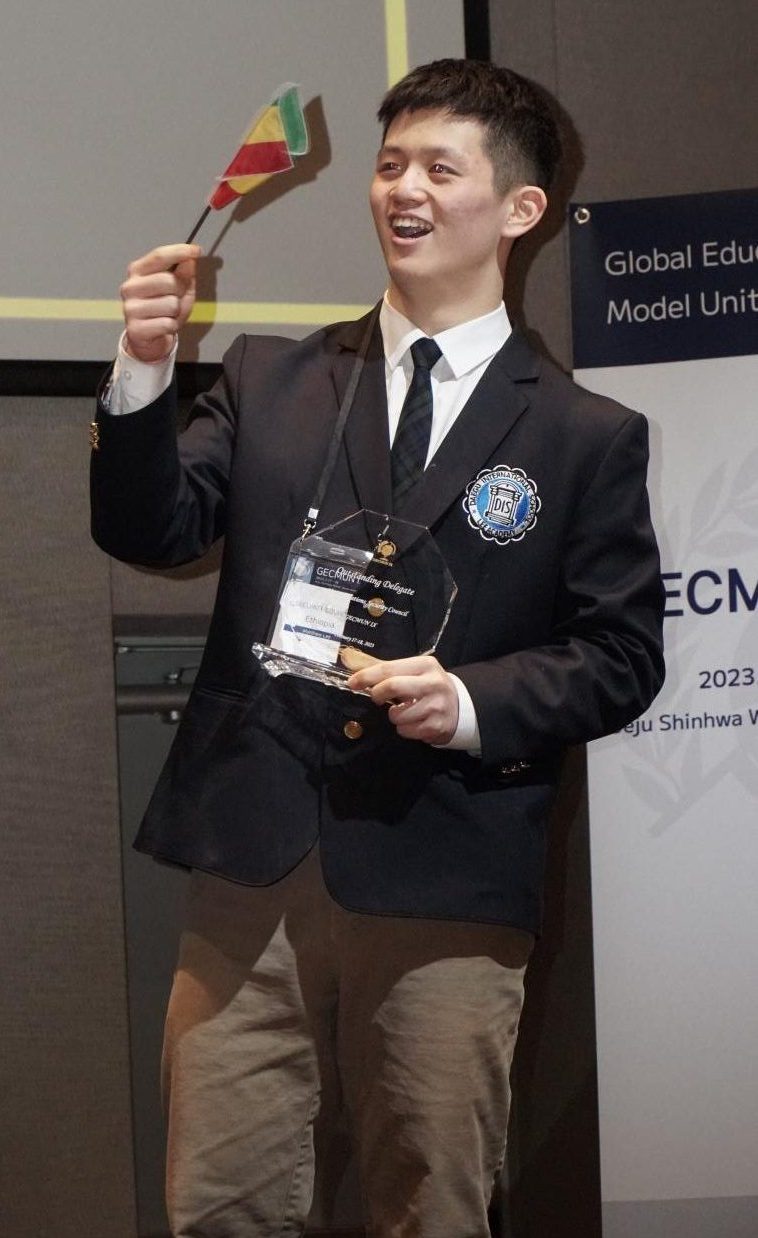 The closing ceremony was the highlight of the conference. Mr. Harris said, "It was truly amazing to see over 300 people gather in the ballroom to celebrate each other's accomplishments." But to top it all off, our team's outstanding results made it even better. Mr. Harris invites all potential delegates to GECMUN X in 2024. After all, as Tommy said, "The MUN is in Jeju, what can be cooler than that?"