DIS Succeeds at NHD: History in the Making
Students Put in the Work at National History Day, Even Online
Every year, middle and high school students around the globe get a chance to participate in National History Day (NHD). NHD is a worldwide contest wherein students research one specific topic related to the yearly theme. Our own DIS students have entered NHD Korea, competing against other local international schools for the chance to win here and represent Korea at the international finals hosted at the University of Maryland.
"NHD is a [competition] that allows students to research history, especially subjects they're really interested in," explained Lily, 8th grader and recent winner at NHD Korea, " It is so much work and you have to put a lot of time and effort into it. But in the end, you feel like all your hard work paid off."  
"
I think NHD gives a really good opportunity to look over what people did in the past. We get to learn what mistakes we made before. "
— Lewis, grade 9. 2nd place finisher Senior Group Documentary
The day is practiced at schools in the United States, Guam, American Samoa, Puerto Rico, the Northern Mariana Islands, and all across Asia, including DIS. The nationals round, NHD Korea, invites all students at international schools to enter. There are 5 categories that students' historical projects can take the form of: website, documentary, exhibit, essay, and performance. 
According to 9th grader Lewis, a 2nd place finisher, "The theme for 2022 NHD was Debate and Diplomacy; Successes and Failures in History. It's about debates, different opinions, and how different countries relate with each other."
Mr. Kaschub remarked, "I think the theme is an interesting topic that students can connect their ideas to. The most important thing about the theme is that it forces students to a deeper level of thinking. It forces students to make a connection that they wouldn't otherwise through [the project]."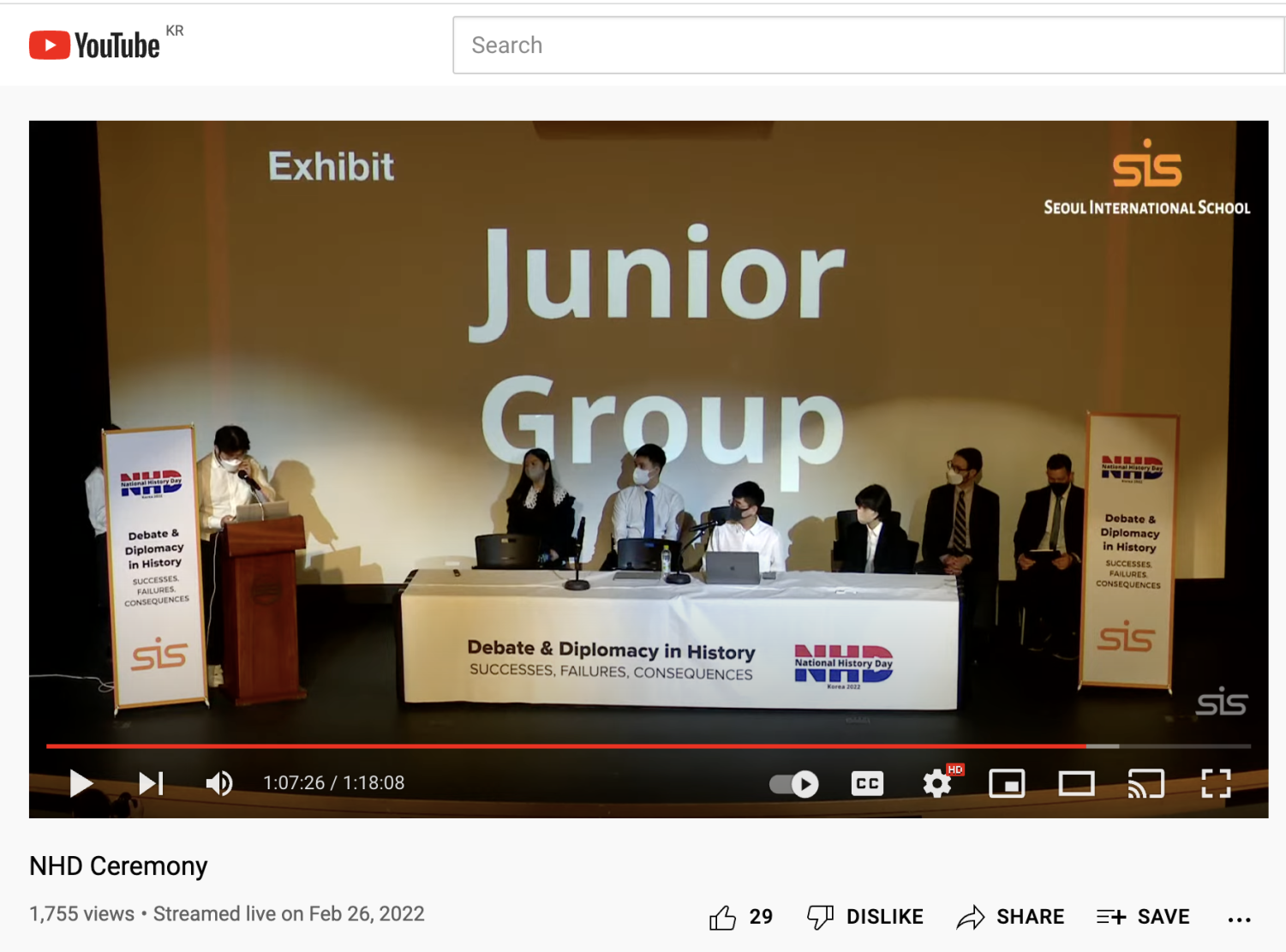 In past years, NHD Korea was held in Seoul, where competitors from all the schools gathered together to present their projects and celebrate during the awards ceremony. This year, COVID regulations pushed the awards ceremony online, and it was streamed through YouTube.  Mr. Kaschub was let down at this change of events. "It was definitely difficult this year with COVID. When you go to the [physical] competition, you meet students from all over Korea and make friends. It's a more meaningful experience with an in-person competition." 
However, the competitors brushed off the inconvenience. "This is my first time [competing,] so I wanted to go to Seoul. Because of COVID, we didn't. But even so, I was so happy because all my hard work paid off," said first-place winner Vivian. Her partner, Lily gave her thoughts: "I'm very happy and honored to place first in NHD Korea. I feel like all my effort paid off. I'm glad that my result is as good as I looked forward to". 
In the second week of June, our victors will enter the last round of the NHD competition, where they will meet more formidable opponents and tougher challenges. When asked about their tips for future NHD participants, the responses were the same. Lily advised, "If you want to do NHD, go for it and try your best. It's going to take a lot of your time and a lot of your effort. So be ready for all the toil and hard work you need to face". 
Great work to all our contestants who have challenged themselves for the NHD Korea competition–DIS commends your effort. Give a round of applause to all the competitors and our winners of NHD Korea 2022: 
1st Place
Lily Lee and Vivian Lee
Minori Kojima, Bella Kim, and Ashley Kim
2nd Place
Jerome Kwon and David Song
Alvin Lee
Lewis Kim, Jayden Ahn and Ethan Rossmeisl
Chloe Cho
Chris Ryu
3rd Place
Apple Jun and Annie Cho
Allie Hwang
Sankeeth Udayakumar, Brandon Hyun, Caden Choi
Aaron Shin