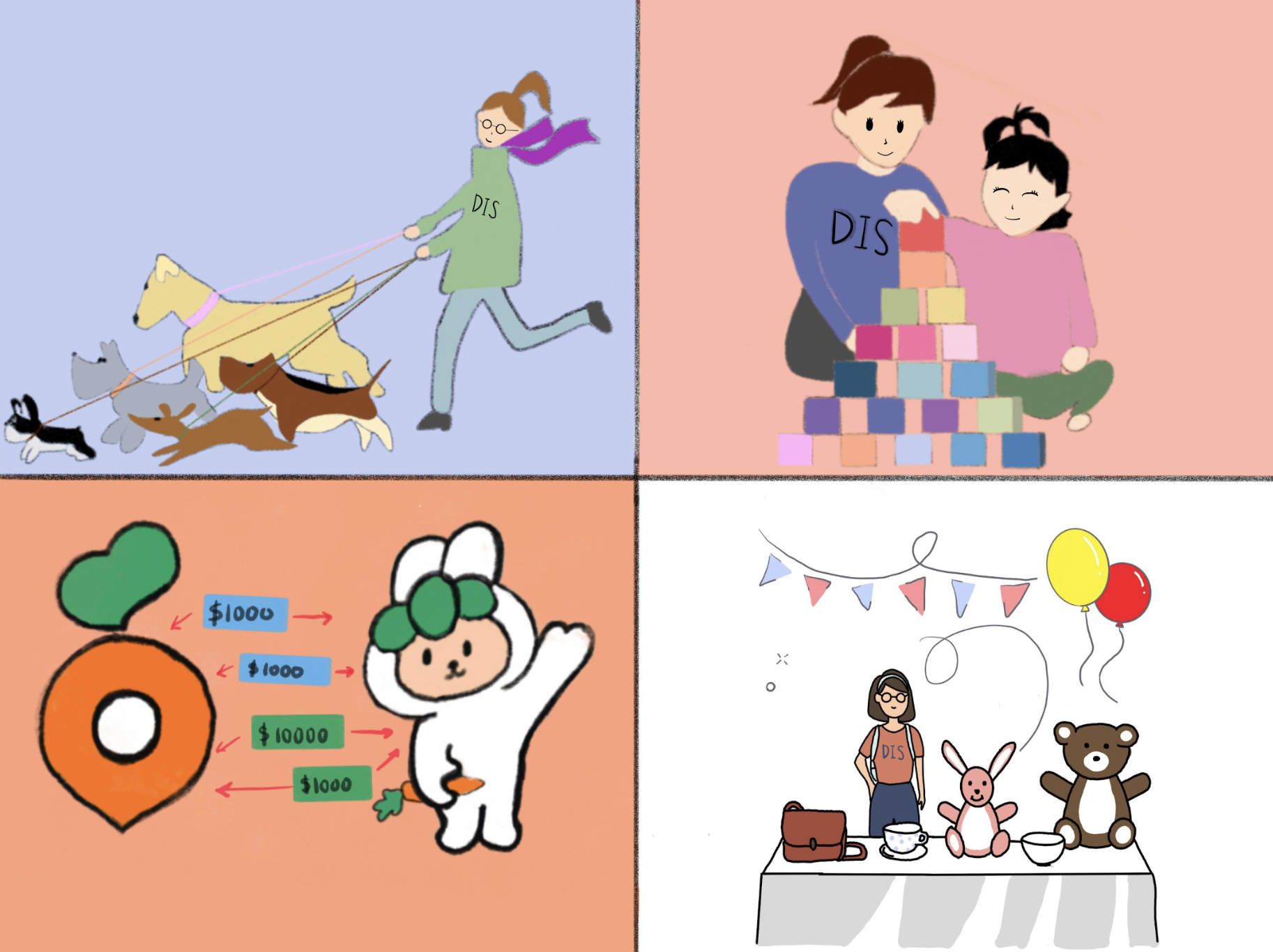 I opened up my wallet, ready to pay for my snacks, just to realize that I used up all my allowance the day before. Ashamed, I left the food behind and walked out of the store, head hung low. 
Have you ever experienced embarrassment like this? Do you constantly need more dough? Koreans label middle and high school students as far too young for traditional jobs, but desperate times call for desperate measures. Our minds constantly drift to ways to earn pocket money. I present to you some creative endeavors for us kids to fund our hobbies and habits.
Babysit
Parents often look for qualified and responsible babysitters to care for their children while they work during the day. If you're responsible, organized, and good with kids, check out this part-time stint. 
I remember when I babysat a 7-year-old girl. I made sure to wear comfortable clothing and avoid hanging accessories. Also, keep your composure. Know that the job might get frustrating. Children's moods tend to change pretty quickly. So if they seem bored in a particular activity, ask them what they want to do. 
Culturally, teenagers don't often babysit in Korea. Family members like aunts or grandmas generally look after children. But foreign teachers at DIS come from places that embrace teen babysitters. So ask families like the Kaschubs or Camerons if you can watch their kids for a night while they catch a romantic getaway downtown. 
Sell Do It Yourself (DIY) products and second-hand items 
I often put items I don't use anymore up for grabs online. If you find old items you no longer use that still look new and function decently, sell it on the internet. Consider Carrot Market (당근마켓) or Jung-go-nara (중고나라) for this purpose. A lot of people use these online platforms, so you might find someone who wants to buy your product.
Another option: If you love arts and crafts, put your work up for sale online for a decent amount of dough. Go for Carrot Market for a first-time try. Make sure to prepare them in good condition. 
Also, if you want to turn your crafts business into a regular gig, create a website to advertise your DIY products. First, find your niche and narrow down your style. Next, build an appealing website to attract clients. Then, build the products with your own unique style. Photograph all your items and make sure to manage your inventory. 
Conversely, you can also give offline platforms a go. Look for flea markets around your neighborhood for a good chance to show off your crafts and earn money.
Around campus, go ahead and ask teachers like Ms. Bielec and Mr. Jolly if they can give you some space in the Snack Shack so you can sell your products to the Jets during lunch recess. Who knows? Even teachers might show interest! 
Dog Walker
Volunteer to walk dogs around your neighborhood. Help dog owners take some time off from walking their dogs everyday. You can also pet-sit other fine animals such as guinea pigs, fish, and turtles. 
People often worry about trips to foreign countries because they can't leave their pets alone. If you know of a similar situation, ask to feed and take care of them while the owner travels in exchange for a little cash. 
Why not offer DIS teachers, such as Mr. Hutchings and Mr. Gum, to walk their dogs? Maybe Mr. Coleman or Mr. Bergan will request that you take care of their cats the next time they travel. 
Follow these tips and you'll stuff your pockets with snack money in a blink of an eye. It's your turn to get out there and earn your own cash. If you find yourself in a time crunch, I highly recommend tip number two. I sold art online a few years ago and made a decent profit. Give these ideas a shot, and let me know how it goes in the comments.