Peer Tutoring Club Presents New Pathways for Help
The Lunch Club Brings More Subjects, Media, and Opportunities
"Feeling Stuck? We Can Help," proclaims the Peer Tutoring Club (PTC), returning to the 22-23 school year with great improvements. Students know what fellow classmates need more than teachers do. While professors may think certain content is straightforward and easy to digest, learners may find them overwhelming. This is why seeking help from peers, who can truly understand each your struggles, can be the better solution sometimes.
The Peer Tutoring Club does exactly that. Founded the last school year, this club offers support to learners and prepares them for tests, quizzes, and homework assignments. Anthony, the president and one of the founders, said, "Even before I created this club, I loved helping my classmates when they were struggling with their subjects. And I genuinely enjoy sparking curiosity and boosting the confidence of many students. Through peer tutoring, students help each other with their level of understanding of the subject. They can also gain valuable experience in teaching others."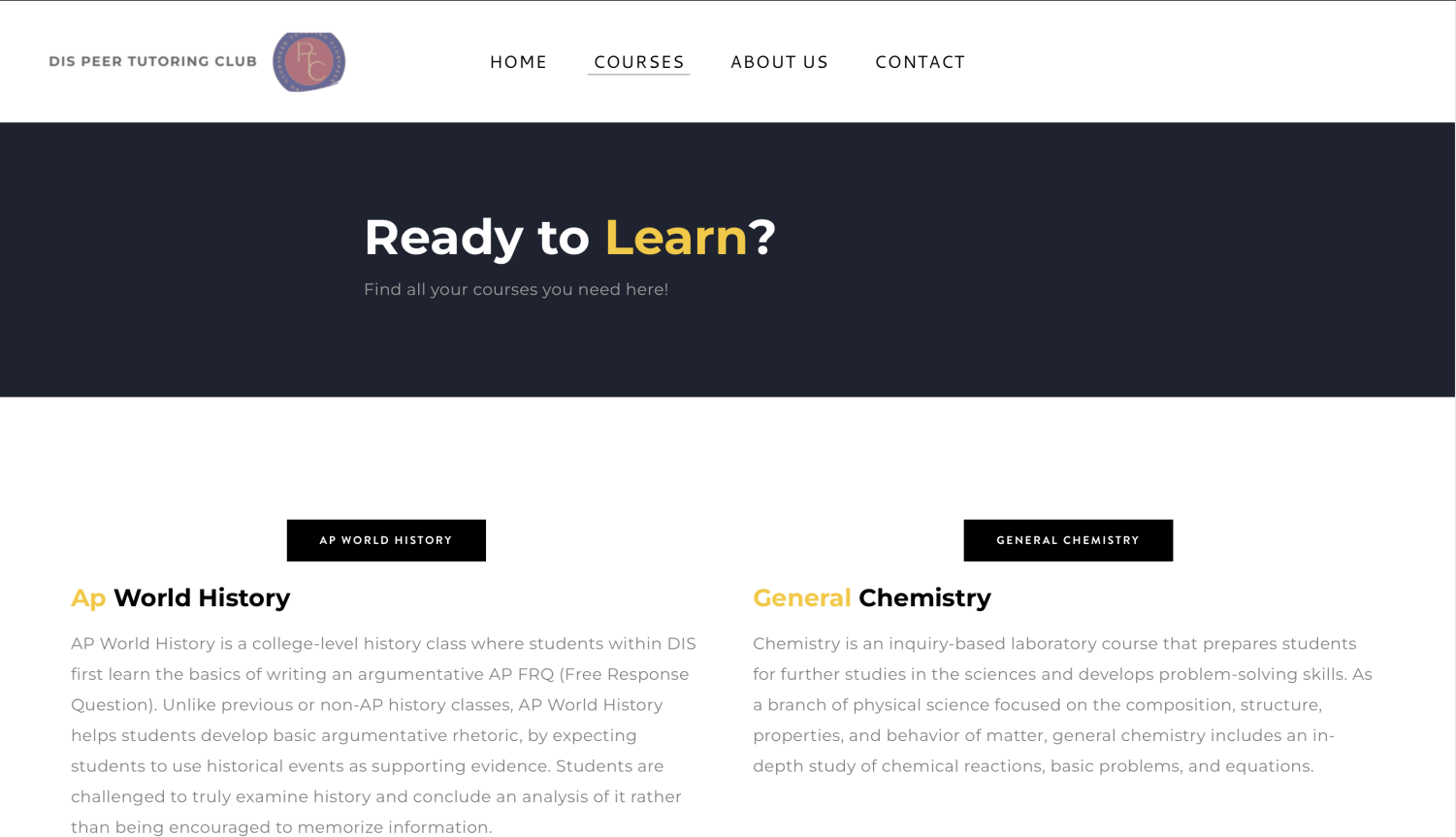 Last school year, the club was limited to two subjects: general Chemistry and AP World History. Mentoring sessions were held every Wednesday during lunch and recess in Ms. Lualhati's and Mr. Bergan's rooms. But now they are ready to teach you more. 
With new members available as guides, the PTC expanded its range of education programs from only two subjects to a variety of studies. Lessons in Chinese, Pre-algebra, Pre-calculus, AP Calculus AB/BC, AP Psychology, AP Biology, and even public speaking are now accessible.
To be more available for possible pupils, the crew also changed the location and time of their teaching sessions. They will be open during the first half of lunch/recess in the lower library, which would allow those in the ZAP (Zeros Aren't Permitted) program to also reach out for an easier learning opportunity.
The Peer Tutoring Club's website aids busy scholars who do not have time to get directly mentored. Anthony noted, "Since we want to extend our help to the students who can not visit our club in person and even people who are not in DIS, we decided to upload the recorded lecture on our website so that everyone can watch and gain benefit from it outside of the limited lunch club time." 
The web page offers AP Classroom style videos for each of the courses offered. The videos are produced by the student professors themselves. Each video is divided into units and chapters that go along with the DIS course curriculum, provided by our school faculty.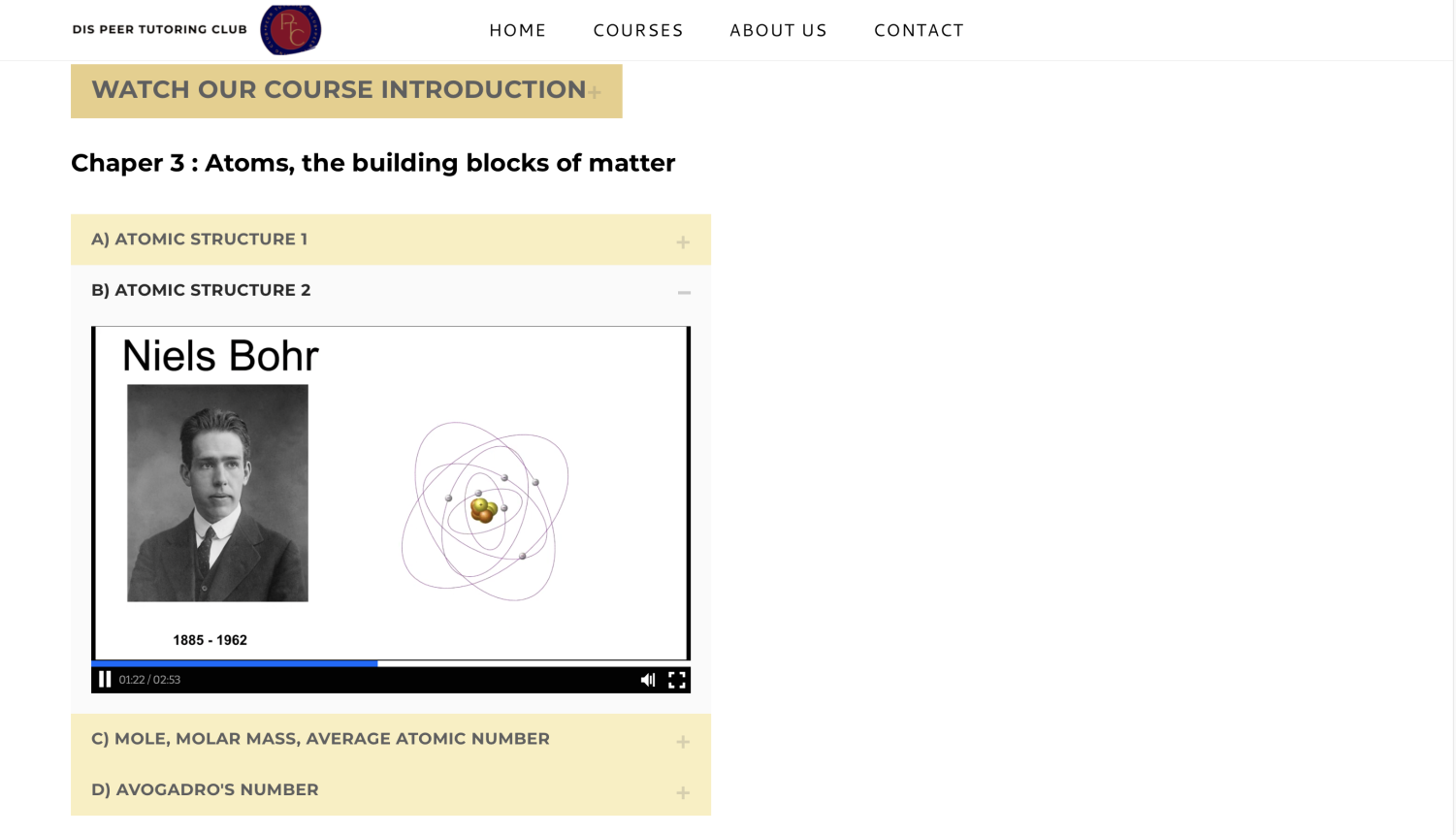 There are also innovative ideas to academically support mentees. "The first plan is to host exam prep sessions. We want to help students who have an upcoming major test by providing our exam prep sessions with high quality so that a lot of students can solve their confusion and curiosity and get well prepared for tests. We [also] noticed that a lot of subjects don't have any Barron's Book or exam preparation materials, and having those materials would really help students to be well-prepared for their tests," said Anthony. 
With these new additions, the lunch club raised the bar. Anthony emphasized, "The peer tutoring and lecture videos organized by peers would be much more enjoyable than formal and monotonous lectures. We are always near you to help you to learn more easily and with joy. Ask anything if you want help with any courses."