Unless you've been living under a rock, you probably noticed all the colorful student-designed murals decorating our campus and website. In case you're wondering how they all came to be, Jets Flyover Editor-in-Chief Cath and illustrator Chris – also NAHS vice and president respectively – sat down to wax poetic on the processes and ideas.
---
What motivated you to start creating murals?
Chris: After founding the National Art Honor Society (NAHS), we began searching for ways to improve the recognition of the art department in our school. We had this idea from ages ago, and we found an opportunity to bring it to life with our first mural in front of the garage, so, yeah, we took the chance.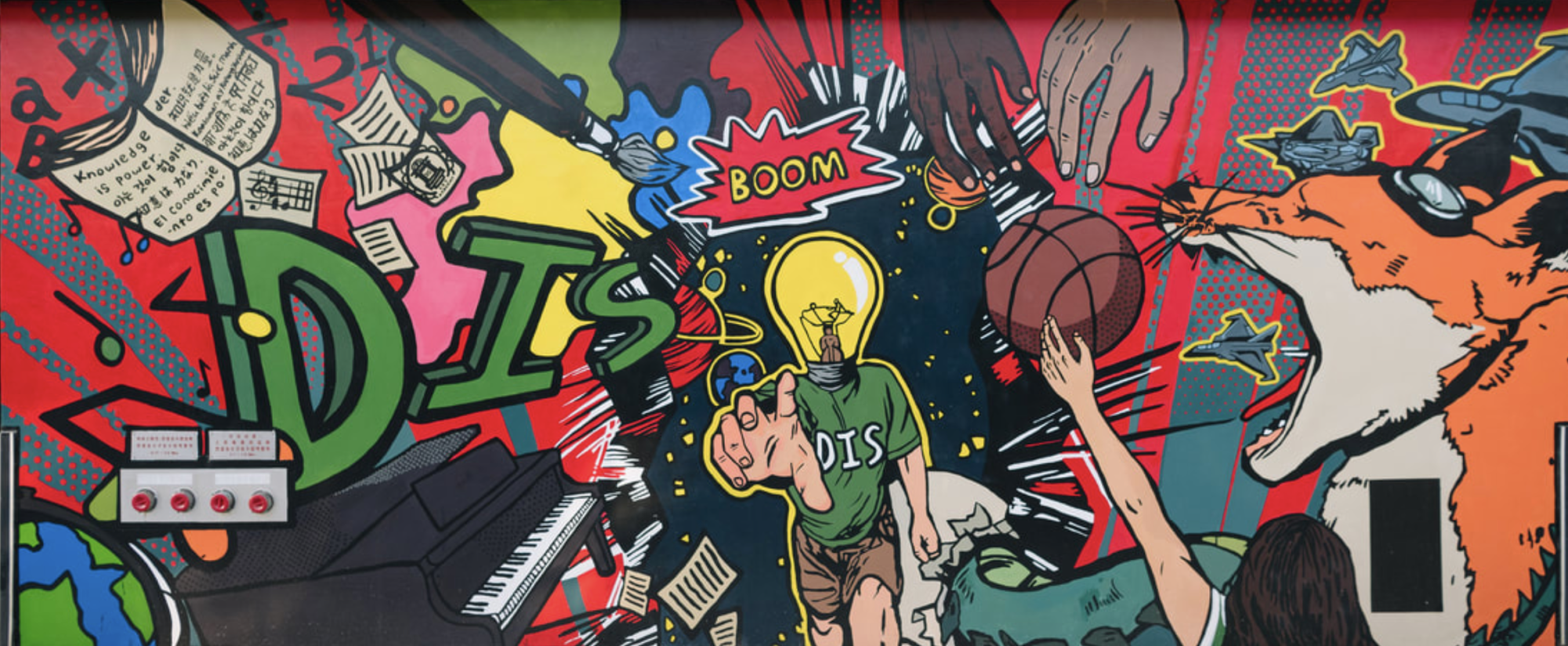 Cath: I think it helped our group form an identity as artists on campus because even though art is mostly visual, it's also social and interactive. There's no art without an audience, and a mural can achieve both aspects at the same time. The whole point of community art is the interaction between artwork and the audience, and murals can do this by solidifying an emotion related to a specific space into a visual representation. 
Chris: Yeah, it can really change the whole vibe of a place. I didn't expect this much positive reaction towards the murals when we first started making them, especially because it was such an ambitious endeavor, but Mr. Jolly and other staff members and students loved our initial work, and so it became a regular thing. 
What is the process like? Any hardships?
Chris: Before we started painting, we first created a digital rough draft. After working on the draft on my own, I got feedback from Mr. Gum and Cath, and it took months for the three of us to come up with a version that satisfied everyone. I then created the 'final' final draft.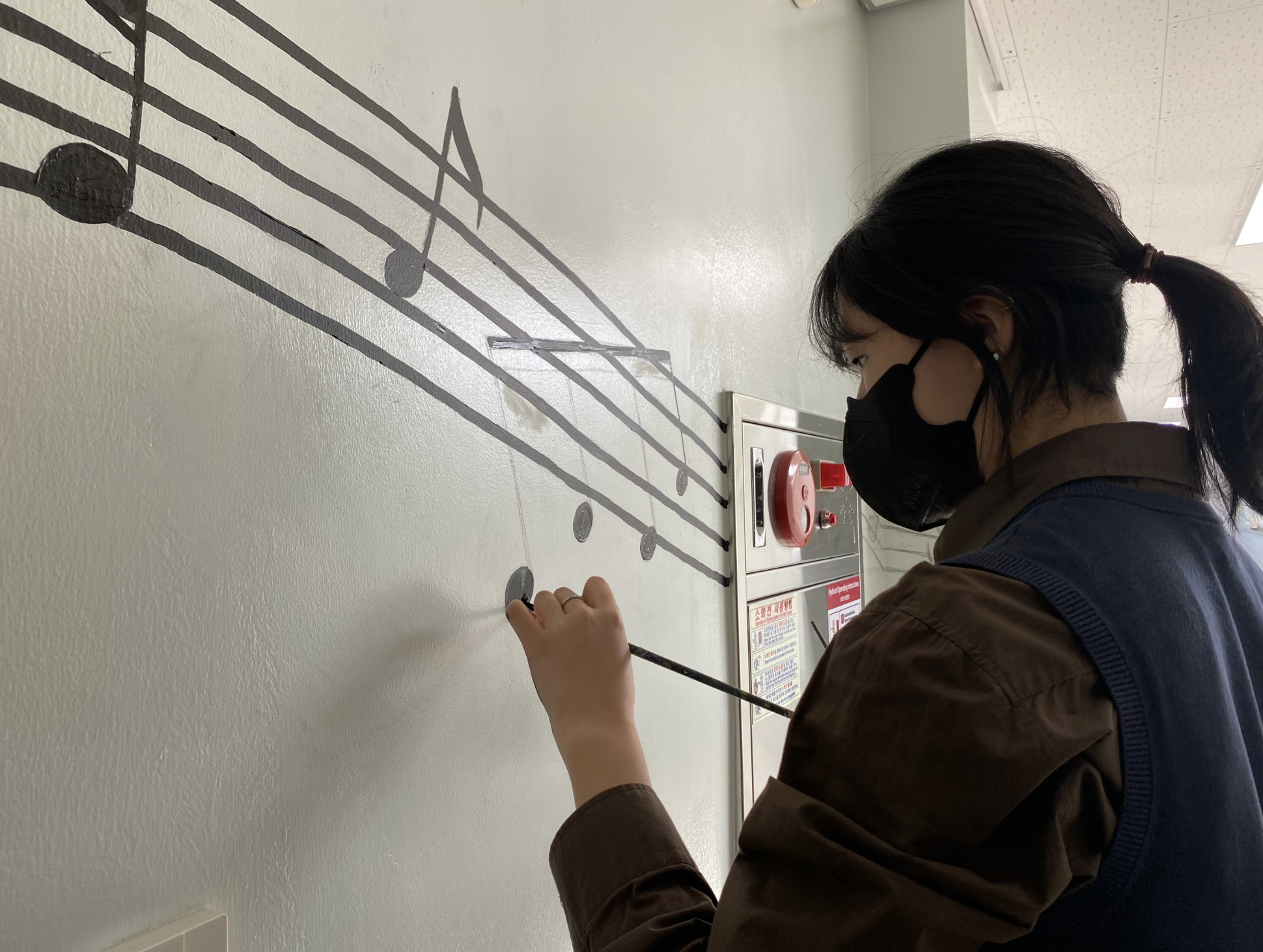 Cath: Remember how Mr. Gum gave us a speech about how murals are supposed to be more than just a painting, and that the entire space had to be our canvas? It had to make sense in a larger context than just a rectangular work on a piece of paper.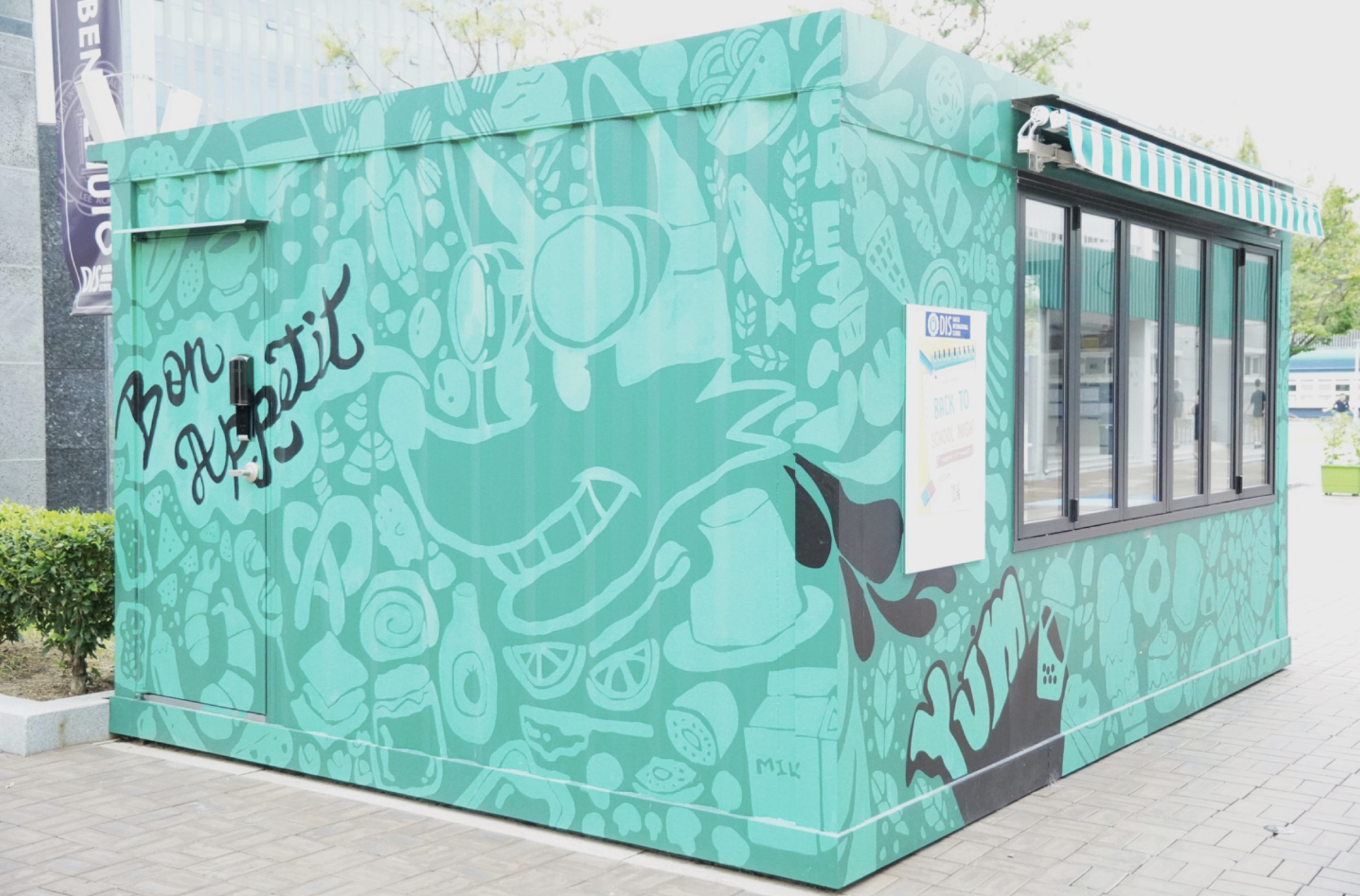 Chris: Right. I think sometimes the drafting process takes more effort than the actual painting. Back to the process, after the final sketch was done and good to go, we gessoed (painting a surface with a mixture used to prime surfaces) the entire wall, projected the draft onto the exterior and traced it with a pencil; at least that's what we did for the Jetnasium one. I like to use a numbered color system so that we don't accidentally mess up the hues, which means we number each space so that our members can see where each color goes, and paint accordingly.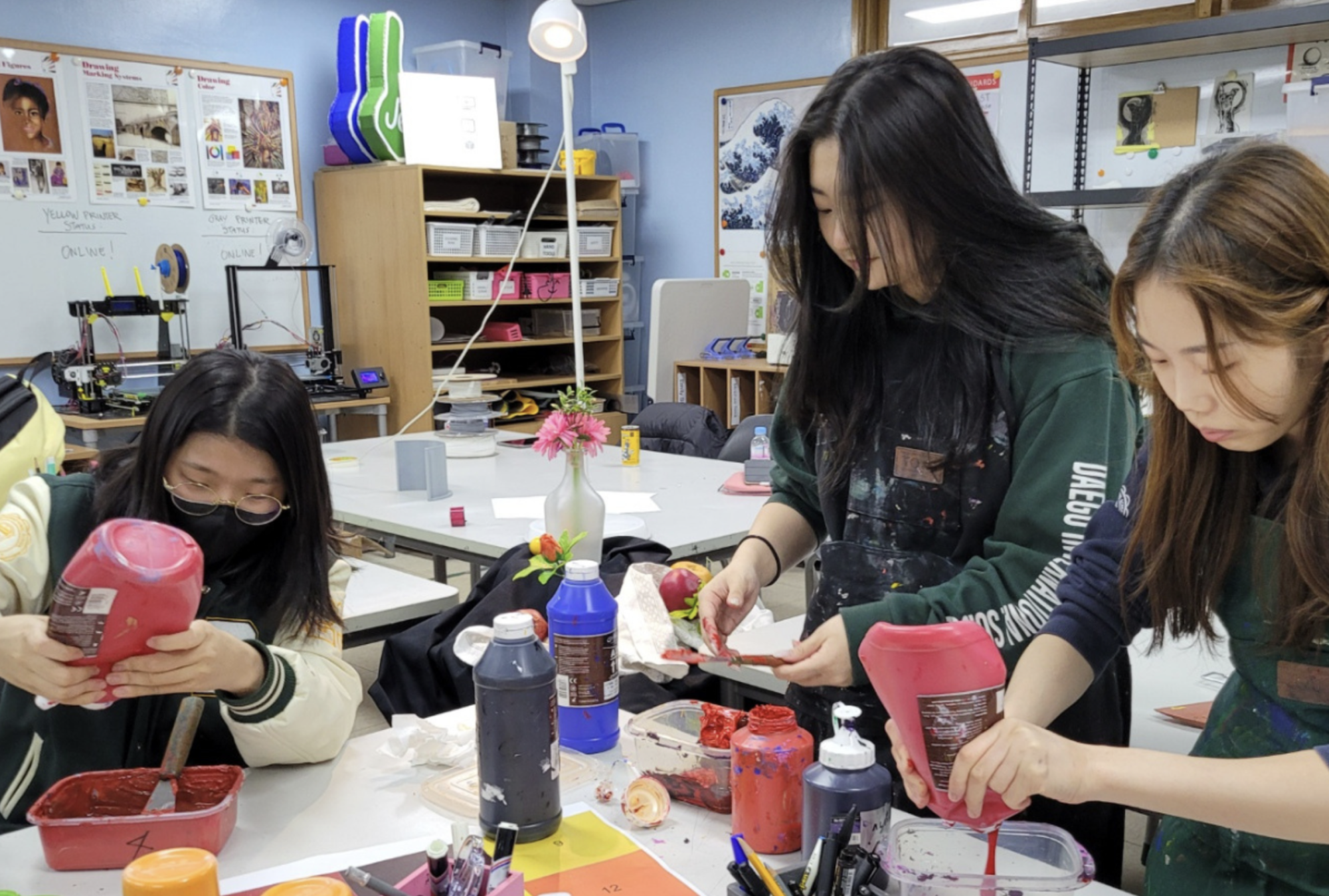 Cath: I remember you complaining about how long the drafting took. I'm sure I did as well. We edited it, like, ten times. 
Chris: I know. Another thing was simplicity. I first came up with a very well-rendered, realistic image, but then Mr. Gum suggested a simpler version so that everyone could participate in painting it without having crazy artistic skills. I decided to go back to the pop-art kind of style that we did for the first mural and use flat colors. 


Cath: Yeah, and I think that's a really important aspect of murals because it's not all about the result, it's also about the process. Having everyone working together creates a sense of unity, and as Mr. Gum always jokes, "Nothing bonds people like shared trauma." We all grew up a bit as artists through the experience. 
Chris: Literally. We spilled paint all over the place at first and there were so many bugs on the wall. I think I ate a handful of them while painting. 
Cath: The main conflict was that we wanted quality, but at the same time, we had to see past that and focus on the community. But keeping it simple doesn't mean less quality. It still looks amazing. On the other hand, since the one we're making right now on the fourth floor is mostly just us two, it feels so rewarding for me because we can really go full-flex on our skills. For that one, the size of the project is a challenge because it's so huge, which means more physical labor and effort, but working on a large scale makes you overcome that fear. It's a real confidence boost that I could do it and actually make it look good.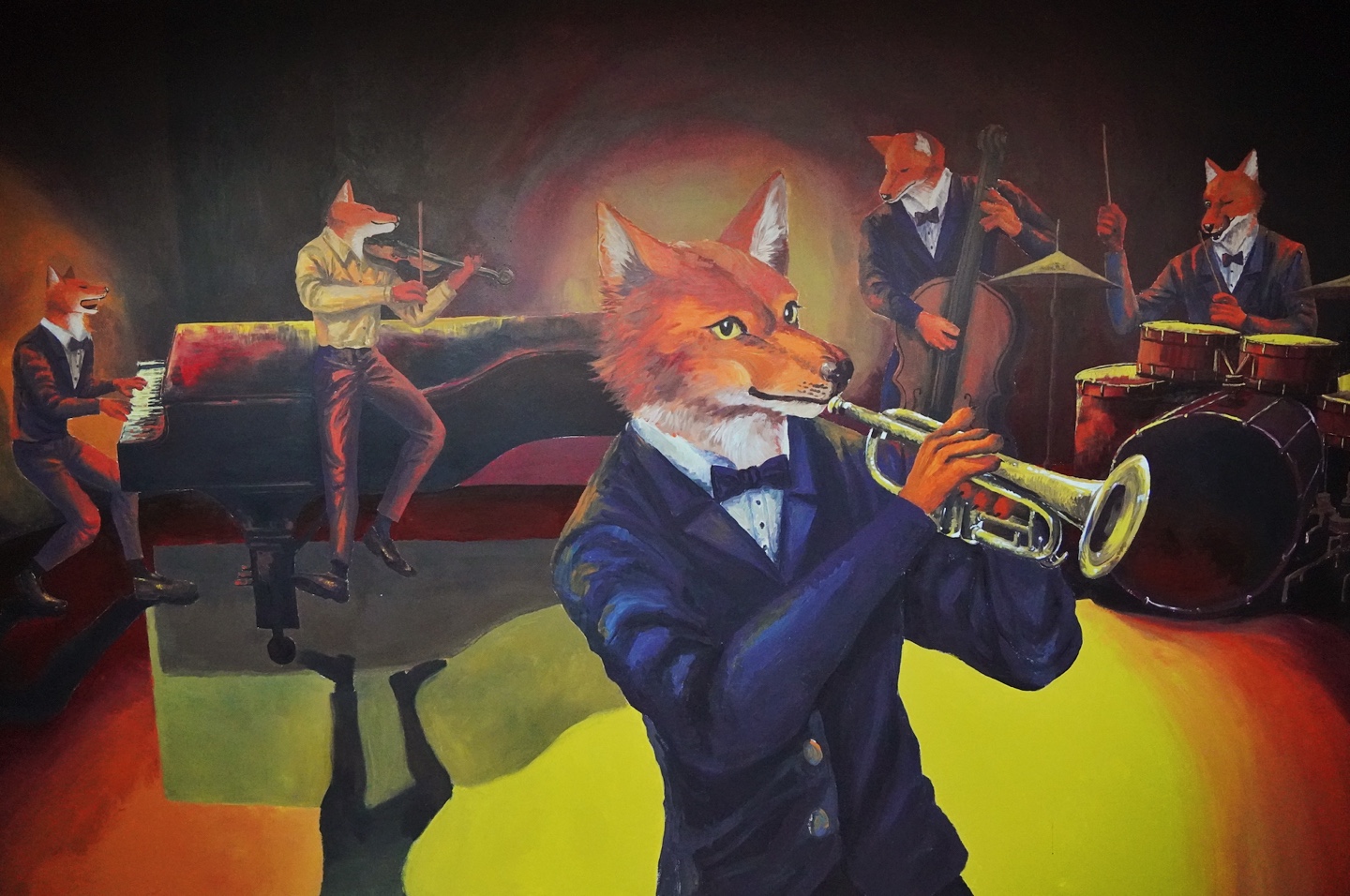 Chris: Yeah, I was really nervous for the first mural because the style was so different from my original one and I didn't know what I was really doing. But going against my personal preference and thinking about what the group needed helped me gain more confidence too. It's not just about me being good, it's also about incorporating everyone else.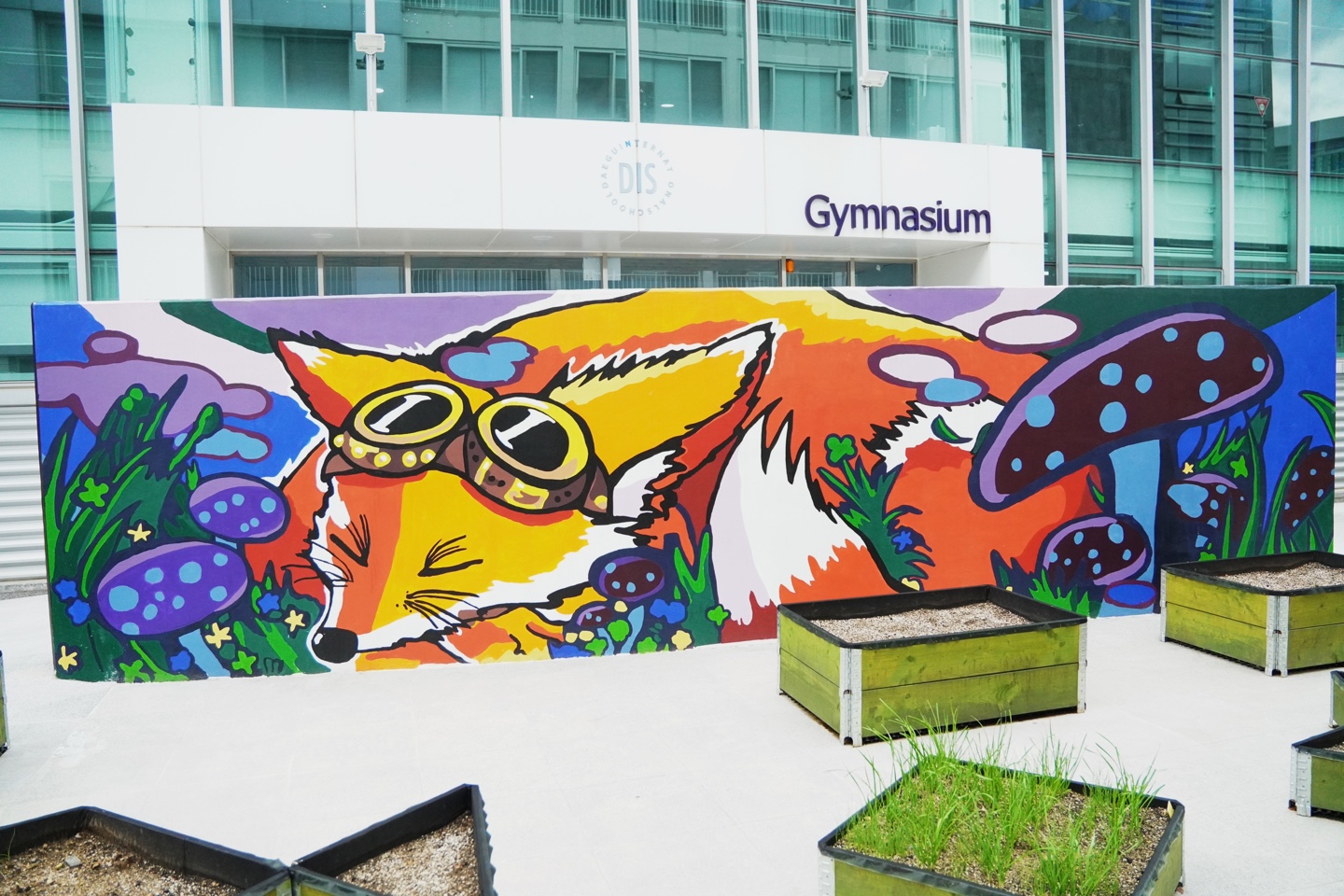 How do you think the murals impact our school?
Chris: Before, I feel like the spaces were a little empty and separate from the students' lives, and our art department didn't really get much recognition either. After the murals, we got more people interested in our work and more participation from our members too. 
Cath: Definitely. Also, before I didn't feel like I was attached to our campus as a physical space, but after making so many great memories with our club members, including the past seniors, and having such a unique sense of community, the spaces which we drew on also felt like a part of that memory. I'm sure other people also feel in similar ways about their own special places. 
Chris: Yeah. And it's a great photo spot too!
Last question: What are your future plans regarding the project?
Cath: To the kids who will paint around our school after we're gone, I want to say that it's important to overcome what you think would be impossible and to always pitch new ideas and challenge yourselves. 
Chris: Exactly. Don't hesitate to do difficult work just because it might take more time and effort. Participate like you would in your own project. It's amazing that we got to leave a physical legacy in our school, and I'm really proud of our work so far. 
Cath: Any final words?
Chris: I don't know. Slay, I guess.
---
Aside from visual improvement, the murals heighten our school spirit and hold special memories for the creators as well. You can find these editions in front of the parking garage, on both sides of the wall on top of the Jetnasium staircase, and in front of the music classrooms. And if you already checked them out, great news, there's more to come.