All Good Things Come in Threes
3D Printing Projects for the Middle School Art Classes
When we think of art classes, we usually imagine paintings, sketches, or traditional sculptures. In that respect, DIS' lessons are unique – the middle school curriculum also includes a modern take on art, featuring 3D printing. Middle school artists from all three grade levels designed and printed three distinct creations that bring joy to students across all divisions.
This year's 6th graders got hands-on with 3-dimensional design when they were tasked to create a spirit-week themed keyring. Roy in 6th grade's key ring was Halloween-themed, and he drew from a number of influences throughout the process. 
Roy claimed, "I had some inspiration [from] other Halloween keychains. I thought that they were cute." His process wasn't all smooth sailing – he had troubles with file conversion, along with other technical difficulties – but he and the other students were all proud, as their artwork gradually got better.
Taking on a challenge, the seventh graders made medals for the STEM fair winners – with real metal instead of plastic. Students made molds by collaborating on different parts of the medals. Though they were influenced by a number of sources, the end result was a one-of-a-kind award that can't be found anywhere else in the world. Impressively, the idea of creating medals for the contest was suggested by the students themselves.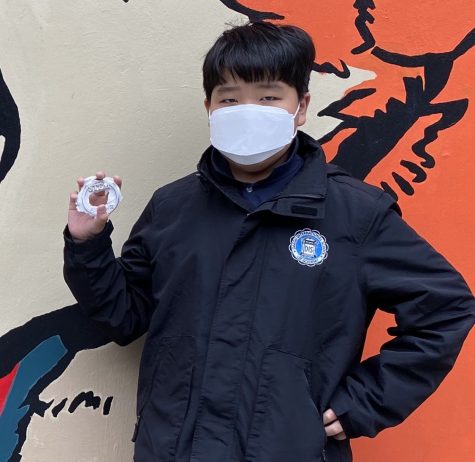 Yujun, a 7th grader, explained, "I am making the base of the medal, which is the support for all the other parts. I was inspired by pictures of other awards on Pinterest. Also, we found STEM T-shirts from years ago that we used to make this project." By combining elements of school-made emblems and their artistic inspiration, the 7th graders came up with amazing original designs.
However, the students did encounter difficulties with working on the Tinkercad (an app meant for 3D design) interface while also making tune-up adjustments to the medal's looks. Since the students were working on such an important award that would actually be presented to the fair's winners, they were aiming for perfection. In the end, the 7th graders were able to stand tall beside their remarkable self-made medals.
The 8th graders chose Halloween as their theme and made some amazing 3D-printed lanterns to sell for supporting the National Junior Art Honors Society (NJAHS) funds. Adhya from the 8th grade divulged her creative process – she made a ghost light, while her peers featured other scarily-themed creatures like bats, cats, and skulls on their decor. This artwork was entirely inspired by her own thoughts and the importance of ghosts in Halloween culture.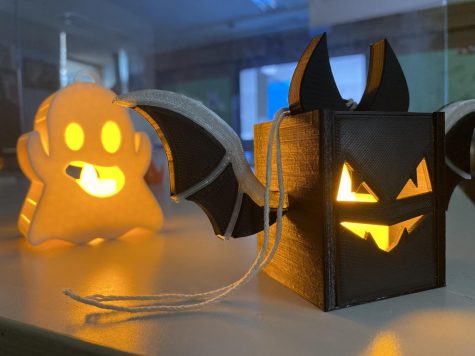 Adhya mentioned that she "had some difficulties throughout the process of making my lantern, like when the parts of the lanterns didn't fit, or when I received feedback on what to fix to make the project better." Her hard work paid off in the end: "When the lid and the bottom parts fit together perfectly, I felt self-satisfied while looking at my own art project." 
This semester, middle school students worked hard on their design projects with an impressive amount of self-direction in their creative processes. Riding on this enthusiasm, the middle schoolers are embarking on yet another journey with their art. Be on the lookout for their up-and-coming projects.