Model United Nations Team Sets a High Bar at Kwangju Foreign School
DIS Showcases Geopolitical Debate Skills at First Face-to-Face Conference Since 2019
"I officially declare that the 2022 SKAC Model United Nations Conference is open!" announced Ricky, the Secretary-General. With the strike of the gavel, competitive delegates started to pass resolutions that targeted global issues. Kwangju Foreign School hosted the SKAC MUN (South Korean Activities Committee Model United Nations) conference on Saturday, December 10th. Six officers and around one hundred delegates from six international schools were in session, with DIS boasting over twenty participants.
With Season 2 of After School Activities starting up, practice ended three weeks earlier than the conference date. MUN was only held during Season 1. Additionally, BFS (Busan Foreign School) students impressed other schools leading up to the event. Their new coach pushed them to lobby and network with other delegates more so than previous years. Some DIS students, even coach Lipsky, worried about the higher level of competition compared to past conferences. Prior success put a target on our backs.
Four DIS seniors applied and earned leadership roles at SKAC MUN: Youni, Elizabeth, Betty, and Ricky. The three girls directed committees as Head Chairs, and Ricky facilitated the conference organization and delivered a memorable speech for the participants as Secretary-General. With their expertise, they conducted extra practices outside of normal After School Activity time. These additional coaching sessions prepared the team under the strenuous circumstances of Season 1 before the SKAC MUN event date and the better coaching at other schools. But on conference day, all 21 DIS delegates stepped up, and dominated with a superior team effort in all five committees at the conference. 
Ricky reflected, "The extra practices definitely helped us prepare for the day. It surely was more work for the Chairs and myself, but it felt too good to win the majority of the awards at the conference. It would have been the same for the other three Chairs as well."
Betty demonstrated phenomenal leadership throughout the entire day. As Chair of the General Assembly, she said, "Being a coach and a Chair for SKAC MUN was a really special opportunity for me because, in my previous chairing experiences, my role was restricted to only writing documents, and just facilitating the debate without getting to know the kids. So this time, I got to interact with not only our school delegates but also other schools."
Mr. Lipsky, the DIS coach, added, "Betty took the expertise she's gained from four years of MUN experience, and she not only coached our DIS team but coached all of those kids in the General Assembly (GA) at SKAC MUN, while simultaneously being a very fair Chair. She encouraged and taught kids from the other schools how to be better public speakers and debaters – live in the moment. It was wonderful."
Chair Youni dealt with the most aggressive committee: Human Rights. Although it was her first chairing experience, she remained professional throughout the three debates. Elizabeth was Chair of the Security Council, a highly competitive room of veteran delegates. Demonstrating professional expertise, Elizabeth successfully completed the demanding task of facilitating their high level debates.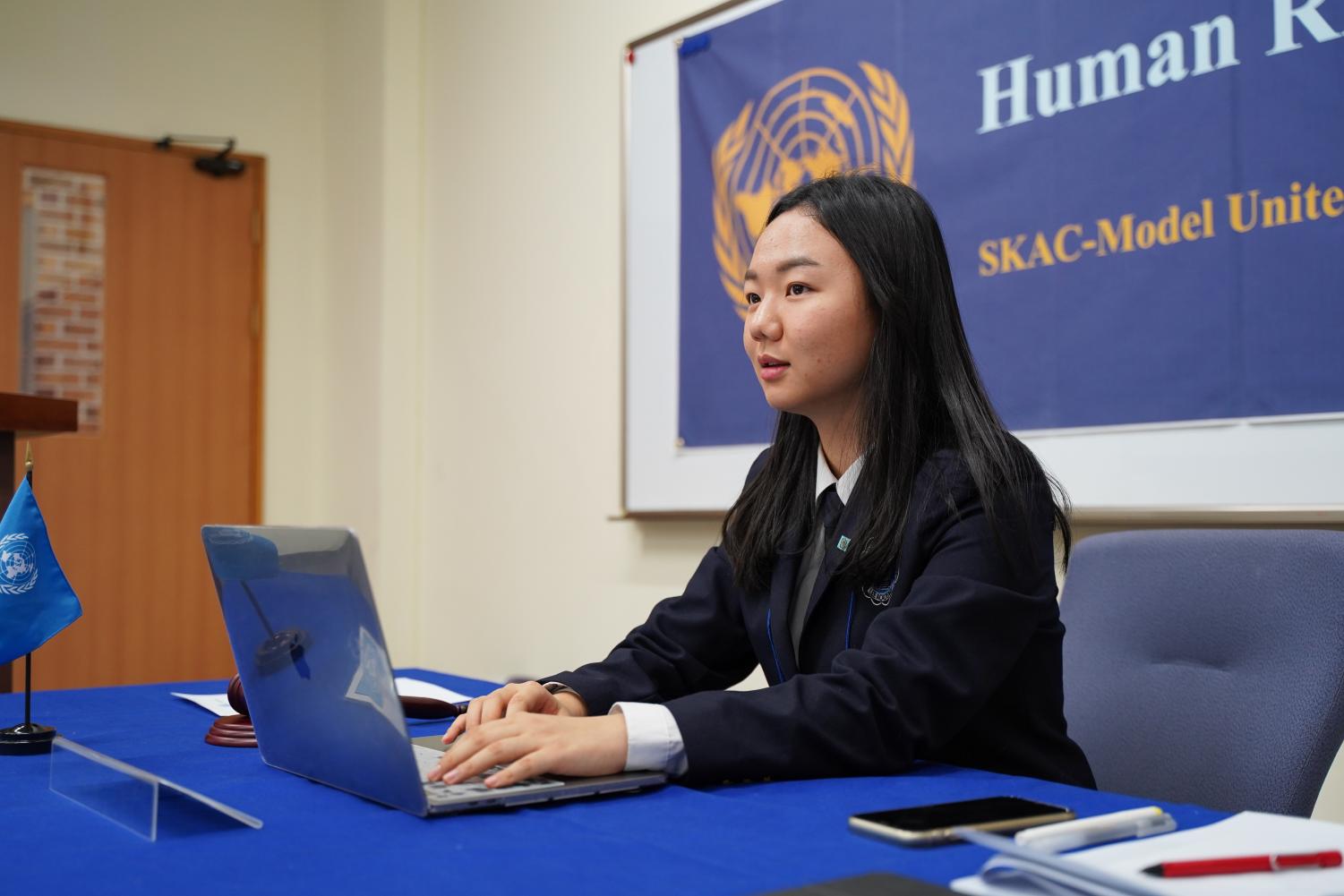 Members of the Security Council agreed that Antonio Navarro from ISB (International School of Busan) was one of the best delegates in SKAC MUN history. Though the crown for Security Council went to Antonio, Matthew also gave inspiring speeches, bringing home the Best Delegate Honorable Mention award.  
In addition to Matthew, Colin and Dylan commanded the Economic and Social (ECOSOC) council. With Colin sharing powerful speeches and Dylan passing his resolution, they each received the Best Delegate and Honorable Mention awards.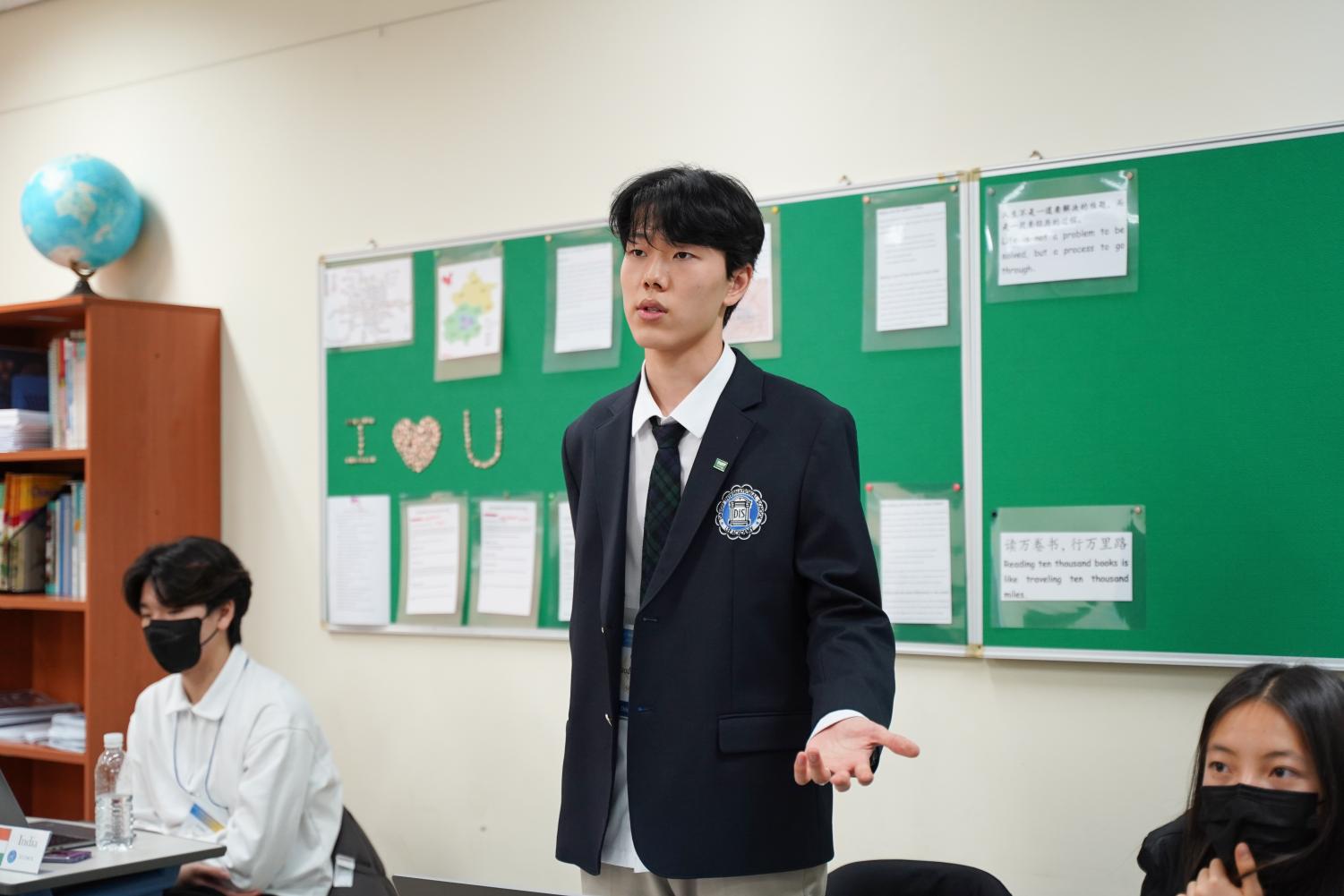 Selina also earned an Honorable Mention from the Human Rights Committee, going against competitive delegates. "At Yale MUN, I was in an advanced committee: CSTD (Commission on Science and Technology for Development). In that committee, the topic was also organ transplantation and illegal trafficking. So that, first of all, set me up to see the global view of thirty different delegates," said Selina, proving that her participation in various MUN work outside of DIS aided in her SKAC success.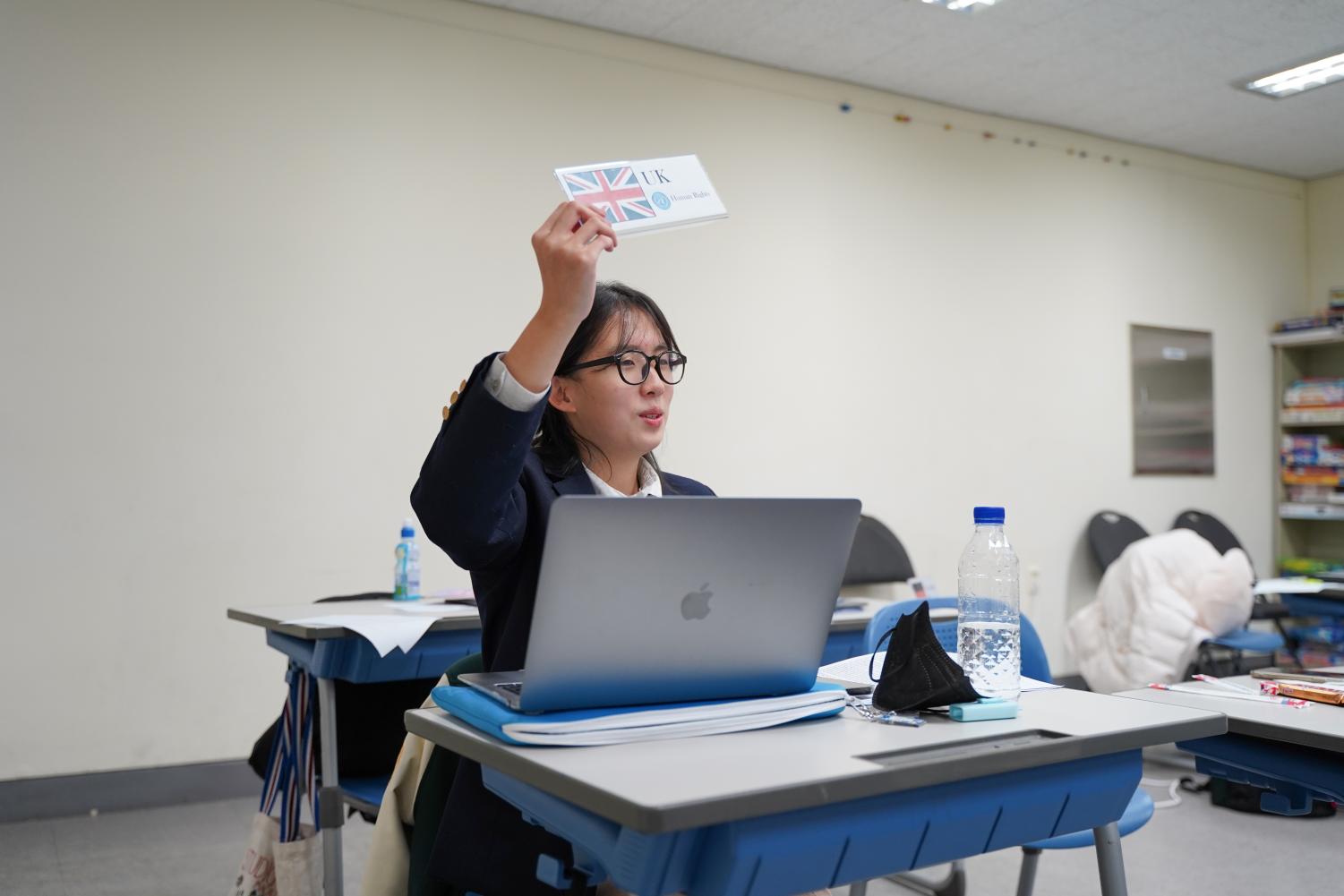 Lewis and Apple also highlighted the day, receiving Best Delegate awards in GA and GA2, respectively. Lewis reflected on his hard work, "For the resolution – I finished it in the first week, which I am very proud of. I tried to encourage teams who weren't participating much, like Ukraine. I also passed notes and convinced him to vote against a resolution that I was voting against."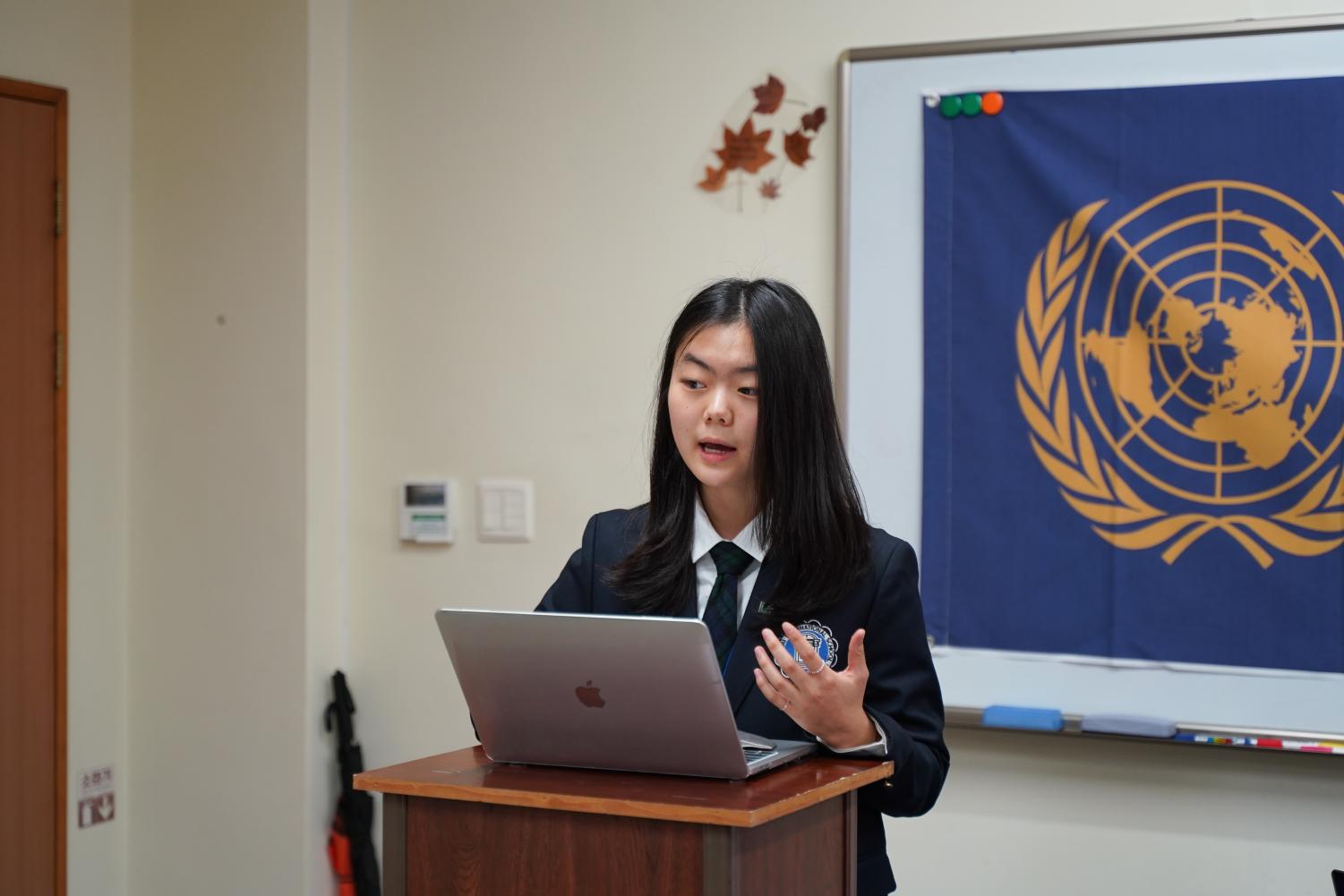 Due to the limited amount of awards, not all delegates were recognized, but these freshmen were phenomenal in each of their committees: Lily and Allie rose to compete against much older delegates; Solah, Jerome, Sankeeth, Annie, and Leanne brought new perspectives to the floor with confident and passionate attitudes.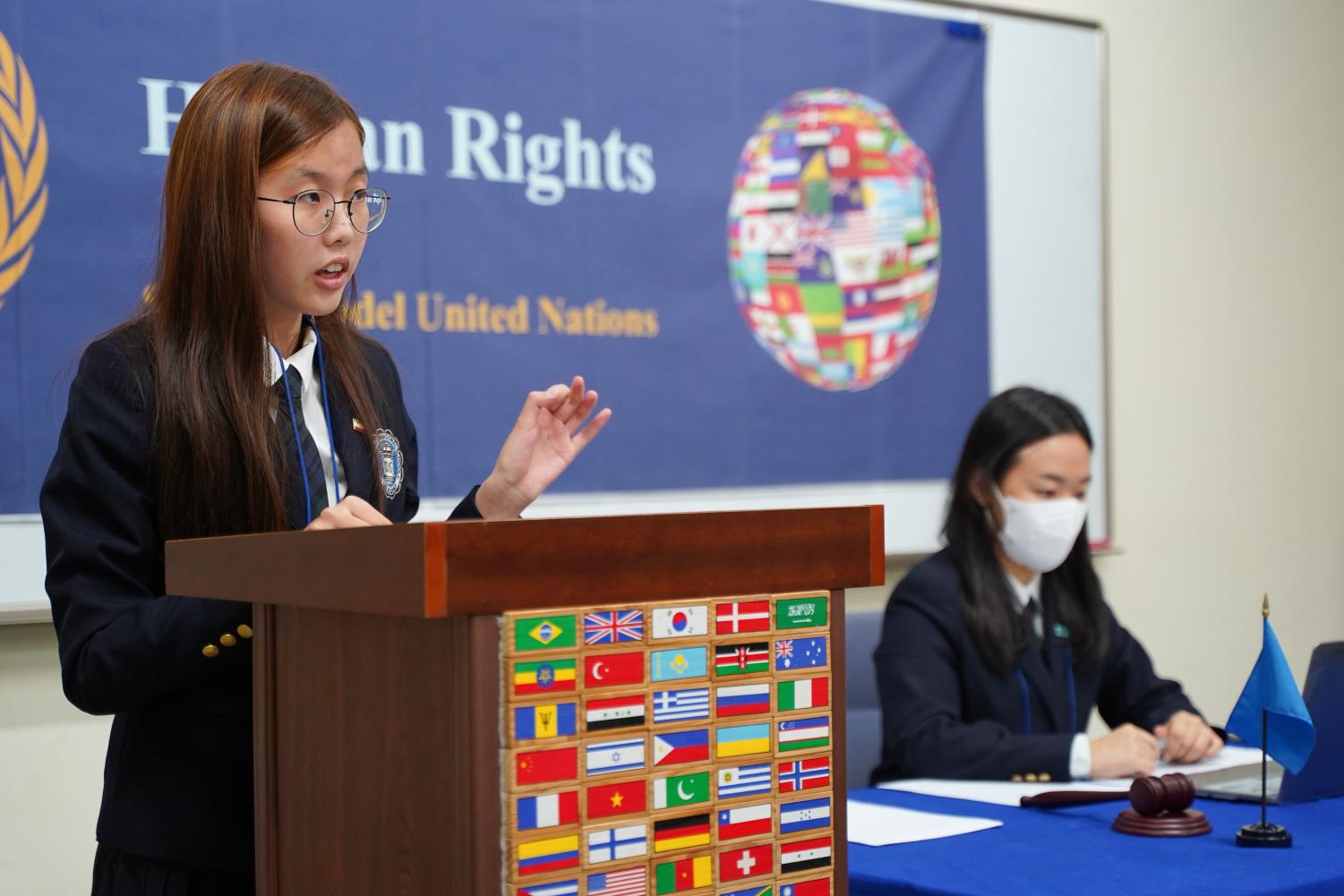 Niha exclaimed, "I think I did pretty well. For the first time ever, I surprised myself. I didn't know I could be this confident. We didn't just stand up in front of our chairs, but we had to go up to the podium with a mic. Speech was my thing! I had fun."
Although five seniors will be leaving the team this year, the rising freshmen offer a highly promising future for the next DIS MUN team. "We live in a world with rapid changes and multiple problems, but we have the opportunity to shape a better future. This starts by actively understanding and sharing our learning with each other," said Ricky.