On The Current Setbacks Affecting SKAC Tournaments 
Mrs. Jolly Explains the Pause 
The constant cancellation of SKAC tournaments disappoints not only athletes and coaches, but also our athletic director, Mrs. Jolly. "I feel frustrated for the students who have been playing really hard, coming to all of the practice sessions, and putting effort into improving their skills," she said. Such short-notice, capricious withdrawals also make her "feel bad for the coaches who have been spending so much time seeking for improvement and additional practices." 
Mrs. Jolly is worried that postponing the tournaments will demotivate athletes. She also noted that, "it is more understandable for elementary students because they're not vaccinated." On the other hand, she is aware that middle and high school athletes are not satisfied with the decisions. 
Though Mrs. Jolly is let down by the inactivity, given that the International School of Busan and Busan Foreign School are having their own friendlies, it seems like Busan and Daegu have different regulations concerning COVID. At the same time, DIS hopes to bring athletic enthusiasm back to campus.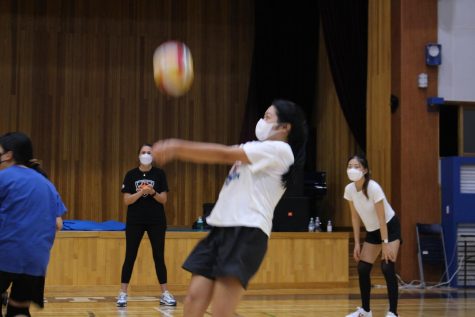 SAAC is also attempting to redeem the cancellations of tournaments; the organization plans to hold another in-house volleyball event with both the middle and high school teams soon. The high school volleyball athletes will not only play games but also help middle schoolers enhance their skills and motivate them to participate. Mrs. Jolly and the members of SAAC wish to "make some [new] teams, and have fun playing volleyball." Mrs. Jolly added, "I am not sure if we can do anything for basketball, but we'll start with volleyball… and at least we'll make students feel like they are part of something."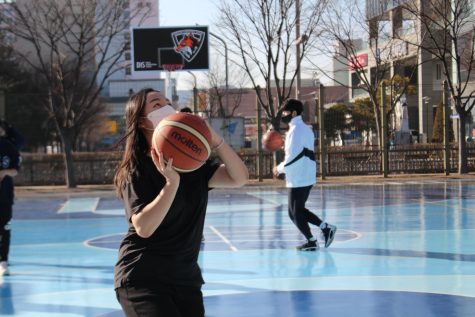 Mrs. Jolly further recommends enjoying sports outside of school. Macyn, a sophomore, is playing with a Korean high school girls' soccer team in Daegu. "The school also has a volleyball team, but I think they would kill us," Mrs. Jolly laughed sarcastically. "Especially with the middle and high school kids, there are more local competitive soccer teams."
Despite the interest in interscholastic athletic events, another COVID spike is once again draining our spirits, and athletes are growing impatient. Hopefully, we'll be able to play some games in the near future and resume our regular routine.