How Classroom Decor Reinforces Your Studies
Looks Matter for Learning Environments
First impressions are everything. From talking to a new classmate to meeting a new teacher outside of school, your first interaction with a person can determine the nature of your relationship for the future. The same is true for our school. 
There's no doubt that the school grounds are inviting anyone to come in – DIS has put in a great deal of effort to look aesthetically pleasing, with a big campus makeover including the basketball court paint job, murals at the gym, a wide variety of plants, as well as cornhole and four-square in front of the cafeteria.
But while the exterior of the school uniformly welcomes students, parents, and staff to come in, the classrooms get a lot more diverse. Those setups are all up to the teachers, and they reflect their personalities with their layout and decorations. 
Your classroom environment undoubtedly affects how you learn. I mean, imagine if it was just desks in a bright white room with a smart board at the front. Pure madness. It's not something we process consciously, but beautification adds a lot of energy to the overall learning experience.
According to a team of 153 researchers in the United Kingdom, walls with "some decorations" were the environment in which students benefited the most. "The displays on the walls should be designed to provide a lively sense to the classroom, but without becoming chaotic in feel," they wrote.
Whether it's the placebo effect or there's scientific evidence backing it up, it seems that most people appreciate decorations, regardless of how much they help academically. 
Jules from 5th grade commented, "Classroom decorations… can make [things] feel a bit more alive and spiritual, and [they] help put me in a good mood. When I'm studying, [they] help me concentrate more."
"I like our [Ms. Son's] class because on Halloween, the moms came in and we got a lot of decorations like on the walls and ceiling, and some stickers, like on the COVID plastic wall thing… We couldn't go back to our normal life because of COVID and with the plastic walls, and the moms put Halloween decorations on the walls, it feels a little better."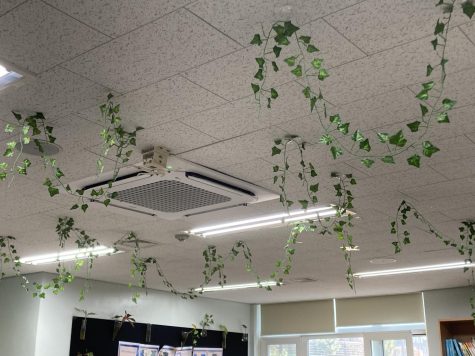 Ms. Morissette explained her rationale for the decor: "I think students deserve to have a beautiful place to learn, and I want our classroom to feel like a place that I want to be in. That's something that I thought of when decorating, but also we [don't] want it to be too distracting. I think it's beneficial if it's a beautiful place to learn in and students, and the teacher want to be there. I think that makes a big difference."
Elementary spaces tend to be more decor-heavy than those of middle and high school, but some upper-grade teachers put up more than just informational posters. Mr. Coleman, for one, has a board outside of his room filled with pictures of students' and teachers' pets. 
When asked about the benefits of the wall, Mr. Coleman explained that "it brings up the mood, and sets a positive tone for the students entering the room."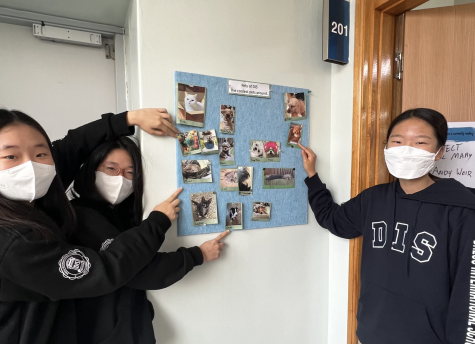 Ms. Butcher also puts in the work to make her room more cozy for her students. "I think it's really important to have different spaces in the room where students can collaborate with each other, or if they need to work independently. I love color, I think it brightens up the room, making it feel welcoming and warm. There's an inclusive environment where students feel appreciated, they see their work displayed on the board, and they feel like this classroom is theirs." 
Many people think elementary classrooms should be decorated, but not everyone seems to share that sentiment for all grade levels. Regardless, Ms. Butcher is an advocate for the power of a good learning environment: "When parents come in they sometimes say 'Oh, is this an elementary room?' and I'm like 'No, it's a middle school classroom.' I think it's important even in middle school or high school to have your classroom represent your students, and just to make it feel warm and safe, because a classroom should feel like that for kids."
The consensus is that decor makes learning relaxing and inviting, even improving concentration. There's no reason not to put in a little more effort to make class feel a little more like home, and DIS shows us that.