Curtains Raised for Chinese Culture
NCHS Opens Chinese Culture Event for Elementary 
Ni hao! (你好!) Chinese, the world's most spoken language, is taught here at DIS and unsurprisingly, at a multitude of different schools all around the world, too. While some claim learning this vernacular is easy, the task can be daunting for many students; the language reflects a lot of China's diverse and complex culture. However, one of the key elements to successfully learning any language is to understand the country's customs and way of life. The National Chinese Honor Society (NCHS) held a Chinese culture event on December 9th, for all elementary students to enjoy some entertaining traditional activities. Here are the highlights.
 "I think the event turned out pretty nicely," remarked Geo, an active member of NCHS. "It was well organized and everything went pretty smoothly."
Anna, the President of NCHS, also added, "I thought it would be more chaotic, but the members organized the event very well. I feel like they did more [of the] job and more work than I did."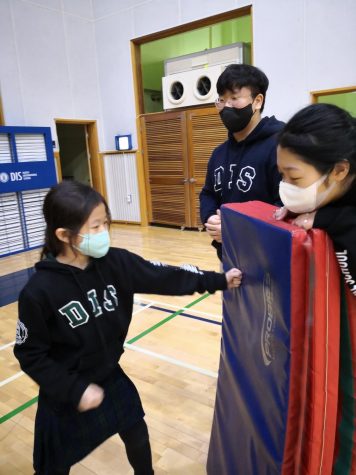 There were a total of 4 stations dispersed throughout the gym. Students were able to experience a variety of activities at each station, such as the main Chinese martial art form of Tai Chi. An instructional video made by the members was shown, and students were told to follow along. "We edited the video so that it would clearly reflect our teaching,"  added Selina, one of the Tai Chi instructors: "The teaching [experience], the combat, and the part when we actually tried the moves out was the best experience for everyone," she remarked.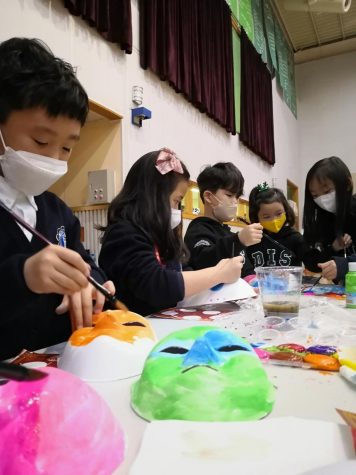 Another station, the mask painting booth, was bustling with activity. Here, students were able to paint their very own original Chinese traditional opera masks with unique designs. Fifth-grader Chloe, an enthusiastic participant and the winner of the Chinese Trivia, also had her share of joy with the strokes of brushes: "I liked the mask painting because we could design it however we wanted, and have fun with our friends as well."
As NCHS got ready to close the curtains on the afternoon, the final event – Chinese Trivia – began. Multiple True-or-False questions had to be answered in order for a final winner to be decided. The winner would be receiving the top prize – a gift card! 
"I liked how the kids were arguing and talking with each other, all trying to take the grand prize home. That was pretty fun to watch," trivia host Geo grinned as she recounted the day's events. Chloe, the winner of the night, felt equally shocked and exuberant about her win. "I couldn't believe it, because I'm very bad [with] trivia. I think I just got it by luck," she admitted modestly. 
The Chinese Culture Event instantly became a huge hit, as a chance for elementary students to learn about and experience different traditions.
"
"I never knew about Chinese culture before… once I got to know it, it was fun and very exciting.""
— Chloe
Tracy, one of the third-grade participants, had the same sentiment. "There were some things that I [already] knew and things that I didn't know. It would be more interesting for me to learn Chinese since I know about their culture."
Ms. Zhu, the supervisor for NCHS, explained that "this event was our first that the high school students organized. As far as I know, they never had this kind of event to organize before. It's a learning experience for all of them." 
It's best to keep your eyes peeled for any upcoming NCHS news. "We're planning to have another event like this in the Lunar New Year season, so make sure to participate," president Anna revealed. It seems the NCHS has set a solid bar for an engaging, entertaining educational experience, and will continue to do so in the future.