RSIR Commended by Charity and Local News
The Immigrant-Aid Organization's Achievements, Vision, and Plans
After the withdrawal of over 15,000 U.S troops, Afghanistan was plunged into civil arrest; over 2.2 million people sought to leave the country. In an evacuation dubbed as "Operation Miracle," 390 Afghan refugees were flown to Korea, where they've mostly been welcomed by public support. Despite public approval, political criticism of South Korea's welcoming response has reignited the nation's long-fought debate on asylum seekers. 
RSIR (Research and Services for Immigrants and Refugees), a student-created lunch club raising awareness and funds for those who have come to Korea for a new start, has taken action. The club began 2021 with a Non-Uniform Day in November, and students showed a strong turnout and positive consensus. The event was overwhelmingly successful, raising a total of ₩1,138,000 for the Save the Children Foundation. 
"
It was really emotionally rewarding, too. I know this money will be going to people who need it, and I definitely want to do more events like this in the future."
— Sunny, an RSIR member.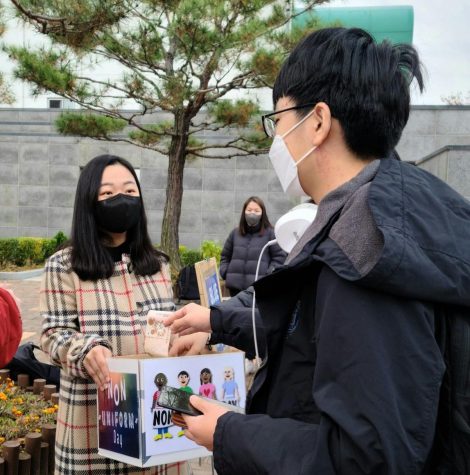 Save the Children foundation visited RSIR, thanking the club for its donation to the Afghan cause and presenting the organization with a certificate of thanks for the donations. Both RSIR and Daegu International School have been commended for the student-driven volunteer work and benefaction in the local news.
Seong-Hoon Roh, head of the Eastern Branch of Save the Children, expressed his gratitude to RSIR. "I would like to thank the students of Daegu International School for organizing volunteer activities on their own, and thinking to fundraise for the children of refugee families who are most in need."
"What our organization [RSIR] wants to do – basically, we want to help raise funds to help with the necessities for any family that comes to Korea, whether they are the recent refugees that came from Afghanistan or another refugee or immigrant group," said advisor Mr. Bergan. The group has also made announcements to better educate DIS, visited émigrés living in Daegu to help out with errands, and sent food and toiletries to immigrants.
The members show genuine commitment to their cause. When asked about why he helped create this club, RSIR secretary Samuel said: "We created this organization because there wasn't much awareness at the time about refugee situations and social issues within Korea. This is especially true at our school. Since we mainly handle things about the U.S, nobody really knew about local [social issues]. We wanted to [increase] awareness in terms of a global perspective and actually do something to help the people around us."
Samuel says that COVID-19 has unfortunately limited the type of activities and fundraisers available to RSIR. "There are so many restrictions on what we can do," he explained. "Still, we are hoping to plan many different things and do other fundraisers." 
The club aims to continue its services as best as possible, planning to reach out to refugees in other ways. "For future projects, we also want to try to either visit or virtually contact refugees – this includes refugees we [reached] before, to see how they're doing right now [and] if we can be of any help to them," professed KD, a founder and the current president of the club. 
After the success of the Non-Uniform Day, more fundraisers are sure to come. Though the lunch club's events aren't a definite solution for the refugees and immigrants, it's a great first step to help out these people in need. If you're interested in helping out, make sure to contact Mr. Bergan, or co-presidents KD, Samuel, and Alyssa about joining.