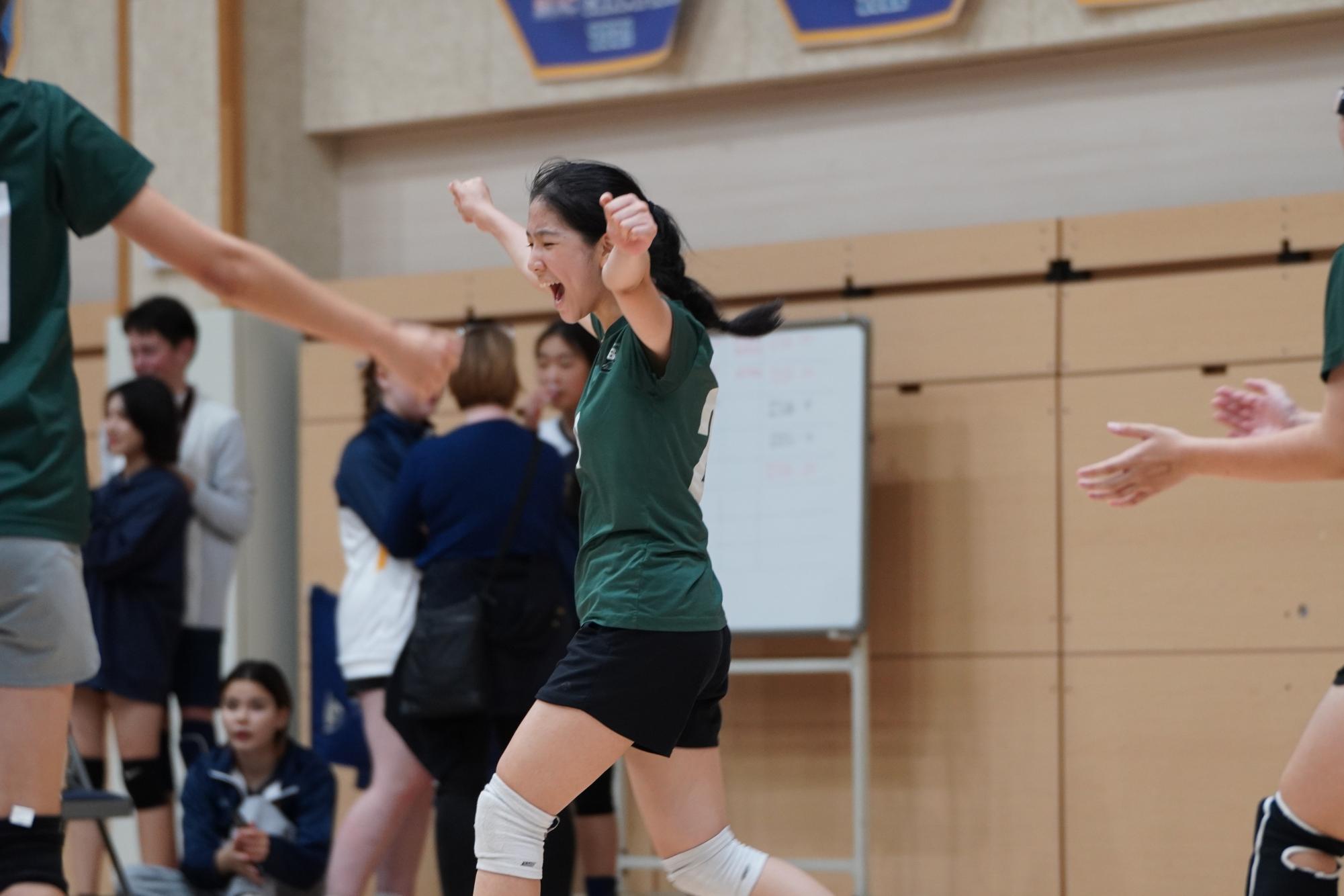 The high school girls engaged in a day of intense volleyball with SKAC schools at Busan Foreign School (BFS) on October 14th. The varsity team ended short in the semifinals against Atherton International School (AIS), and junior varsity (JV) ended in fourth place with a loss to BFS.  
The tournament started awry as one of the girls' coaches, Mr. Balint, could not make it to the games. The two squads began the day with Mrs. Jolly as the sole coach. "I wasn't actually able to go to the tournament, but I think the girls have been improving a lot. I'm just really excited to see how the next couple of tournaments go," said Mr. Balint.
The varsity players suffered a rough start against BFS with set scores of 8-25 and 9-25. "Mrs. Jolly critiqued our team after our first match with BFS. Then, we were able to pick ourselves back up from the slump that we were in previously, and we played a lot better the second game than we did our first game," all-star Jayden Hayward said. 
The team bounced back with a win in their next few matches. They took two sets against Handong International School (HIS) with scores of 25-18 and 25-17, and also defeated Kwangju Foreign School (KFS) 25-16 and 25-11. This catapulted them into the semi-finals. Unfortunately, a match against AIS blocked the squad at the gateway to the trophy. 
With lowered morale among players, the point gap widened. "[The other schools] were really strong. When we're losing, we tend to feel more down, and we tend to play less. So, that was kind of difficult," varsity co-captain Minori Kojima said. 
The JV squad initiated the day with a win against ISB with set scores of 25-18 and 25-20. However, they lost their winning streak to HIS in a close game with a set score of 2 to 1. Like the varsity girls, they advanced to the semi-finals with one win and one loss but BFS defeated them 17-25 and 18-25. 
Without having SKAC divisionals this season, some girls from other teams struggled to find their footing at the first tournament of the year. "We had a rough time communicating on the court. So there are lots of errors where the ball just drops on the floor," BFS freshman varsity outside hitter Sophie Gallas said. 
Nevertheless, players fostered new skills, and some returned with individual awards. Varsity setter Apple Jun in tenth grade and outside hitter Jayden Hayward in ninth grade received the title of all-tournament player. Junior varsity captain, junior Dana Lee and JV setter Christine Mason in 10th grade also made the all-star squad. Freshmen Ellen Cho and Shannon Moore, sophomore Minori Kojima, and juniors Sunny Oh and Nayoung Kim also received nominations for the all-tournament award. 
Along with friendly matches against DMHS, the players travel to Jeju for the KISAC tournament from November 16-18 to wrap up the season.