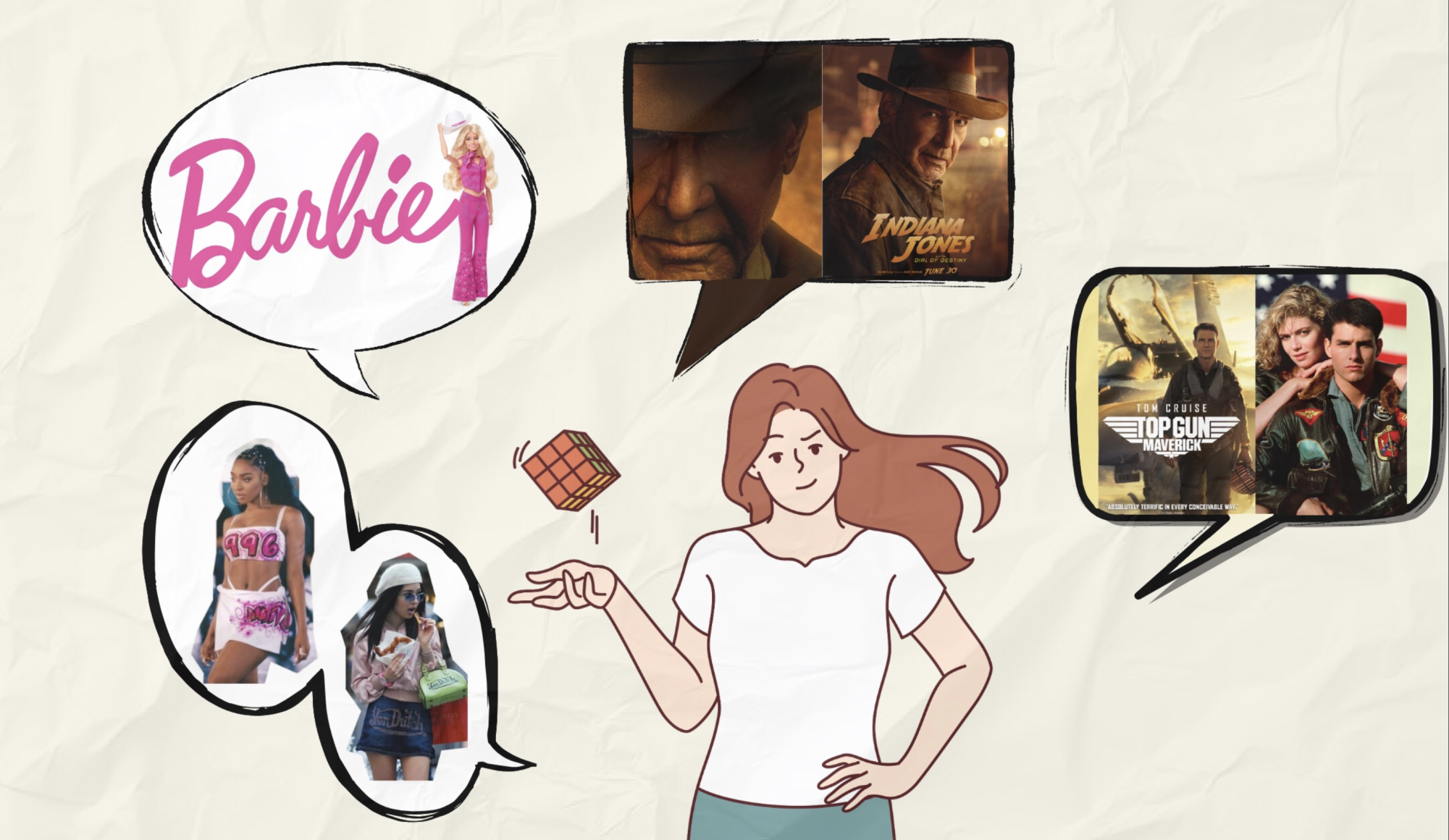 Teens in Y2K fashion – kitsch graphic t-shirts, hip cargo pants and colorful sports jerseys – swagger along the streets of downtown Daegu. It may seem like they simply want to take a trip down memory lane, but science shows that there's much behind why people revert back to old trends. Nostalgia provides our brain comfort from loneliness and distress, just like a sweet treat.  
In fact, memory lane acts as our secret solace in difficult times. According to National Geographic, the pandemic made people pine for the past – they sought out their childhood memories to find comfort in an age of limited interactions. Businesses then used this trend to target the right audiences and glean more profit. 
In particular, companies target mainstream media, especially with movies based on our favorite pastimes. Barbie tea parties and plastic toy fighter jets? They've got it all down. Reminiscent of the '80s culture, recent movie releases include but are not limited to "Barbie," "Top Gun," "Indiana Jones," and "Teenage Mutant Ninja Turtles." 
On social media, Y2K fashion and '90s grunge outfits define everyone's OOTD (outfit of the day). Clothes considered tacky five years ago made a comeback as the trendiest items available today. Flannels? Check. Hot pink sequin skirts and sunnies? Check and check. 
Right along with the media, food and cosmetics industries incorporate nostalgic trends into their products. For example, take the scrumptious Barbie burger and glittery makeup that diverge from the natural looks that Korean beauty standards pursue.
Nostalgia-induced trends have definitely made their way into the 21st century, but why do we love to relive our past experiences so much? Science points towards rose-colored glasses. 
Psychologists say that even bad memories become more optimistic over time. In addition, unpleasant experiences fade faster on average, while a fond essence tends to stay lucid. Childhood trips exemplify this: you most likely remember nothing of your temper tantrums and sore legs, but can't you recall beach runs with your dog and sing-along dance parties with friends? Probably!
Aside from our fondness for sweet recollections, these memories also exert various benefits on the brain. They increase blood flow, and the sentimentality makes sure your brain gets the nutrients it needs to function effectively. Yes, Indiana Jones can actually help you focus in class and reach your full potential.
So, can nostalgia function as a health benefit? Maybe yes, maybe no. Some may just hop on the train and reminisce about their childhood in fondness, and others may find their secret solace deep down memory lane in volatile times. Plus, teens can look out for new fashion and beauty trends that older generations can also connect to. Regardless, enjoy your trip back to the past.