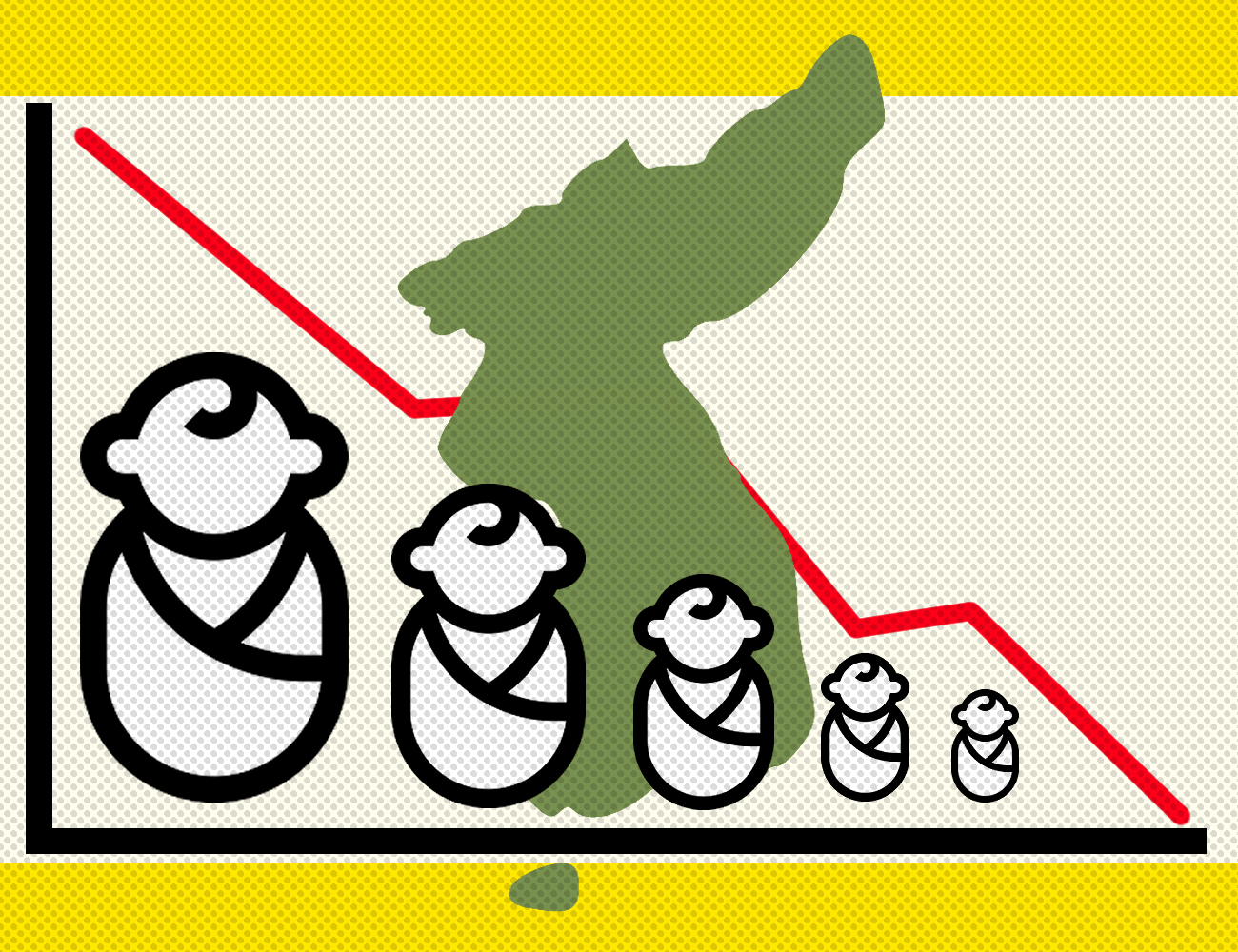 Today, Korea faces an abysmal population crisis with a national average fertility rate—the mean number of children born—of 0.84, the lowest in the entire world. Local birth rates gradually declined over the past decades, which led to the current extreme statistics. According to the Korean Statistical Information Service(KOSIS), newborn cries nearly slashed down to a third between 2000 and 2022.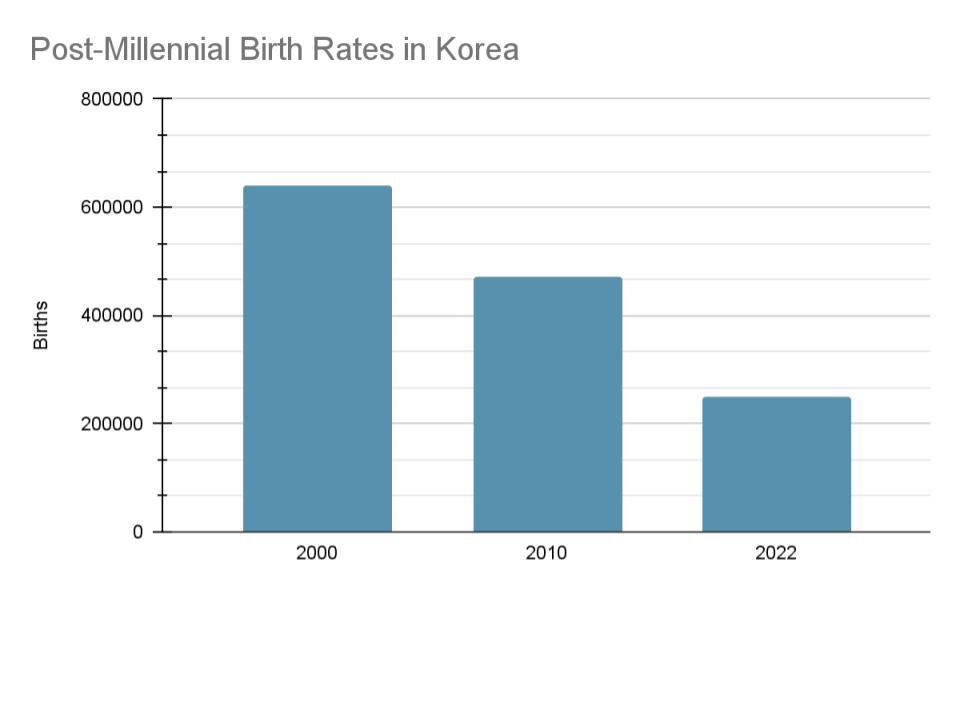 Population decrease may seem innocuous at first glance; however, it envisions a frightful future. The drop in fertility leads to the reduction of available manpower, productivity, and consumption. Think of a country without any youths in school, workers in industries, consumers to buy goods, and soldiers to defend our borders. If the current situation continues, this dark future fast approaches us in the next three decades. A report from the Board of Audit and Inspection said, "As of 2017, 83 out of 229 (36.2%) provinces of Korea are under the threat of immediate extinction. From the analysis of the future extinction risk index [government index of regions at the risk of population decimation], it is predicted that this will grow to 157 (68.6%) provinces in less than 30 years."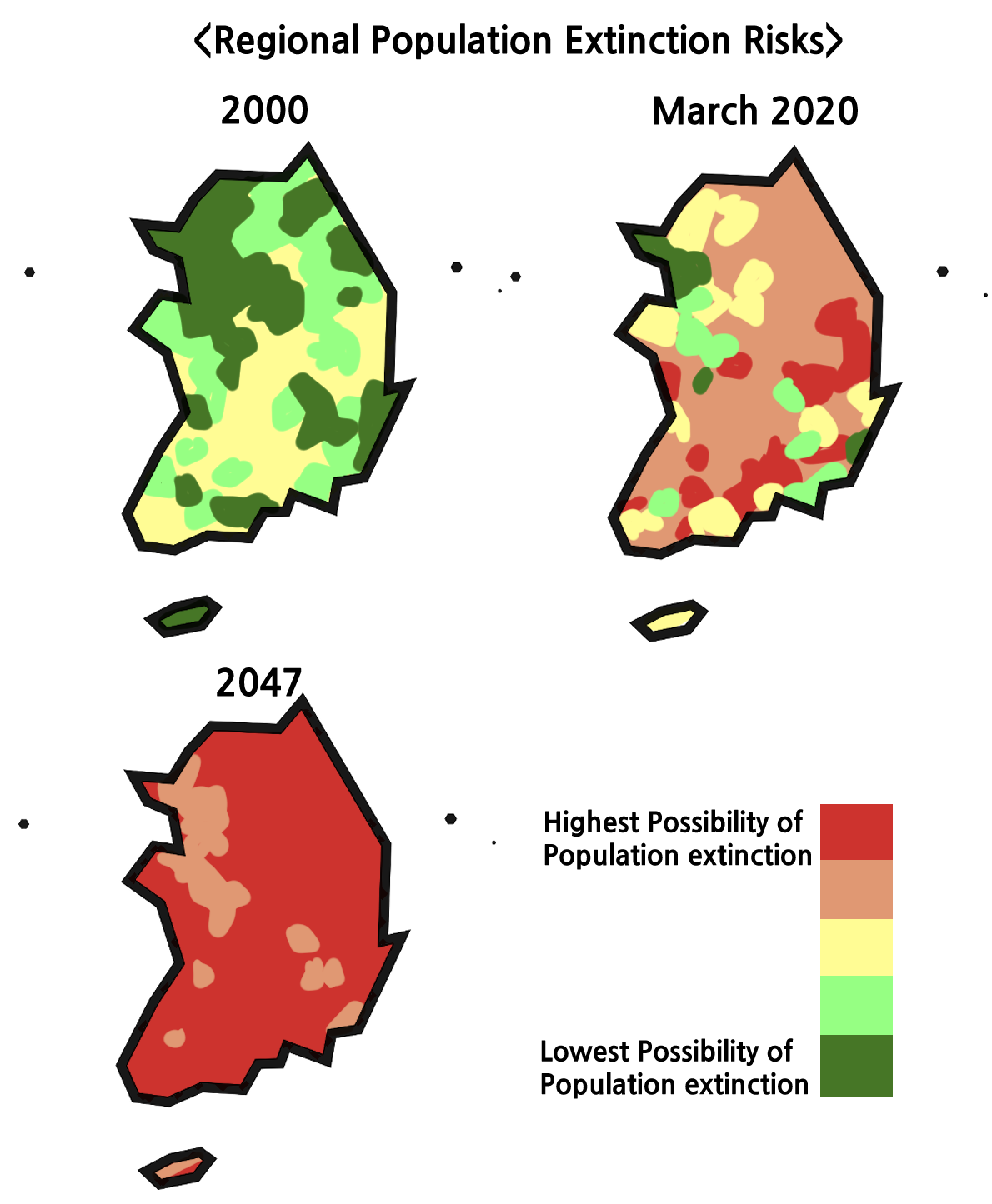 While the government nearly quadrupled investments to spike birth rates over the past 12 years, the fertility rate continued to plummet. The same report from the Board of Audit and Inspection described the birth encouragement policies as a "complete failure". The report mainly discussed extreme population centralization, competition in education, and increased costs of living as the causes of this disparity. With these failed policies, I believe that the government must resort to external measures like immigration. 
However, such efforts remain minimal in Korea due to NIMBYism(not in my back yard), which pertains to the public's resistance against accepting foreigners into their livelihoods. A KOSIS report showed that about 2.1 million out of 51.7 million people (4.1%) come from foreign nations, and almost nine out of ten fail to earn citizenship. 
Various factors stunt needed progress. First, many consider Korea as less preferable for immigration due to the required military service and difficult naturalization examinations. Widespread antipathy against citizens of developing countries, people of color, and Muslims also play a large role. Recently, in Daegu, many locals protested against the construction of an Islamic mosque in Daehyeon-dong. A local protester said, "Before they [Muslims] arrived, it was our front door…they ask us respect for their culture, but do they respect us? No, they don't!" 
Koreans hold great pride in their monoculturalism. They tend to value ethnicity as a determinant of one's patriotism and nationality. Also, many believe that the government must prioritize the rights of locals over foreigners, regardless of their citizenship status. For example, according to Joongang News, "Immigration policies must be considered thoughtfully and thoroughly before enforcement, as it may deteriorate the Korean identity." This statement vaguely connotes racial purity. Such an anecdote clearly portrays the fact that our society still relies on outdated racial classifications to characterize its people. 
In search of solutions for such obstacles to immigration in Korea, I investigated the precedent case of the United States. While the United States once formed as a nation of immigrants, the collision between locals and settlers soon became a problem, as well as racial conflict. For example, the United States enforced the Chinese Exclusion Act of 1882 as a demonstration of antipathy against cheap foreign labor. 
To prevent national instability caused by such issues, America increased funds for immigration control. To implement this change, the U.S. government created the U.S. Citizenship and Immigration Services in 2003. Through this, America improved policies for stable migration and the collection of skillful labor forces from around the world. The United States also promoted diversity to control conflicts between locals and newcomers within their nation. This, while not completely resolving opposition, gained reasonable success in the integration of foreign populations. 
I believe Korea shouldn't retain its conservative views on the current issue, especially when the abysmal fertility rate pushes down on us. Societal xenophobia pushes governments to ignore a viable solution. Therefore, I believe that we must undergo significant reforms in immigration policies in reference to the American model. 
In particular, we must increase funds for the establishment service department. To save Korea from an envisioned extinction, the government needs to support the integration of newcomers into our society. The investment into their education, health, living standards, and integration does not solely favor them but benefits the country as a whole. Imagine – would you want to live in an entirely extinct, backward society? Or would you rather live in a diverse, prosperous country, filled with life and energy? The choice is yours.