Menstruation Station: Making a Change
High School Girls Bring Period Products to Bathrooms
A group of high schoolers brought a new addition to the DIS campus with the help of Mrs. Cameron. Their "Menstruation Station" project consists of cabinets stocked with female essentials like pads and tampons for emergencies. Now, girls who unexpectedly need period products can make an emergency visit to bathrooms on the 2nd and 3rd floors without having to borrow them from a friend or Nurse Becky. 
This project started when Selina, a sophomore, dealt with an urgent situation. She explained, "I also experienced what many people might have felt, where you just go to the bathroom, and BAM, you have your period." Selina said that every time this happened to her, it was very uncomfortable to go downstairs to the nurse and ask for products in the midst of class. Or even worse, while taking a test.
This idea prompted her to think of a solution with the help of teachers. Selina explained how former English teacher Ms. Butcher inspired her by suggesting, " 'Hey, you should go talk to Mrs. Cameron because she might be able to help you do something about this.' And that was the start of everything."
Initially a group of four, the gathering soon grew as more girls heard about the project and became involved. Through brainstorming and communication, the idea soon became a reality.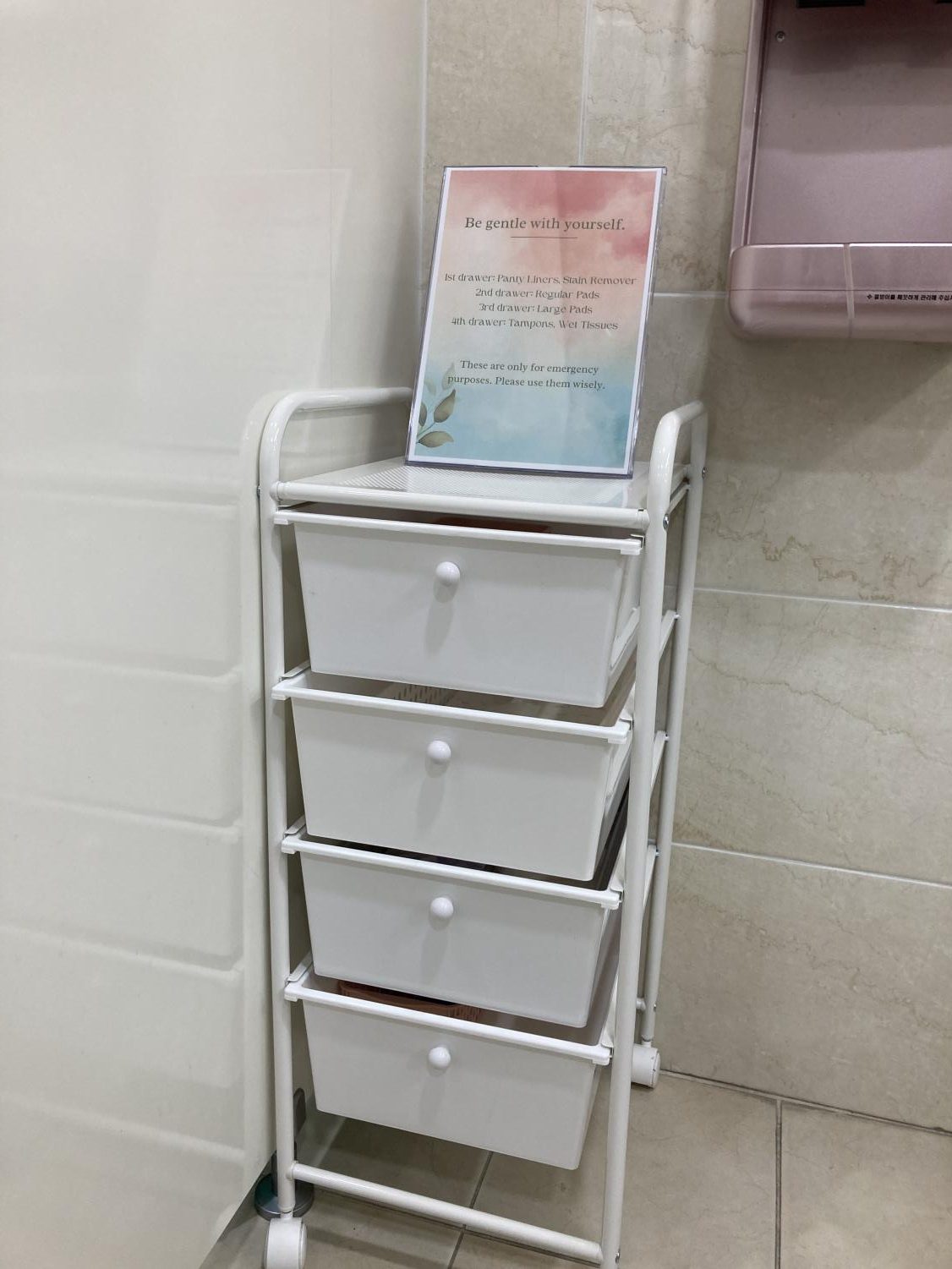 Mrs. Cameron and other teachers were proud of the girls as they put the final cart into the bathrooms. She said, "I was super excited – super excited that this was based on student interest and built by the students that were involved."
Ms. Morissette said, "I think this is a really powerful example of when we listen to our students and what they could use or what they need – having it [the menstruation station] be beneficial for everyone." 
The girls also felt proud of the work and time they put into completing the project. Selina hooted, "We did it! Done!" She, and many others in the group, were proud that they made an impact on the school community by solving a problem that young women had.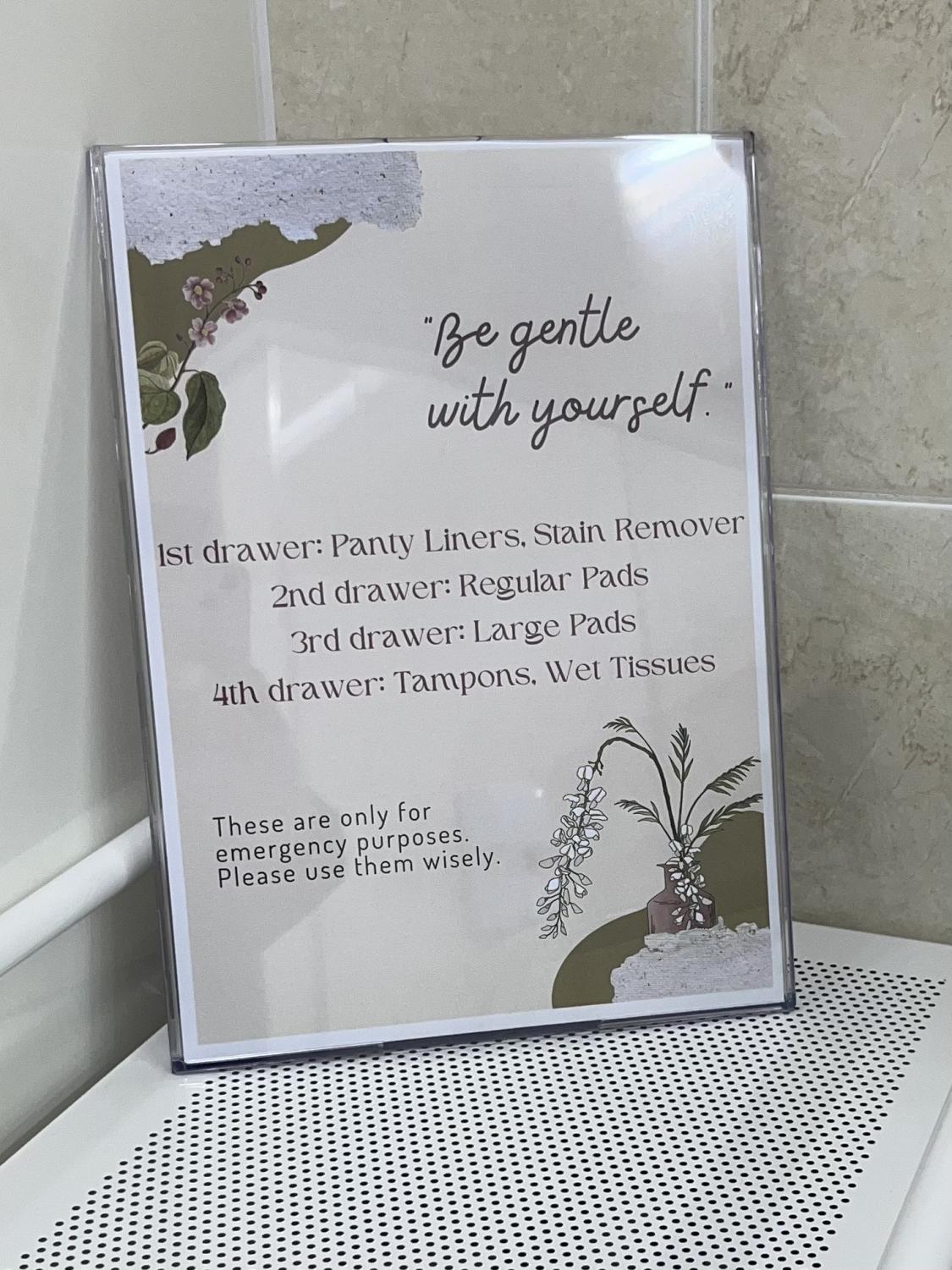 People are proud about this new change. Mrs. Cameron said, "I have talked to a couple of other girls in middle and high school, and they were excited that the Menstruation Station was available. So, I know it's being used." 
Betty in grade 12 said, "It's definitely reassuring to see that our school provides for girls who need pads." Like Betty, many found it comforting to know the availability of Menstruation Stations in case of an emergency. 
Sophomore Anna praised the newly implemented cabinets for stocking tampons as well: "My friend was really excited that Menstruation Station had tampons because she usually used them when she wasn't in Korea, but she couldn't find them nearby, so she was like, 'Woah, they have tampons here!' "
Anna told her mother about the addition to DIS. Her mom said, "와 너네 학교 진짜 대박이다", which roughly translates to: Wow DIS is really awesome! Her mom thinks that the current teen generation has it better than hers did. 
The impact of the Menstruation Station will make a lasting change at DIS – and potentially outside of campus, as well. The informal group plans to extend their work by providing sanitary products to other schools or those in need of feminine essentials. 
Selina and Mrs. Cameron are open to suggestions and feedback to improve the quality of student life. Selina said, "We will work hard to make life better and easier at DIS. Because periods aren't anything to be ashamed of. It's natural."