Pixel-Perfect "People" Dominate the Runway
The Digital Innovation of the Fashion Industry and its AI Models
"A change-seeking robot," "The world's first digital supermodel," and, "Digital character, activist, and vegan." These are descriptions used to elaborate on the opinionated, style-savvy avatars who are now curating our news feed. 
Fashion will forever be laced with an element of fantasy, an aspect that fashion designers have been playing around with for decades. From Chanel's couture wonderlands to Dior's theatrical circuses, the industry has an unparalleled ability to tap into notions of surrealism and escapism. 
With GCDS (God Can't Destroy Streetwear) and Pretty Little Things' recent initiative of a digital arcade, fashion brands are continuing to do what they do best: embracing the weird, the wonderful, and the new. This season, the innovation came with virtual models. As we hurtle towards the third decade of the millennium, fashion spans an evermore imaginative playing field, this time, with its roots in the digital world. 
Most online images nowadays are posted using complex filters. With advances in technology and beauty products, digital manipulation causally blurs the line between fantasy and reality. This doesn't end with edits of real people, though. Virtual models are computer-generated realistic human-like avatars with characteristics, features, and even personalities. Now, many brands have started to incorporate these models in marketing, website campaigns, and digital catwalks. Some are even beginning to help shape this decade as rising influencers – replacing human ones.
Surprisingly, all top luxury brands have tasted success featuring virtual models in their campaigns. Pioneering in this industry four years ago, Lil Miquela, Shudu, and Noonoouri became some of the first virtual influencers to grab the fashion industry's attention. Lil Miquela attended the Prada FW 18/19 show in Milan, taking over the brand's Instagram account along the way. 
The virtual influencer supermodel Shudu Gram was announced as part of Balmain's virtual model army, dressed in the FW 18/19 collection. That same year, AI influencer Noonoouri appeared in a Dior ad, which paid tribute to the fashion house's "Rouge" campaign, originally starring Natalie Portman.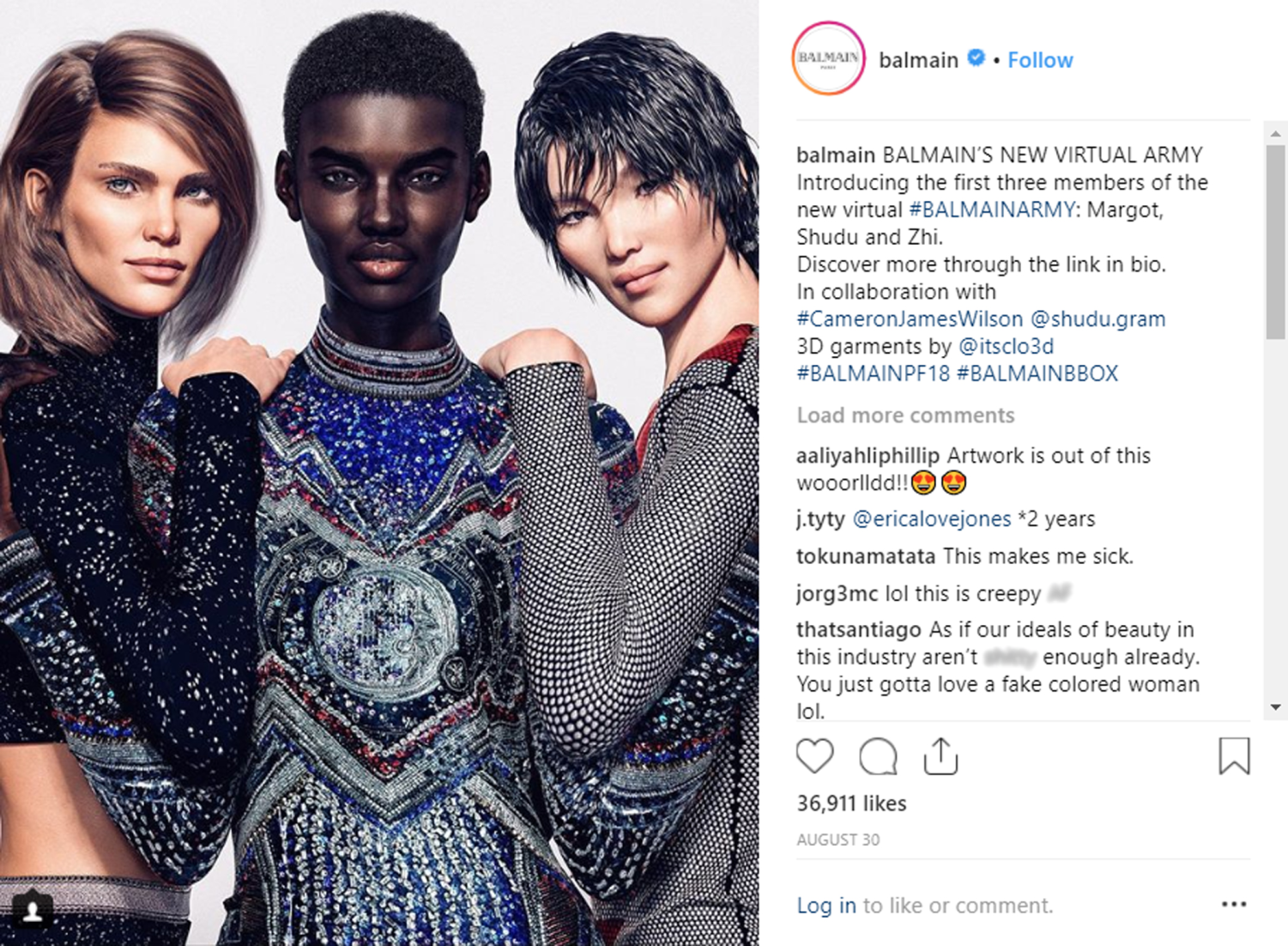 Recently, another virtual model named Hauli accomplished a fabulous feat in Ralph and Russo's luxury marketing campaign for FW 20/21. The numerous pictures of Hauli in extremely exotic backgrounds brought more charm to the superb designs. With this advance, more brands are beginning to introduce their own in-house virtual models to help them progress on their digital and socially-led journey. Prada launched its own robot named Candy as the new face of its perfume advertisement as of November 2021.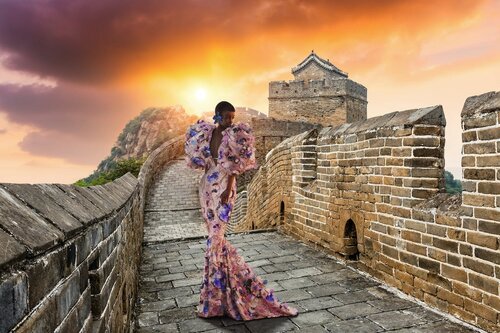 One of the biggest advantages of virtual influencers is that they are nonexistent – yet omnipresent. These models can be dressed up in real time for the customers they're engaging with, and they can do this in many places at the same time, too. If a consumer changes their hairstyle or becomes pregnant, the virtual model can even alternate themselves in response, ensuring personal modification and support in terms of diverse representation.
These AI Insta it-girls provide designers and brands with a new kind of opportunity: to create a character that completely embodies their brand identity and everything else it stands for. In other words, they never "outgrow" the brand in the way actual models or influencers do, as their interests, hobbies, and alliances change. While customers may be disillusioned by real endorsers chasing profit and not caring about the brand they represent, they won't face these issues with AI models that are inherently born from the brand and its 'originality.'
Additionally, the use of virtual models allows for limitless creative possibilities when it comes to design. Brands like Balenciaga have already stepped into this space with its F/W 2021 collection released through an interactive online video game Afterworld: The Age of Tomorrow.
Yet, with this new trend of CGI influencers playing around in the fashion industry, I often wonder what the consequences of introducing these pixel-perfect people to the public may be. So what do we, as designers, need to take into account before we dive right in? 
Humans naturally have imperfections. Computer simulations don't. This brings up the question: Could virtual models possibly create and normalize unrealistic perfections? The reception of virtual models has certainly had mixed feelings about them, with critics being concerned that their introduction will only worsen unrealistic beauty standards and body expectations, particularly for younger people.
"
The reception of virtual models has certainly had mixed feelings about them, with critics being concerned that their introduction will only worsen unrealistic beauty standards and body expectations, particularly for younger people."
Addressing this issue, there are voices suggesting the usage of virtual models as an opportunity to normalize imperfections like acne, rosacea, and scarring. If used correctly, the AIs can be designed to represent what people actually look like, spreading positive messages for individuals to see themselves represented in a way that makes them feel good about their natural elements that could be easily conceived as flaws.
Personally, I believe that fashion brands have a responsibility to represent diversity and inclusivity, and as such, virtual models and avatars should be created to capture different body types and ethnicities. However, as race and culture are sensitive and subjective topics, there have been some well-publicized missteps in the past condemning AI models, as well as their campaigns, as cultural appropriation. These aspects should definitely be noted as caution-worthy. They should also be particularly wary of some of the social and ethical challenges that these virtual models bring, such as white-washing and the advertisement of unrealistic beauty standards.
If used in the appropriate direction, this is a chance for us to think differently, and creatively, and to explore new art mediums. AI models can introduce and embrace a new way of design that creates influential figures who can bridge audiences across both digital and physical worlds.