Right Place, Wrong Team
Playoffs Approach, the KBO Swings for the Fences, DIS Goes Wild
The KBO has officially entered the playoffs-race. Around thirty games are left, and this season has been one of the closest in KBO history: so far in the regular season, the KT Wiz (Suwon) are the favorites for first, while the Samsung Lions (Daegu) and the LG Twins (Seoul) are brawling in a muddy battle to cement themselves in second place. The fourth and fifth places are anybody's spot to claim; Kiwoom Heroes (Seoul), NC Dinos (Changwon), SSG Landers (Incheon), Doosan Bears (Seoul), and Lotte Giants (Busan) all have a legitimate shot to keep playing ball in October.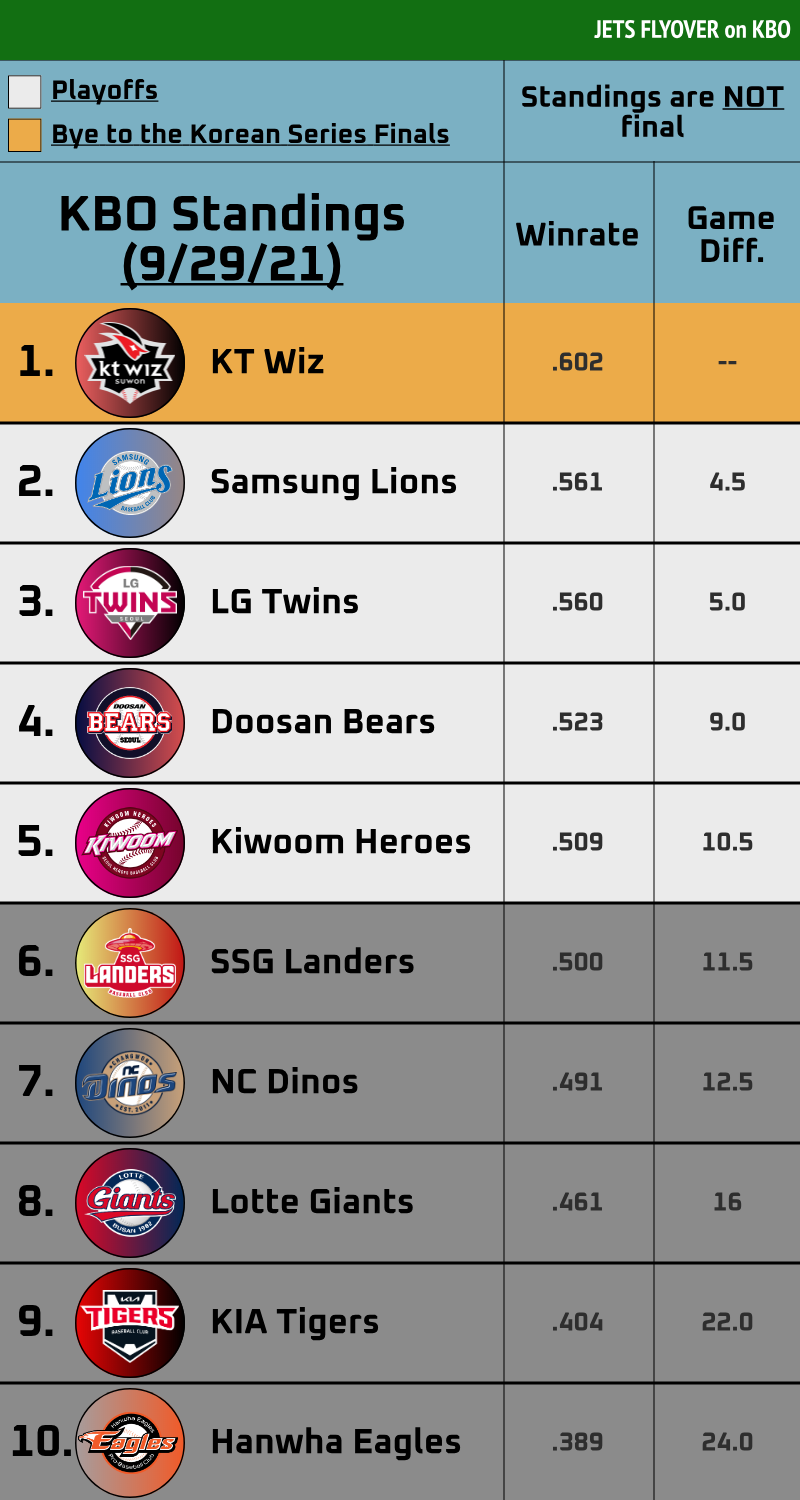 As the race for punching a ticket to the postseason is heating up like never before, fans at DIS are also pumped to support their favorite teams. Here's what the baseball fanatics on campus have to say about the postseason.
"There is only one correct team to cheer for: the NC Dinos," declared Junseong in 12th grade. He explained that his family members living in Changwon introduced him to the team. "I also love their team spirit… watching their commentaries on their social media pages, engagement with the fans, and the actual games themselves, I think they have a really exciting fanbase and a strong following," he added.
Junseong recalled, "I also lived right next to the Changwon NC Park(home of the NC Dinos), so I was able to experience the heat of the games ever since I was young, even when I didn't go to the actual games. Realistically, I don't expect us to defend our Korean Series title, but I just hope we can reach the Postseason".
Senior June, on the other hand, is a lifetime Hanwha Eagles (Daejeon) fan. When asked to explain the roots of his team loyalty, June responded, "Honestly, I don't even know why at this point. My family lived in Daejeon for a while, and Hanwha has been my team ever since then."
"Watching ex-Hanwha superstars like Hyun-Jin Ryu play (a former Hanwha starting pitcher, currently a starting pitcher for the Toronto Blue Jays) was very enjoyable too," he added. "I hope we can avoid placing last again this year," said June (and every single Hanwha fan ever). "That's why I want Hanwha to beat the KIA Tigers (Gwangju; currently 9th). Next year, I hope I can see the Eagles play in the Postseason."
Of course, there are a plethora of local Samsung fans here at DIS: Tommy from 9th grade is a diehard Lions follower, despite coming from Seoul. "I started to follow baseball after I came to Daegu when I was seven," he explained. "I vividly remember the time when I went to a game in Daegu and the Lions won with a walkoff homerun. It was during the Summer, so they started spraying water on the seats," he recollected. "Moments like those made me love the team even more."
"I really hope we can come on top against the LG Twins, because the season is really close," exclaimed Tommy. In fact, the two teams have not had a large game difference the entire season, highlighting how fierce the competition is this year.
"I'm excited because it'll be the first playoffs for Samsung since 2015, and the first to be held in the new Lions Park," he added.
Despite DIS being located right in the home of the Samsung Lions, lots of diverse perspectives from different fans coexist. Personally, as a longtime Samsung supporter, I can't wait to see my team play in the postseason again. It's too early to be hyped since the crown is still anybody's to take, but like all baseball fans around September, fans at DIS cannot hide their excitement.