Middle School Rookies Take the Spotlight as Veterans Face Stiff Competition
Six DIS Teams Hit the Courts at the SKAC Divisional Tournament
Sarah Lee, Sports Reporter, Design & Communications
May 5, 2022
Middle school basketball players headed over to Pohang for their SKAC divisionals last Saturday, April 30th. Bringing six teams in total, three each for both boys and girls, the Jets were thrilled for their first official tournament since Covid.
The boys teams were divided by their grades: Team 1 was composed of mostly 8th graders, Team 2 with 7th graders, and Team 3 with 6th. The girls' teams were also similarly organized. Because of the high number of players and teams, DIS recruited high schoolers to assist with coaching, including Lisa, Macyn, Ricky, and Jacob.
In the boys A division, DIS 1 had extremely close match-ups throughout the day. Though they had tough times squaring off against the opposing teams, KFS, ISB, and HIS, they were only 1 or 2 two points away from taking wins each time. 
DIS 2 swept the B division by defeating all 4 rivals. DIS 3 took all their games in the B division, except when they faced DIS 2. The 7th and 6th grade teams were composed mostly of 1st time middle school players, as they didn't have a season last year due to the pandemic.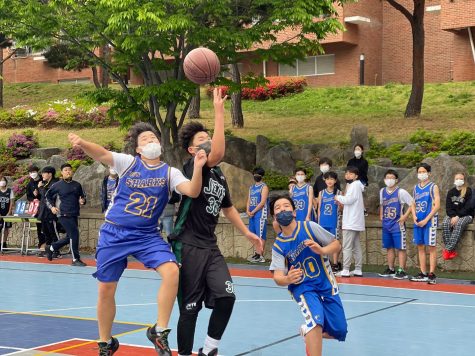 Playing on the road posed challenges for DIS. Players felt the effect that the home-court advantage had for the hosts, Handong International School. Alvin, center for Team 1, said, "Since HIS was at home, there was an audience and I think that gave a big impact on our team. The HIS crowd was cheering for their team and booing when we missed any shots or passes. But the most technically difficult team to beat was ISB. Their screens and passes were really good."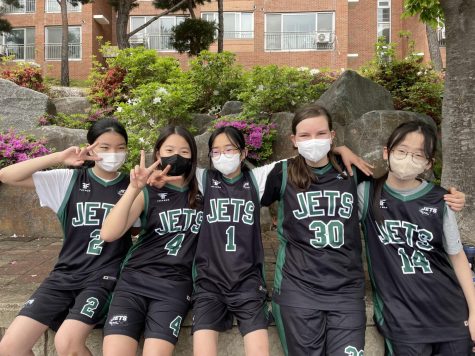 DIS girls 1 team took one win against HIS. "The girls learned a lot, especially when they played against ISB," said Mr. Park, the girls' coach. While DIS 2, in the B division, won two games, DIS 3 lost all the matches despite their best efforts. 
"First, we played against BFS, and I honestly thought they were the strongest team. We lost by a lot, but I think we learned a lot from the game," commented Annie, an 8th grade A team starter.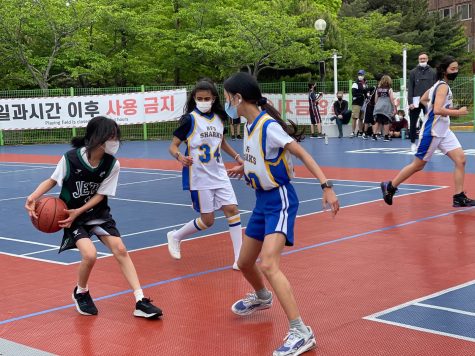 All of the teams will travel down to Busan on Friday, May 13th for their finals. Being the last middle school sports season of this school year, all of the basketball players are excited about their final tournament.