Middle School In-house Volleyball Tournament Restores Hope After Lost Season
SAAC Invites Original Team Members and New Guests Back to the Court
Sarah Lee, Sports Reporter, Design & Communications
April 28, 2022
On Tuesday, April 26th, The Student Athletic Advisory Committee (SAAC) held an in-house middle school volleyball tournament. Unfortunately, the teams didn't get to play in any official SKAC tournaments due to the pandemic. To promote more participation, all middle school students, including people not on the original team from last season, were allowed to join.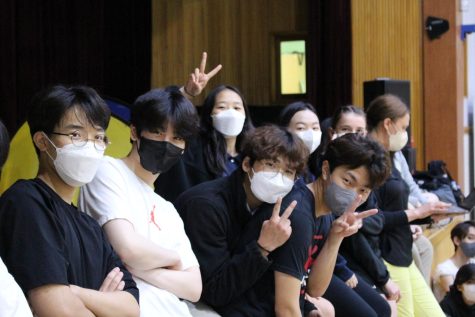 SAAC prepared team rosters and time slots prior to the game. While they hoped to use the new outdoor courts so different games could occur simultaneously with games in the gym, the rainy weather forced the kids to stay indoors.
Students got together with their friends and enjoyed their time throughout the tournament; their cheers and screams filled the whole gym with enthusiasm. Sixth-grader Alex J. recalled a major achievement from the day, "Maddox served and scored 5 points in a row." 
Alex J. played on the official DIS team this past winter. Even though the original season ended early, he cheered up because of this newly scheduled final chance. "We didn't get to have the official tournament. Because of these new games, we got to hang out with friends. The boys played against boys, and girls played against girls, and some extra people showed up that were not on the original teams," said Alex.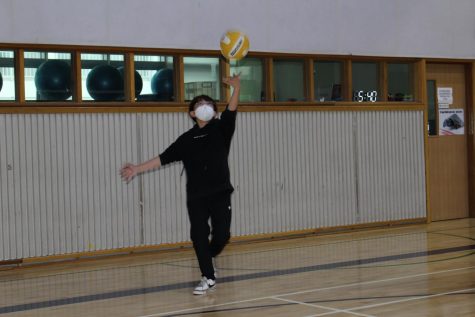 Agnew in sixth grade was one of those new additions that did not play originally. She said, "I went to the volleyball tournament because it is one of my favorite sports even though I am not on the team. Monday's I am on Jet Stream so I didn't want to quit ASA that to join the team. Volleyball relieves stress for me so I wanted to try this out." 
Agnew said, "One of my favorite moments was when my team and the other team didn't lose the ball. We kept bouncing around for around a whole minute. I was proud of my team."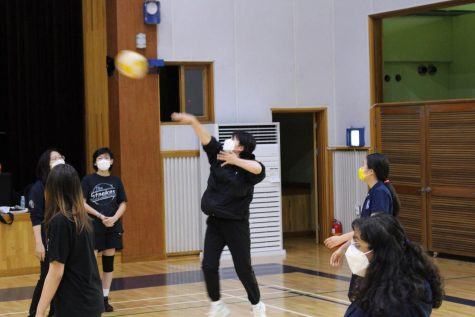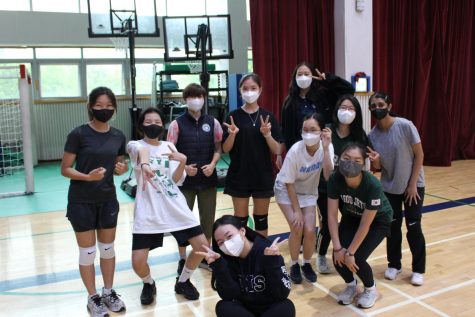 The high school SAAC members that planned the event beamed with pride watching middle schoolers having fun. They kept busy keeping score and refereeing the matches. 
SAAC compensated for a lack of sports all year long: from hoodie sake and organizing camps and parties to this in-house tourney for middle school volleyball. SAAC members are discussing some final sports opportunities for May. Stay tuned for updates.