[Brief] National Arts Honor Society Hosts Q&A Event
NAHS Brings School Community One Step Closer to the Arts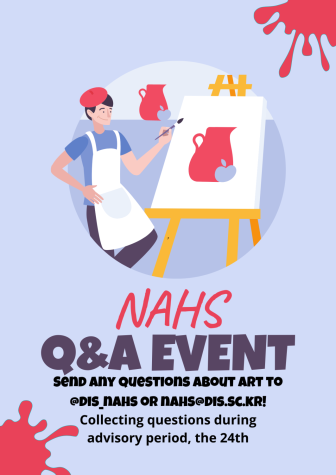 The National Arts Honors Society (NAHS) recently hosted a Q&A session open for all DIS students. Members collected questions for the event during advisory period on March 24th. Students submitted the questions by sending direct messages to the NAHS Instagram @dis_nahs, which will also have the responses uploaded to the same account later this week. For those that didn't have Instagram, NAHS also accepted responses through email. A wide range of questions overarching various fields of art was asked: Art History, Fashion and Design, Digital Art, Animation, Art Business, Fine Arts, Famous Artists, and more.
The club's objective was to help the DIS community connect with art better. As for this event and other pre-planned upcoming events, they focused on dismissing any negative stereotypes or preconceived notions about art. This was because they noticed a lot of students tend to distance themselves from the subject because they mistakenly think that it is simply unrelated to their interests, or because art is hard. In other words, NAHS wanted to show that art actually isn't far off from our daily lives.
In this respect, this Q&A event definitely succeeded in targeting their club objective — resolving uncertainties so that students could gain a valuable chance of getting one step closer to the subject. The DIS community looks forward to seeing more efforts by NAHS in the future as well.