[Brief] DSAA Hosts Schoolwide Photo Contest
Participants Win Dress Down Day on Thursday, March 24th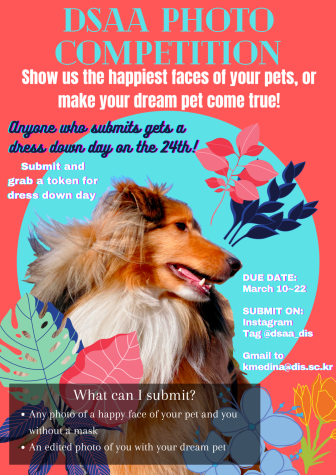 The Daegu Student Animal Association, DSAA, is hosting a school-wide photo competition to show a different side of the DIS community—the pets! The deadline to submit photos is Tuesday, March 22nd. By participating, you automatically win a dress-down day on Thursday, March 24th.
Students can use any photos of them looking happy with their pets. If you don't have a pet, you can still take part–send in a photo of you edited with your dream pet. Make sure that you aren't wearing a mask in the pictures you send. You can send in as many photos as you'd like. To submit photos, send them to [email protected] or the @dsaa_dis Instagram account.
Middle and high schoolers, when you turn in a photo, you will receive a dress-down day token on Wednesday, March 23rd during the lunch/recess period. You will know where to go by finding the lunch club's banner that says: "Claim your token here if you participated in the DSAA Photo Competition." Keep in mind that you need this when you come to school on Thursday for the dress-down day. And for the lower grades: Ms. Medina will hand out the elementary tokens to homeroom teachers. 
The best photos will be added to the yearbook, so remember to turn them in ASAP.