Prom Committee Funds the Big Dance with a Big Raffle
[Brief: Prom Committee Fundraiser Event]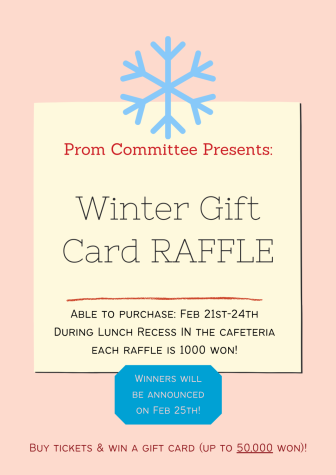 The Prom Committee returned with another fundraiser, holding a raffle from the 21st of February till the 24th. Students and faculty were given an opportunity to win general gift certificates and gift cards from Shinsegae and Starbucks–all they had to do was pay for tickets and hope to get lucky. Last fall they successfully sold gently used school uniforms to raise money for the future dance.
Prom Committee encompasses a group of students that, according to Mrs. Gum, "work together to provide fun and memorable events for the school community, by the school community." As the supervisor of the club, she added her insight, "In previous years, prom was rushed to be put together at the last minute by teachers, putting pressure on students to attend it just for the sake of participation. Because of the way we used to prepare it, we also lost meaning in the whole point of having a school dance: it never had a strong sense of community and students giving back to their upperclassmen."
"Mr. Jolly actually gave us the idea to do this event. It was a… [good] way to make a profit within a short amount of time, and we were absolutely thrilled to see so many parents donate gift cards for us," said Mrs. Gum.
The event was noted to be a success by committee members, with a total profit of around ₩400,000 collected within the span of just four days. Mrs. Gum gave her final remarks: "Despite the COVID situation, we hope that we can host a safe prom. If the students are willing to at least give us a chance and come to prom, that is more than enough. We're hoping to prove that prom can be an exciting event to look forward to."