Little Olympians Earn Medals in Gym Class
Mr. Purdy Treats Elementary to Minigames and More
Sarah Lee, Sports Reporter and Design & Communications
February 22, 2022
Coinciding with the official Winter Olympics in Beijing, Mr. Purdy hosted a kid-friendly athletic event for K-5 students. He noted that "the wider international PE community on Facebook is always showing [off] the Winter Olympics [activities] they are doing at their schools." With this influence and his own inspiration, the gym teacher hosted his own little Olympics. The sports featured were scaled-down simulations of the real sports – skiing with thin scarves, a "bobsled" race with scooters, curling with discs, and a biathlon with small, soft balls.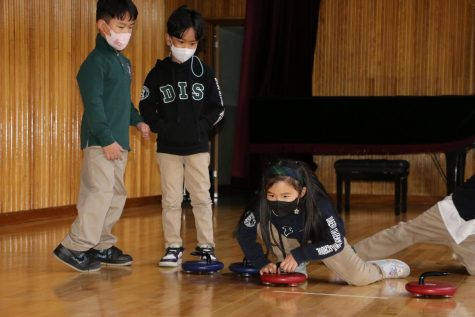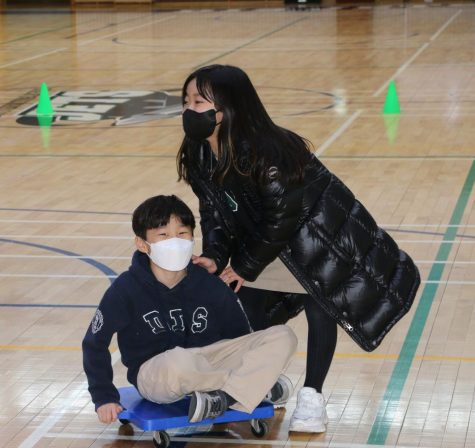 To kick off the event, Mr. Purdy briefly shared some facts about the Olympics and demonstrated how each event worked. Students were then divided into four different groups, and spent around 10 minutes at each station. 
"The scooter was really fun and fast, [especially] when my friends pushed me on it. I loved the game," exclaimed first grader Jenny. Mr. Purdy also loved to look on, and helped the eager participants race as fast as they could with the scooters that were otherwise rarely used in PE class. 
Sophia, a 4th grader, shared her bittersweet experience with skiing: "It was really fun since I got to compete with other kids, but I was in last place."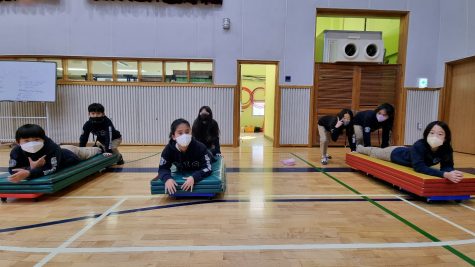 Despite the success of the event, there were a few logistical consequences. Mr. Purdy said, "Because the weather is cold outside, we don't want to go there. We [only] have half of the gym, so our space is small. Getting students to fully participate is another thing. Sometimes they're unsure, or too excited and struggle to listen. Especially with the younger levels, it's always a challenge for me to control the energy." 
Mr. Purdy extended his thanks to Mrs. Ringrose and Ms. Suozzo for coming and helping out and to the DIS administrators for dropping by. Mr. Purdy also hopes "to [continue] having fun events that mirror the global stage in sports, and get more involvement from other teachers and staff members." During these little Olympics, PE class was more than a way to get active – it was connecting students to a celebration of the wide world of sports as well.