Puffer Jacket 101: The Ultimate Guide to Choosing the Perfect Outerwear
Helen's Advice on Choosing Winter Jacket Trends
Now that sweater weather is firmly progressing, it's time to shop for outerwear to layer on top of knitwear for your cozy winter looks. The season of near-freezing temps is all about statement styles, and there are a few padded jacket trends that will make your outfits pop. 
After the craze of long puffer coats, many short padded jackets have been seen since last year, in the silhouette of Balenciaga's c-curl cropped fit. Padded jackets with a shorter fit were in fashion, and the oversized or glossy Our Legacy Lenox Jacket are on the rise. As city boy style and workwear began to appear more in the mainstream, regular length puffer jackets with differing details on the pocket shapes or hooded designs have become an "it" item. The brands at the forefront of the neck-detail trend are Auralee and COS, having set the standard for F/W 2021. Of course, there's also Stone Island's crinkle reps and Moncler, which are loved by many.
Shopping for winter coats is a cautious balance between buying something trendy and investing in something you'll always want to wear, not to mention the need to keep warm. I'll be talking about different interpretations and categories in padded jackets – there's sure to be one brand that suits your tastes.
First, I would like to introduce items that are more developed than the cult-classic jackets that have been seen from last year, but don't change the entire aesthetic of the outfit significantly in terms of overall mood or usability. The coat itself is very stereotypical, but intuitively has a variation and development in areas such as pockets and shapes. This year, there are many items like this that will not be awkward even if you decide to become an outfit repeater.
The puffer boasts a wide range of variations in its pocket shape, collar, color, and fabric itself. These details are not presented with the typical methods such as pattern use or excessive details, rather with different quilting plates or composition, or matching tone and color. Since linings of the fabric are different in color or texture, jackets are now being presented as an item that can be worn reversibly.
Eastlogue and Unaffected, which are brands popular for their winter coats, have many SKU (short for Stock Keeping Unit) fits of puffer jackets, and many colors. The pieces are standard, with elements just slightly transformed, reinterpreted with small, modern additions. These products exhibit flair while still adhering to the core of standard padding, and the technique is a huge success. Both labels have an exaggerated oversized fit and a padded coat with details such as quilting woven diagonally – keeping the basics with just minor twists. 
Amomento is also quite popular, with their padded jackets that experiment with different textiles in the lining. The oversized fit reminiscent as Our Legacy's Lenox blends well with these reversible details once again, but the color and details themselves do not stand out alone when worn, making the outerwear very versatile – it can be matched with wide pants, hoods, or even sweatshirts. Jackets like this not only save space in the wardrobe, but also maximize practicality.
 Trends nowadays with padded jackets show many items that change the structural or minor details of the jackets themselves, while the brand's identity or graphics remain in the intuitive visual part. It can then be inferred that the next padded jackets to be introduced to the general public will include colorful details: a pattern on the fabric itself used on the front board, a specific shape quilted in, or changes in the print or material of the jacket itself. These looks might feel less casual, but the designer touches add a certain mood to the clothing easily, while also making them the next items to be hyped up in the fashion world.
ERL drew attention when Justin Bieber wore their jackets in his "Peaches" music video. The label's identity is based on fun and eye-catching designs in their colorful, patterned puffersㅡIf anything, the distinctive design makes ERL's unique identity apparent.
If we're talking colorful padded jackets, Paloma Wool cannot be left out. Their coats are optimized for people who enjoy wearing clothes that have a quirky "point." The patterns and vivid hues can look like a lot, but these details' exuberance is balanced out when worn, thanks to the designer's adherence to the "standard fit." Paloma Wool is your match made in heaven if you like to stand out from the crowd while staying warm and toasty.
Outdoor and lightweight padding are also making big waves in the winter jacket market. The need for lightweight padded jackets are rising, seeing that they consistently appear in this year's trend not just as innerwear, but as a way to coordinate jackets with a casual outdoor look.
Arcteryx's other line, Veilance, is making thick padding jackets wearable for indoors using their state-of-the-art fabrics and technology. The lookbook reveals that their styling is casual; minimal, even. You can see the matte texture of each jacket due to the usage of materials commonly used on outdoorsy jackets.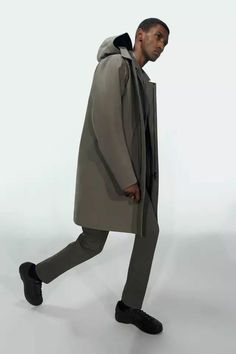 The second brand is And Wander. And Wander's products are also based on outdoor-wear, but you can see many outfits that are styled with casual fabrics. The logo itself seems to play a big role in dressing down each piece. Their products allow a wide variety of colors that are hard to see in casual clothes, which is the strength of the outdoor brand, allowing splashes of color to the overall casual style.
Finally, I will talk about items characterized by well-recognized logos. These are items that feel typical but can revive the overall aesthetic of the clothing with the logo itself. Moncler has recently been doing really well with their brand image after making the Genius padded jacket line. The brand image of Moncler is not exactly in the spotlight for the younger MZ generations, however, the Genius line is a standard example of how simple changes can also bring massive changes. Similarly, the well-recognized brand The North Face was recently spotted collaborating with hyped-brands such as Off-White and Gucci; the combined brand values of two major companies yielded a huge increase in sales for The North Face, something they haven't seen in years until they recently rebranded themselves as a "trendy" clothes company.
There's something altogether luxurious and easy about great winter jackets that you can slip into on your way out the door, knowing it adds one last, effortless touch to your outfitㅡ it hardly even matters what you've got on underneath the jacket. With that in mind, it's worth carefully investing in the right one! In order to do so, I've done all the homework so you can feel good about your purchase. From supersize puffers with simple yet unique standard fits that brag wonderful details, patterns, and a variety of moods, these four trends are the ones that'll make it big this season.