Teenage Vaccination in the Wake of With-COVID Policies
A Change in the Inoculation Age Limit
DISCLAIMER: The information in this article is meant to be purely informational – despite containing information of a legal and medical nature, it does not constitute legal or professional advice on the current operative COVID-19 laws and regulations.
---
In a series of policies dubbed as "Living With COVID-19" (colloquially known as With-COVID), Korea brought life back to a near-normal using the "vaccine pass" (which allows people into public areas, and is valid for 6 months after the primary doses and booster shots) and a phasing out of coronavirus restrictions on November 1st. However, "With-COVID" was rolled back by the government just weeks after a return to near-normal life, due to a record spike of infections. Despite the U-turn in policy, the administration of youth vaccination meant to be part of the "With-COVID" system is continuing.
This October, DIS students in 10th grade and above have finally gained access to the Pfizer vaccination – but the age limit for inoculation was suddenly lowered to twelve in November. As a result, vaccinations are now available to all DIS middle and high school students. Primary immunizations took place from October to November, and patients are to take the second shot three weeks afterward. Considering the rise of cases, booster shots are also available for adults three months after the first dose.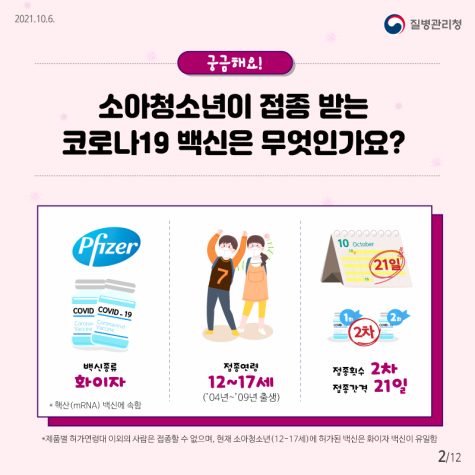 As vaccination is an option now, how can students sign up? First, reservations can be placed at the following site: https://ncvr2.kdca.go.kr/. There, the student must fill in their personal information and answer questionnaires that check for health concerns. Offline, on the day of the vaccination, those in line must bring either their passports, personal ID cards, or student documents from their school to validify their identity. Post-vaccination, students are allowed to skip 2 days of school, in consideration of possible side effects from the vaccination.  Appointments can be made via the government-issued site, and can be made on any date that you personally desire.
Teenage vaccination is expected to carry out until the end of the year, and as the age restriction has been lowered, students and guardians have a choice to make. Think carefully about whether you will be vaccinated or not, as the decision must be made of one's own volition.