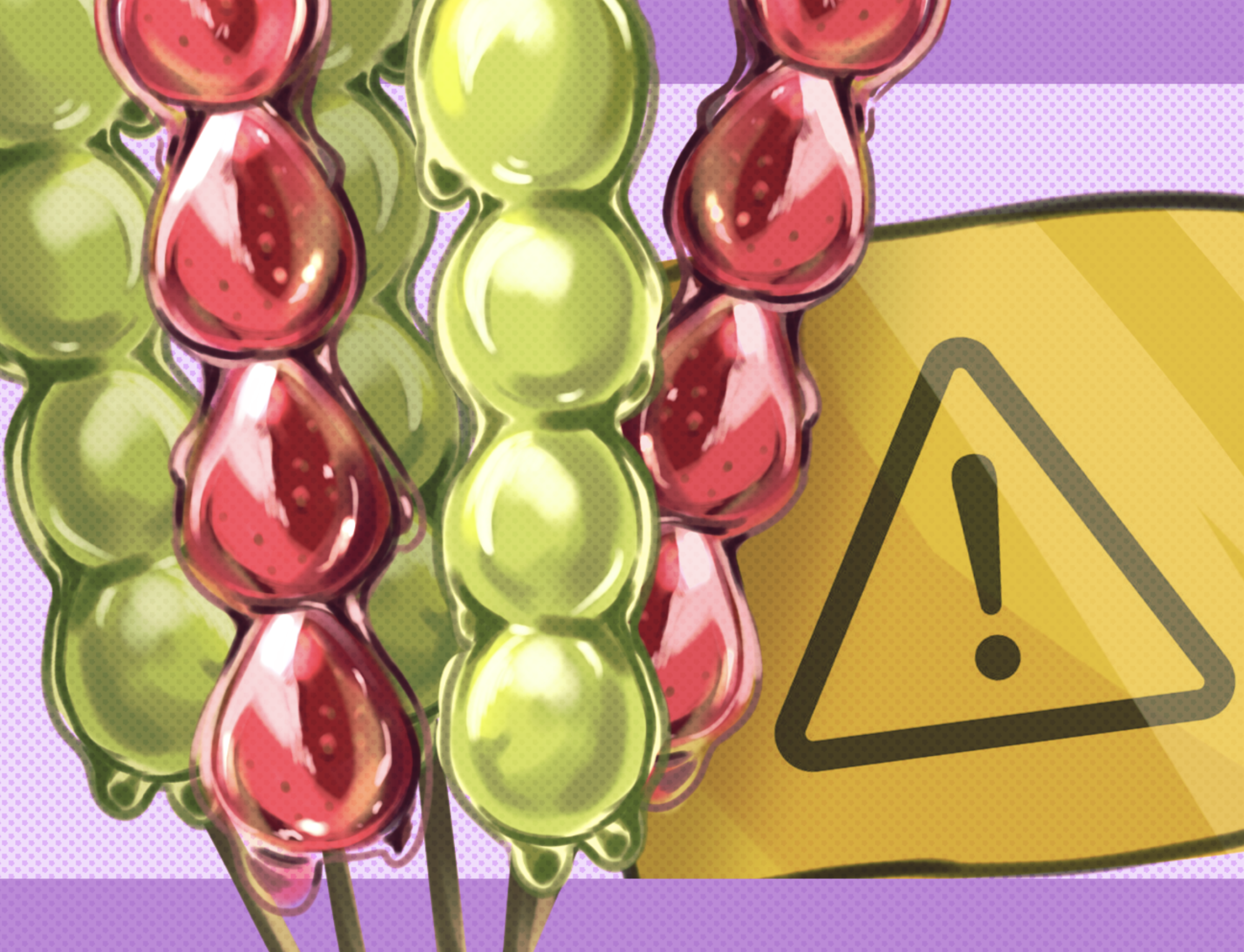 In the heart of Dongseong-ro, where delightful flavors and vibrant traditions team up, a new street snack makes it big. Tanghulu (탕후루), fruit skewers coated with hardened sugar, dominates Korean Instagram Reels and YouTube videos. But a "No Tanghulu Zone" campaign recently emerged in downtown Daegu. This may startle many — why ban this scrumptious treat? Turns out, this sticky sweet hides a sour side.
The juicy flavor and candy-like crunch of this tasty snack instantly attracted teens and TikTokers earlier this year. At the first bite, the instant sweetness of grapes, strawberries, and mangos captivates people with a golden balance of sugary notes. Nevertheless, these sweets may sap away our well-being. 
Turns out, sugar takes up over 90% of Tanghulu. The monstrous glucose and calorie count jeopardizes the health of teenage manias – including an increased risk for critical health conditions such as hyperglycemia. This illness affects adolescents' insulin production and hinders overall development.  
These calorie-dense delicacies contribute to obesity as well. This condition particularly concerns teenagers, as childhood obesity often carries into adulthood and leads to adverse outcomes such as a low quality of life, an increased risk of type 2 diabetes and high blood pressure. 
Health concerns unveiled by investigative media worried many DIS tanghulu maniacs. Joon Jang in seventh grade said, "I love eating sweet treats like Tanghulus because of their taste – solid and sweet on the outside, and soft and juicy on the inside. But if they have negative effects on my body, I would eat less tanghulu – maybe once in a few months?" Although tanghulu satisfies our sweet tooth, we must consider our well-being too. 
The skewers faced scrutiny from green consumers as well – many shop owners sell tanghulu without proper solutions for disposal. Fortunately, they recently devised a savvy remedy – a specialized trash can designed exclusively for leftover sticks. This innovation features distinct compartments for skewers and the cups that come with them. 
On one side, the tanghulu bin made customers question, "How much must customers litter for shops to make their own trash cans?" Others took the innovation as a practical solution to facilitate recycling. This specialized trash not only cleans up the Tanghulu skewers that litter the streets but also takes a meaningful step toward a more sustainable future. 
Tanghulu also lands your wallet in a sticky situation – one small stick costs 4000 won. Yet, people readily trade their precious dough for five minutes of sugary joy. Consider more affordable, equally delicious homemade desserts like banana bread, oatmeal cookies, and Greek yogurt bark. These smarter choices help you keep money in your pocket and savor the sweetness for longer. 
Next time when you pass by a tanghulu shop downtown, pause for a moment before you splurge on a sticky skewer. While alluring, they cause damage to our bodies, the environment, and our wallets as well. Prioritize your well-being over momentary pleasure and embark on a journey to a healthier lifestyle.