SOAR Invites a Special Guest to Their Latest Discussion
Students Learn About Xenophobia in Korea
When people talk about racism, our tunnel vision focuses on the discrimination in the US. But the issue strikes much closer to home than everyone thinks. SOAR hosted their penultimate discourse on April 17th to discuss bias against foreigners in Korea. This session featured a special guest for the first time: Yomi, a student activist who studies in a dual degree program between Brown University and Rhode Island School of Design.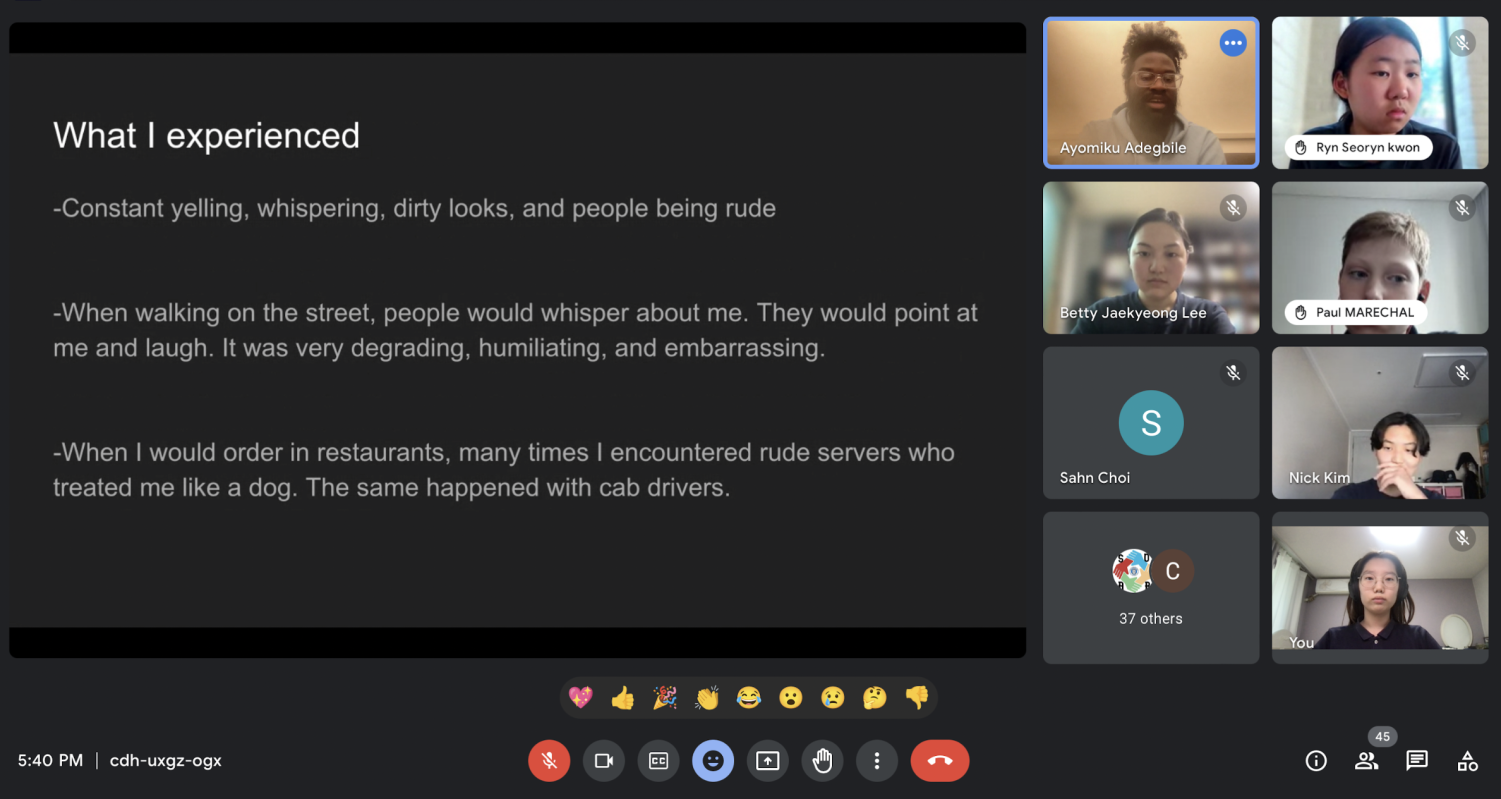 Through its outreach committee, SOAR pulled off an insightful meeting with Yomi. During the discussion, he shared personal experiences with racism in Korea during his time as an exchange student at Yonsei University. In return, students offered their views on the issues Yomi faced. 
Like many African American foreigners, Yomi encountered extensive discrimination – yelling, whispering, dirty looks, and even violations of private space – due to his appearance. In particular, he shared one outrageous incident when a random stranger jumped at him in Myeong-dong, Seoul. 
These insolent actions resonated with other victims of racial discrimination. Ms. Butcher, a former DIS middle school English teacher and advisor of SOAR, described how she faced similar situations when she came to Korea 13 years ago. She elaborated, "I experienced everything Yomi faced when I came here. It was just sad that nothing had changed in 13 years." 
Ms. Butcher also added, "We lived in different cities and countries, but discrimination is not city by city, it is a cultural thing. As time goes on, Korea and all these homogenous countries will just get more diverse. What is Korea's plan? What is Japan's plan? Racism can not be the solution."  
Through the meeting, participants recognized the xenophobia that plagues our community. 8th grader Jayden said, "It was a very eye-opening experience for me because I knew it existed, but I didn't know the specific experiences people had and the difficulties from it. So it was really an eye-opening experience for me." 
Many speakers expressed that if people just acted with common sense, many forms of microaggression would be significantly mitigated. Guests noted that it is illogical to do things you wouldn't do to your own race to other groups. Yomi mentioned, "I think the [conversation] about common sense was a good one because it's not like I don't think people in Korea don't have common sense, but sometimes people don't use it, which can lead to people saying things that are not right."
Those who tuned in took away much from the hour-long meeting. Betty, the president of SOAR, remarked, "No matter how diverse we think we are, we should always check ourselves and the world around us. Yomi, despite being from America, faced a lot of injustice and Ms. Butcher faced the same injustices 10 years ago. And this overall shows that Korea perpetrates these stereotypes to others and that it hasn't changed in a decade, so this is just a big takeaway."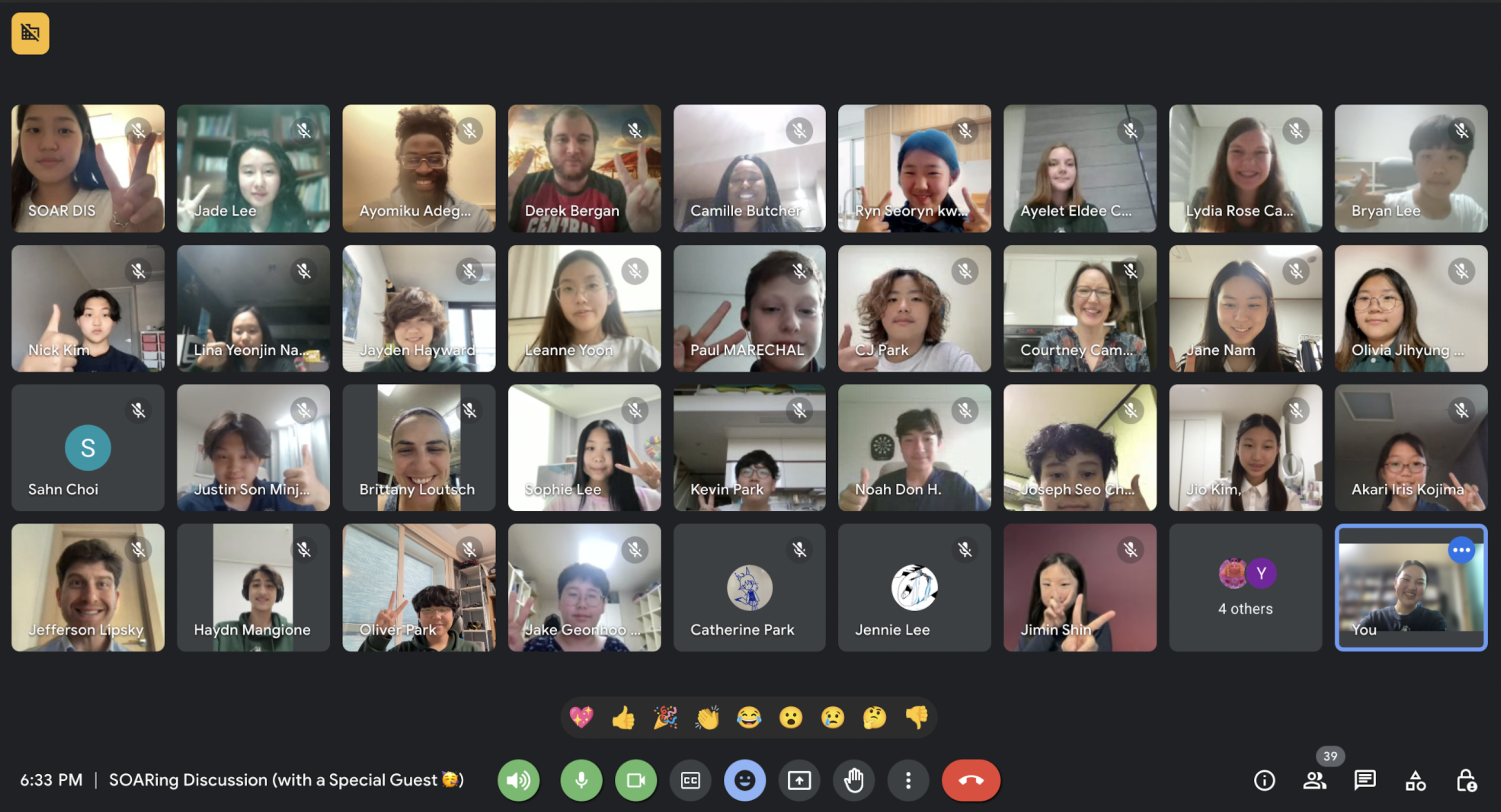 To close the discussion, Yomi emphasized the importance of learning about the world and being familiar with having differences. He said, "Just watch movies and learn about music. Look at the media and talk with friends about these issues, like, 'I saw something on the street, and it is not right,' or 'this happens in Korea, and it is wrong.' I think that if you talk to your friends, a lot of people would be open to this because, especially, a lot of people in your generation are aware of these issues." 
Xenophobic sentiments plague both homogeneous and heterogeneous nations, despite the spread of multiculturalism. Expand your perspectives on diversity and equality at SOAR's final meetup of the year. Their first in-person discussion takes place in the Jetnasium on Thursday, June 8th, after school.