Snowflakes Warm Hearts This Winter
NEHS and NJHS Fundraise for Elderly in Need
National Elementary and Junior Honor Societies teamed up to bring warmth this Lunar New Year with a gift for the elderly people of Daegu. Seollal ranks as one of the most significant traditions for Korean people: they return to their hometowns, perform ancestral rites, play folk games, eat traditional food, and catch up with loved ones. 
But not everyone can cherish this new beginning. Some seniors who live in elderly homes spend the New Year alone, without family nor hope for another prelude. Thankfully, Mrs. Ringrose, NEHS advisor, acknowledged this matter and decided to initiate a charity event for the Dong-gu Elderly Welfare Center.
They set up a booth in front of the cafeteria and advertised for a donation, and guess what they sold: Snowflakes. Mrs. Ringrose came up with this idea because she wanted to lighten the coldness of wintertime with beauty and warmth, in an attempt to bring comfort to the lonely elderly. 
"We thought of how we could use a winter theme and still incorporate it to help around our community. I've heard of an angel network so instead of angels, just because it is not Christmas related, we just thought of snowflakes just to get with winter. And so, that's kind of how it went. We just thought snowflakes were inclusive," she said.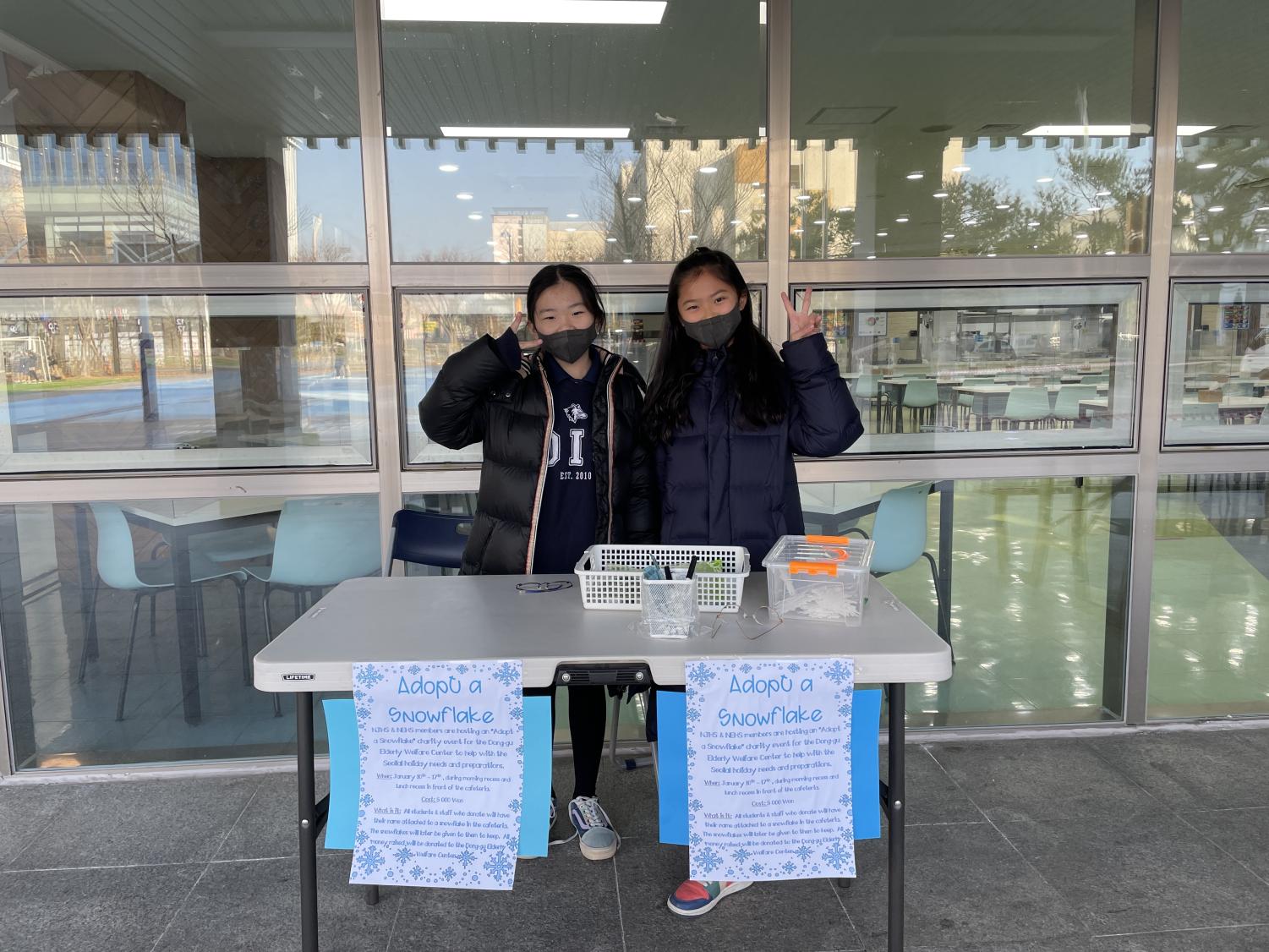 As the decorative snow display attracted several curious eyes, students each donated 5000 Won with their names and grade levels, and in turn, earned a snowflake to be hung up on the windows for a week to commemorate their contribution. Before the vacation started, they were given back to the patrons.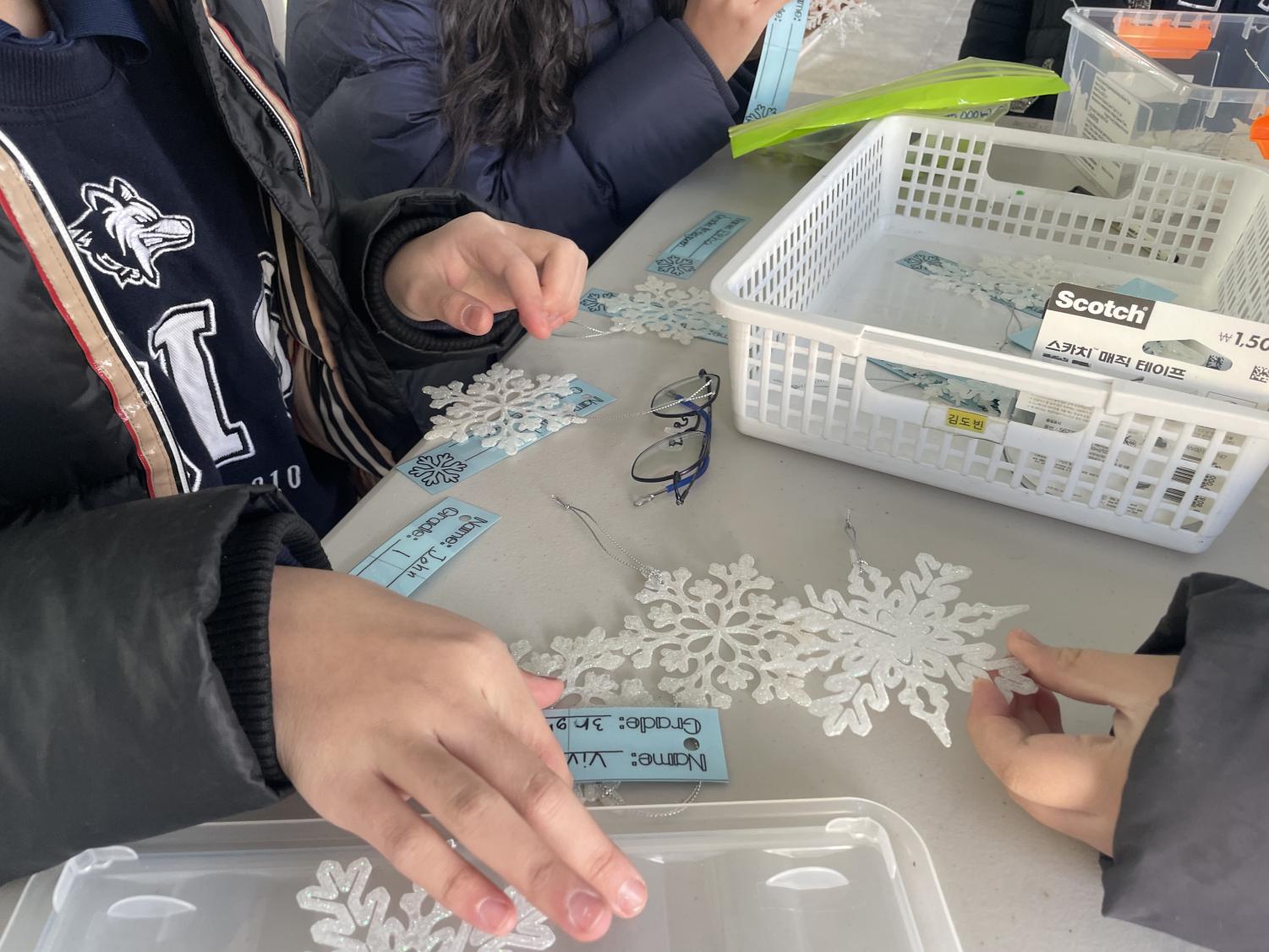 Mrs. Ringrose showed exceptional leadership that brought the donation to great success. Fifth grader Olivia said, "[The event] was actually Mrs. Ringrose's idea, and we basically just go with the plan every single time when she does it, and it goes successful every single time, we always depend on her on how it goes." Tracy from fourth grade added, "we always kind of follow Mrs. Ringrose's idea to make us successful, and I'm 100 percent sure that it's going to make us successful."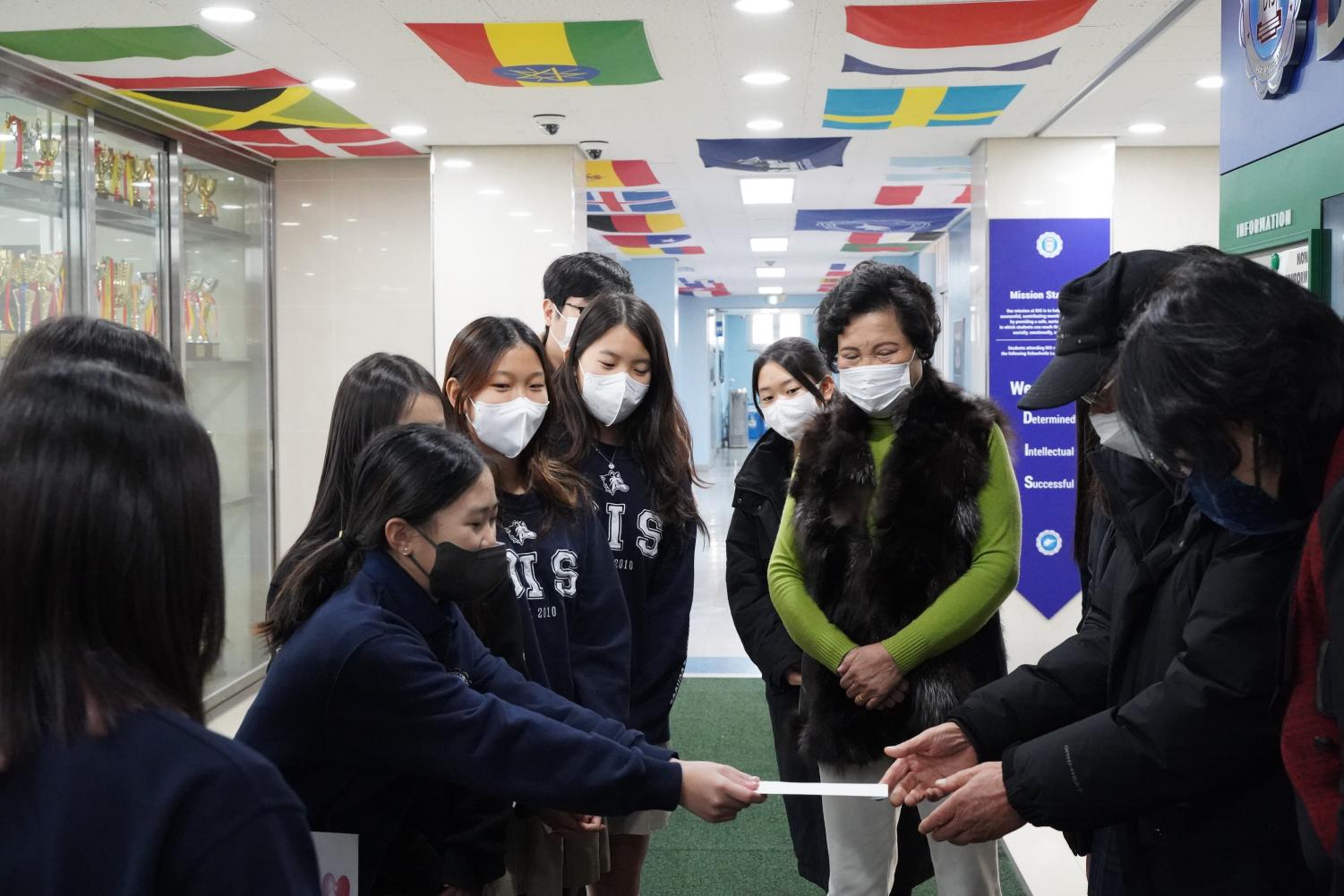 The middle schoolers also participated and guided their juniors to their first step in community service. Jio, a NJHS member said, "So, we are NJHS and we decided to help NEHS because first of all we have more experience and we want to help them become a better NEHS group. And…it just sounded fun!"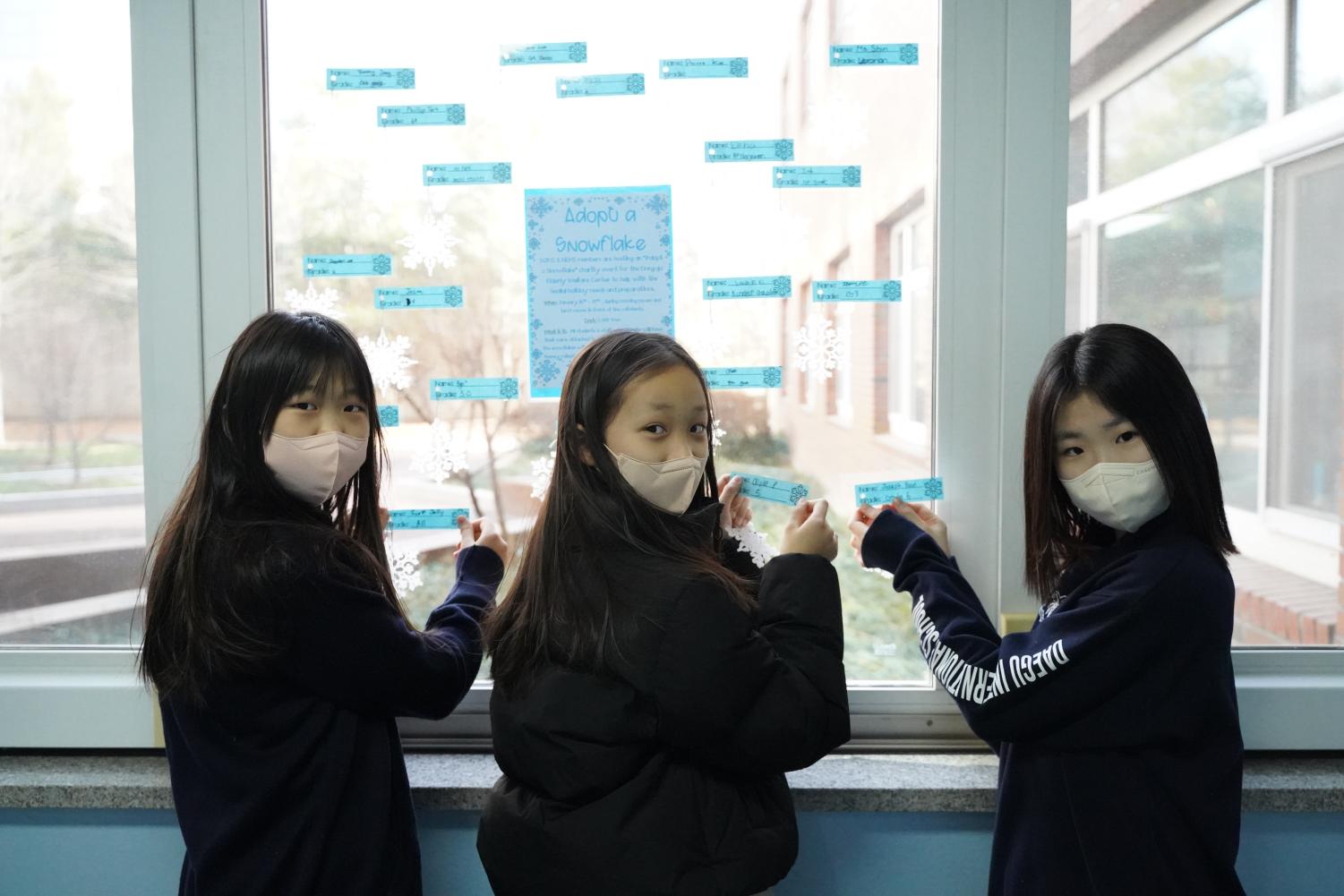 The elementary members enthusiastically partook in filling up the windows with beautiful warming snowflakes. Mrs. Ringrose said, "Right now I think we have about a little less than 200 snowflakes so we're looking to finish, get at least around that. NEHS will be collecting from elementary during our morning recess and NJHS will be collecting during the middle school and high school lunch. So we wanna try to make it more of a school inclusive event, not just an elementary."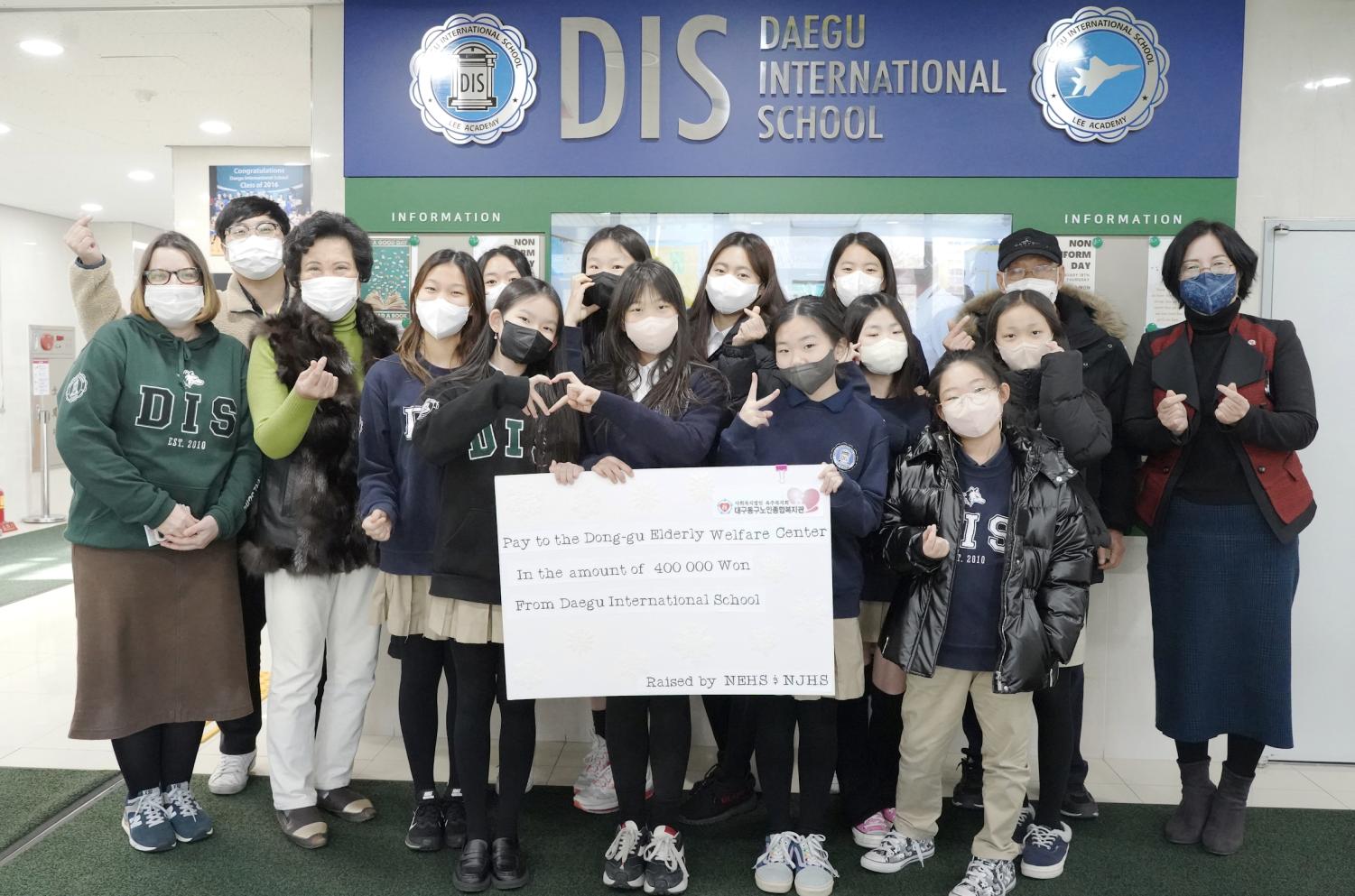 Both honor societies hope to represent DIS in a positive light to communities outside of school. "…it's going to be raised for Dongu Elderly Center so it's going to be really cool and we can also make a good impression of our school… Our goal is to make so much money and donate it to the Dongu Elderly Center and I am really excited about how it will turn out," mentioned Tracy.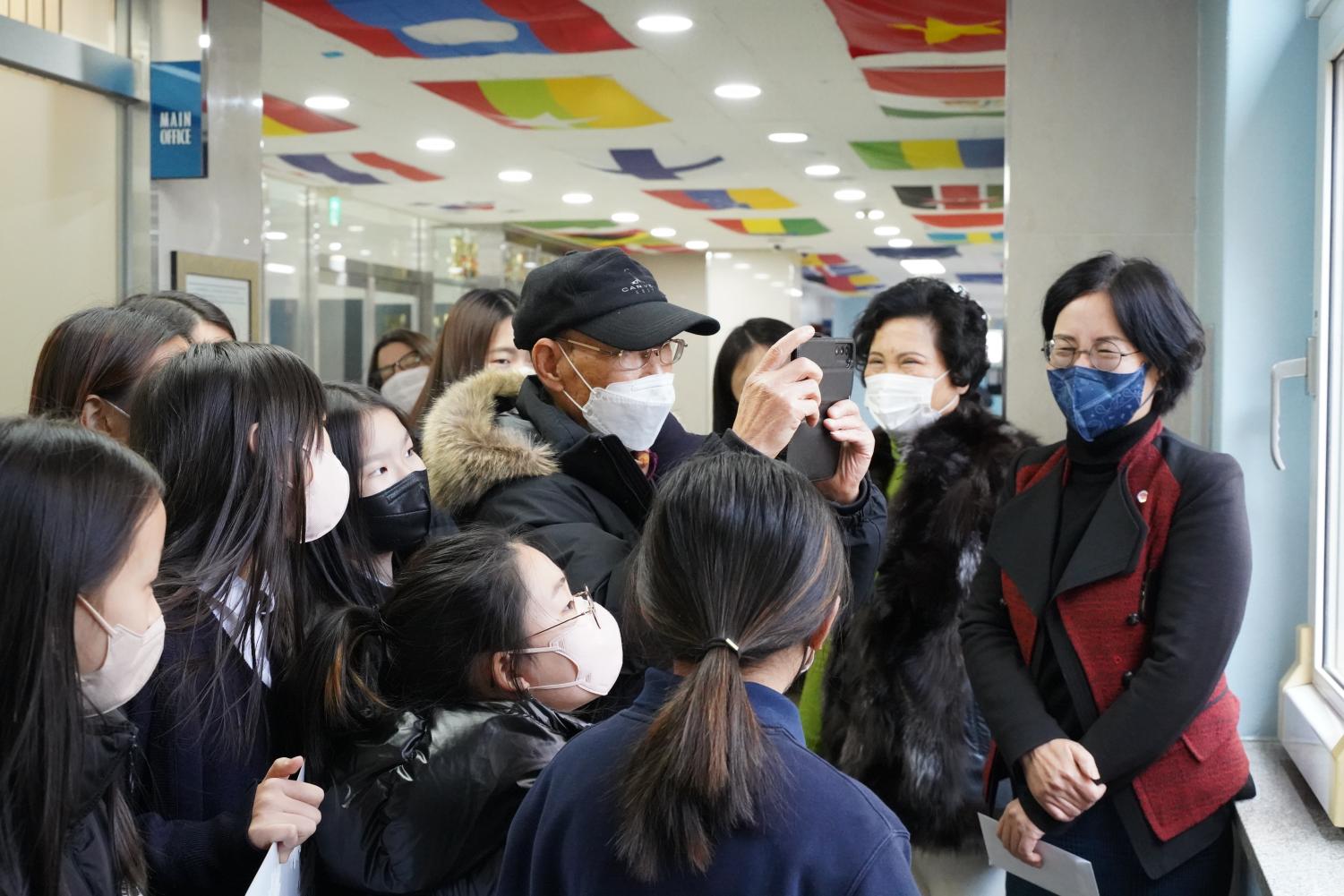 Even with the cold winter blizzards, the warm hearts within each crystal made this Seollal cozy and toasty for everyone. With yet another great success, we hope to see NEHS and NJHS lead 2023 into an even better year.