SOARing Discussions Let Anti-Racism Fly High
Online Event Educates Students on Black History Month
February is the month of Black History, and although it is widely celebrated mostly in the Western parts of the world, many Koreans are unaware of the importance of this annual celebration. Black culture is often underappreciated in relatively homogeneous societies like Korea. To prevent a historically momentous event such as Black History Month from going unnoticed, a new DIS lunch club took it upon itself to educate the community on the compelling topic.
You may have heard of other Students Organizing Against Racism (SOAR) groups that have already been established from schools in the states. Despite being set up within a short amount of time, the SOAR club within DIS has already prepared numerous events for the school community in honor of Black History Month. As a club fighting against racial prejudices, they strive to raise awareness and encourage well-meaning curiosity toward the topic. 
On February 17th, the first official SOARing Discussionㅡ an open conversation space for all students to participate and voice out their opinions freelyㅡ was held online. Specifically, the theme for this month was the Black Lives Matter (BLM) movement. By welcoming students with varying levels of understanding about this topic, SOAR aimed to educate the student community further in regards to the BLM movement and the concept of anti-racism in general.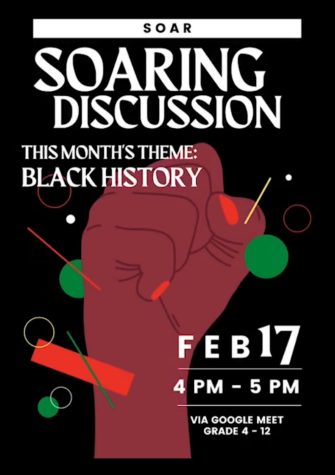 Despite covering many important issues regarding the discussion matter, the main question throughout the event was, "Why exactly is Black Lives matter a movement?" To give an introduction as to why the activist group is important, an insightful video that tells the story of an 11-year-old girl recalling her experience with discrimination was shown to the audience. The video, a narrative poem written by the girl in question, made powerful comments on police brutality, negative stereotypes, and more. An anonymous participant remarked, "It's really important to raise awareness and actively fight against these crimes because one day the victim might be our friends, or even ourselves". 
Betty, the President of SOAR, was very pleased with the outstanding involvement of the participants. She spoke near the end of the discussion, "Even just by listening in, you just fought against racism. And that's a lot!" 
If you missed this conversation, no need to worry! SOAR plans to have this as a recurring monthly event for all students: meaning, there will be another discussion in March with a new theme addressing anti-racism or racial justice. If you are interested, stay tuned for more information from SOAR. Your participation is proof that we're actively fighting to make a better world! 
---
"
It's really important to raise awareness and actively fight against these crimes because one day the victim might be our friends, or even ourselves."
— Anonymous Participant