DIS DJs: Everybody Curates the Morning Playlist
You Request the Songs, and Mr. Jolly Spins 'em
Catchy tunes reverberate through the halls each morning as students scuttle into classroom doors. Mr. Jolly plays requested songs before the bell rings, brightening up the campus and allowing students and teachers to share their favorite tracks with each other.
The Jets Morning Music (JMM) makes every day special– everybody has different tastes, and our community can recommend their favorite tunes (that are school-appropriate, of course).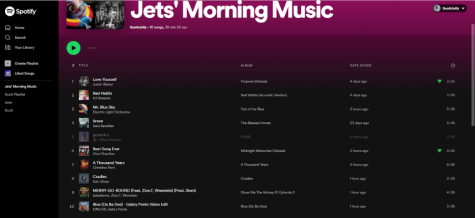 The JMM was created in order to start the school day with a kick of enthusiasm, according to Mr. Jolly. This staves off the morning drowsiness many students, teachers, and staff start their day with, which helps the students wake up and start their day on a positive note. Mr. Jolly explained, "In the past, our DIS community frequently had different events, and the school atmosphere was much brighter." But he thought, "prior to actually announcing for the morning, we could start off the day with music."
As it turns out, Mr. Jolly's plan has a scientific basis behind it:  music benefits the mind and body – increasing hormones that elevate your mood and decrease anxiety. 
Teachers frequently request JMM tracks for the DIS community. Ms. Butcher, the middle school English teacher, has requested an assortment of songs, including "Where Is the Love" by The Black Eyed Peas, a group she grew up with in high school. The song is profound, addressing police brutality, racism, and terrorism. She thinks that it's nice to start the day with music that students and teachers have suggested.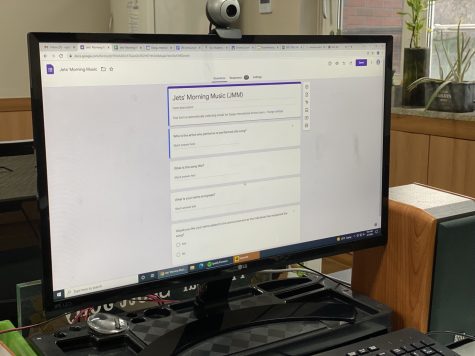 Students make up the bulk of the picks for JMM. Eighth-grader Sophia selected "What Makes You Beautiful" by One Direction, one of her all-time faves. She said, "It's a great opportunity to be able to listen to a song I like on the announcements at school since we feel tired [in the] mornings." 
The morning music is a great way to find hidden gems. Sophia said she discovered "amazing and popular songs such as Waka Waka, the music Ms. Butcher recommended." 
The DIS community truly wakes up thanks to Jets Morning Music. Request your favorite song today with this link and you might get lucky and be the next deejay.