Farewell from the 2022-2023 Editor-in-Chief
"Just Jade" Writes Her Last Article – and a Final Goodbye
May 30, 2023
When I first started Flyover, I was oblivious to the basic punctuation protocol in the press room. No, seriously – not even within my first ASA, a senior editor sat me down and explained the prerequisites. And if I'm being frank, I remember I felt incompetent at first. And if I'm being completely honest, my mom forced me to join the Flyover when I first enrolled at DIS. Yeah, this probably wasn't something you expected me to say.
But oh, how the tables have turned. Soon, I stopped begrudgingly entering the ASA; interviewing students I didn't even know, and running around the school for photos turned into a routine task that I actually started to enjoy. If there's anything I picked up from my stay as a staff member, it's the accomplishments I've made throughout the challenges.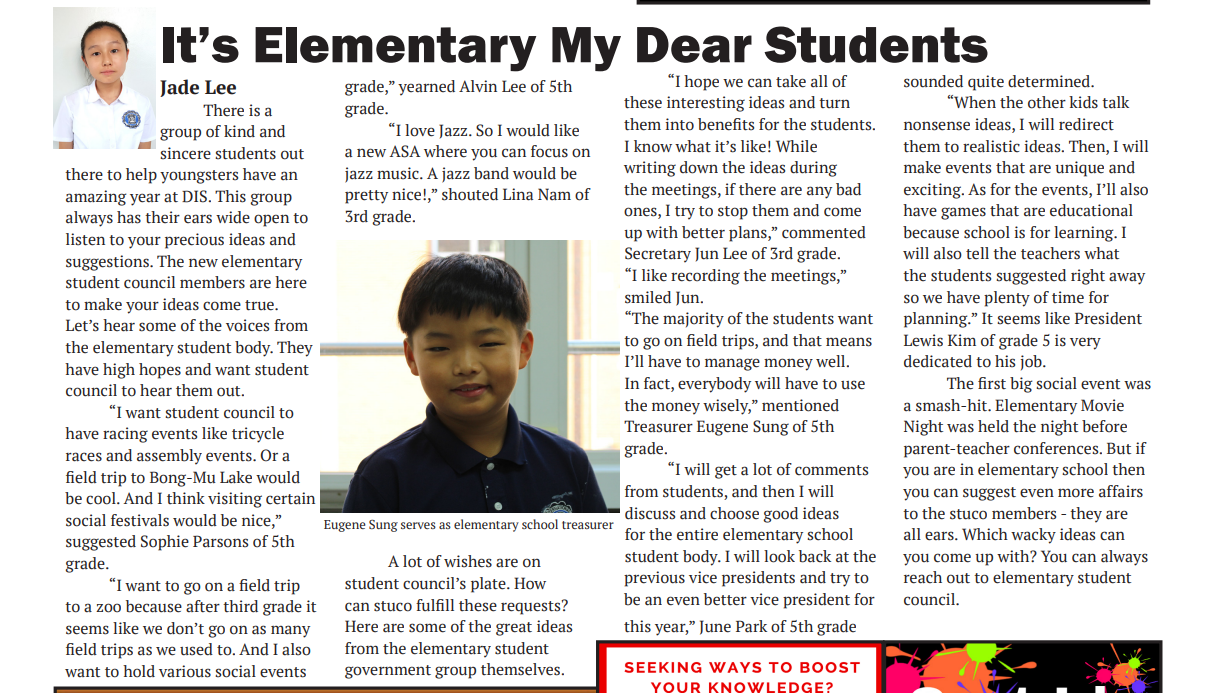 Veteran readers of the Flyover might remember my debut with the elementary news segments. But my real breakthrough as a writer came when I wrote my opinionated (and in retrospect, admittedly cringe) series, "Just Jade." The frequent demands to write better and take superb photos or interviews pushed me out of my comfort zone. Actually, the word "push" doesn't do my development justice. I was thrown outside of my comfort zone. It's safe to say that the advisor pushed me to my limit in my very first year – and I enjoyed it.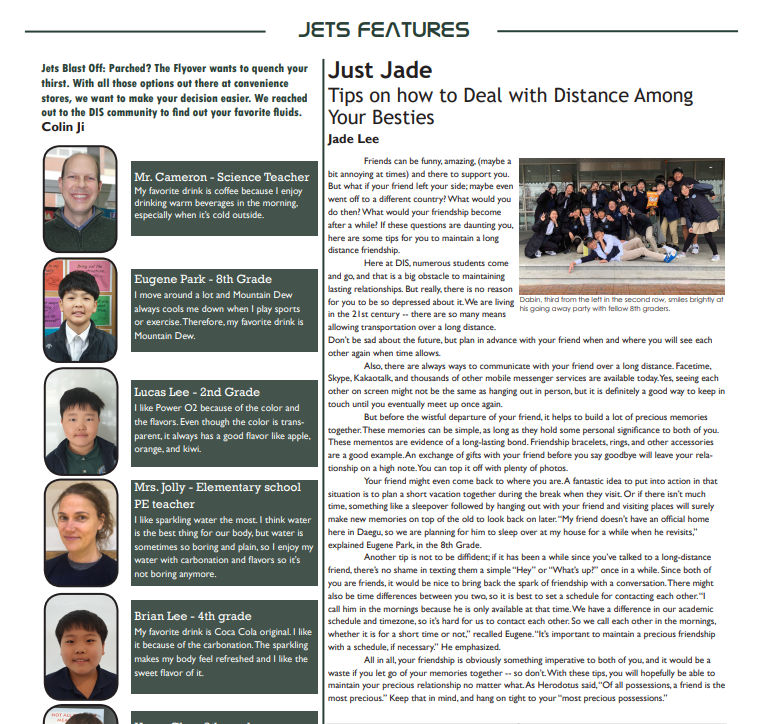 Once I got the hang of basic journalism, work became play. "Just Jade" stuck to me. It stuck to my identity as a writer, and it will forever stay that way. While developing my skills as a writer and editor, I vividly remember looking up to Alyssa, our previous Editor-in-Chief, for inspiration (and I still do!). Most who knew Alyssa commend her for motivating the entire staff with her consistent work ethic. While I also remember Alyssa for her extraordinary leadership, I especially credit her for encouraging me to do better. Alongside the advisor's challenges, Alyssa's inducement and valuable advice helped me to become the writer that I am today. Of course, I still have a long way to go – but the journey has been significantly shortened, thanks to Alyssa and the advisor. 
As I climbed up the ladder, I could only hope to spread the same influence to the other staff members. Whether they were OG staff members or newbies forced into the extracurricular (like my 7th-grade self), my motivation as an editor was to breathe the same experience I had into our precious crew.
I felt like I would never be "good enough" to take on the Flyover as Editor-in-Chief. And to be honest, I still think I'm underqualified for the job. Luckily, I was fortunate enough to have an amazing group of copy and content editors by my side who helped produce the consistent, quality articles everyone reads each Friday.
The Flyover will continue to be in good hands with Catherine taking over as the new Editor-in-Chief. As a jack of all trades, Catherine is not only adept at writing various types of articles, but she is also ten times a better artist than I am. The Flyover's aesthetic and academic aptitude will rapidly flourish under her control. Catherine, I'm already looking forward to checking in with you from time to time and reading the articles you edit (And, by the way, you still ruined my dream journal).
I should also mention that I was extremely lucky to have two absolute sweethearts as my Managing Editors. Grace and Elizabeth weren't just phenomenal at editing – they established a wonderful dynamic between the three of us. We laughed over our challenging schedules, publishing errors, and all sorts of other issues that should have been stressful. The three of us have treated Flyover like a full-time job, and needless to say, we have treated each other like colleagues and best friends simultaneously. I will forever be grateful for both of you supporting me emotionally and professionally. I don't think I'll ever find a stronger trio than us.
I also extend my gratitude to our extremely competent and ambitious Section Editors: Jodie, Jessica, Leanne, and Luna (oh wow, look at the alliteration in that). The four of you have not only been quick with communicating, publishing, and cultivating your editing skills, but you guys are the grease to our griddle; we wouldn't have been able to publish consistent, high-quality articles without all of you. I cannot wait to see what you continue to edit, write, and inspire in the class and ASA!
Dylan (our soon-to-be Managing Editor). Man, where do I even begin with Dylan? I think one thing is for sure: he definitely surprised the advisor and the rest of the editing staff recently with his drive, quick adjustments, and significantly improved writing skills. I know that suddenly being promoted from writer to editor can be overwhelming. Dylan, I can only hope you follow along the same, if not better, path that I did; continue to challenge yourself, grow, and have a little bit of faith. Just know that your potential as an editor is in good hands with the advisor and the rest of this outstanding team of editors.
What should have been stressful, tense, agitating, and time-sensitive became fun and bearable alongside my precious editors. Our dynamic has undoubtedly brightened up the classroom, and it has gotten us through all sorts of situations. If anything, I've learned so much while working with all of you! Although I can always take my acquired writing skills to the States, it's bittersweet that I can't take this priceless dynamic with me. Each and every one of you editors were the infinity stones to my Thanos. I also know that I've been impatient, at times rude – I know that I'm the walking example of the 빨리빨리 stereotype – and I hope you forgive my short temper.
And of course, the Flyover wouldn't be possible without our advisor. Not only would I like to thank the advisor for helping me achieve the accomplishments and dexterity I have now, but I would also like to sincerely thank him for challenging me and seeing a potential that I didn't even see in myself. Thank you for giving me the opportunity to grow. Thank you for taking a chance on 7th grade me who barely knew basic journalism protocol. I know I've probably disappointed you occasionally – but I hope your pride in me outweighs those moments. I'll miss having such an accomplished and skilled mentor like you. And no, I won't necessarily be missing the high-pitched screeches and the horrible Brian Johnson imitations. Or maybe I will. We'll see.
I want to finally make it clear that I've been extremely lucky enough to be a part of the Flyover staff for six years. My final gratitude extends to you, the reader. Thank you for always reading our work, showing support, and helping keep the Flyover alive, breathing, and well. Our constant evolution wouldn't have been possible without you. And whether you may be the advisor, an editor, or a reader, I wish you all nothing but the best – and a final adieu.